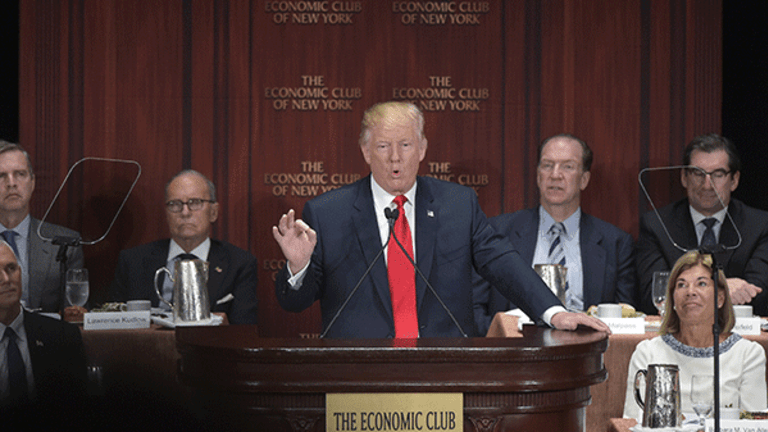 Trump Tax Plan Has Trillion-Dollar Question Mark, According to New Analysis
Donald Trump's tax plan would cut taxes for everyone, individuals and corporations alike. But there's a $1 trillion question as to how much.
Donald Trump's tax plan would cut taxes for everyone, individuals and corporations alike. But there's a $1 trillion question as to how much.
The Republican presidential nominee's new and improved tax plan, unveiled during an economic policy speech in New York last Thursday, would reduce federal revenue by between $4.4 trillion and $5.9 trillion on a static basis (meaning not accounting for macroeconomic effects), according to a new analysis from the Washington, D.C.-based conservative-leaning think tank the Tax Foundation. It would cost between $2.6 trillion and $3.9 trillion on a dynamic basis (essentially assuming lower taxes spurs economic growth).
The reason for the more than $1 trillion discrepancy: the pass-through tax rate.
The individual income rate on pass-through businesses (entities that pay taxes through the individual income tax code instead of the corporate tax code) is unclear. Previously, Trump said small businesses, partnerships and other pass-through businesses would pay the 15% corporate tax rate. His renovated proposal, however, does not specify, meaning the rate could wind up being as high as 33%, Trump's highest proposed individual income rate.
The New York Times reported Trump aides have privately assured the National Federation of Independent Business, a small-business lobbying group, that the 15% rate will hold. But mention of the figure is nowhere to be found in his revamped plan. A spokeswoman for the Trump campaign did not respond to request for comment on the matter.
Despite the Trump campaign's unwillingness to clarify its stance on the issue, the Tax Foundation, drawing from all statements made by the candidate and his surrogates, assumes that pass-throughs are likely not eligible for a single 15% tax rate on the individual income their owners report. But, they acknowledge there's no way to know unless Trump himself clarifies.
"In other words, our guess is that there is no means by which a business could get a single layer of taxation at a rate of 15 percent. However, we also acknowledge the arguments of those who perceive things differently," writes Tax Foundation economist and analysis author Alan Cole.
As a result of the pass-through question, the rest of the Tax Foundation's analysis reads as a sort of either-or scenario for the impact of Trump's plan.
Under the higher-rate assumption, Trump's tax proposal would increase the long-run size of the economy by 6.9%, resulting in 5.4% higher wages, a 20.1% larger capital stock and 1.8 million more full-time equivalent jobs. Under the lower-rate assumption, economic growth would be 8.2%, wages would increase by 6.3%, capital stock would grow by 23.9% and 2.2 million jobs would be created.
The top 1% of earners would be the biggest beneficiaries of the Trump plan.
"The Trump tax plan as outlined in September 2016 is a large tax cut, mostly on individual and corporate income," Cole writes. "In all cases, it would increase after-tax incomes for all income groups, but reduce revenue to the Treasury."
Trump has said he would pay for his tax cuts with a "Penny Plan" to reduce all non-defense and non-entitlement spending by 1% each year. The proposal would lead to drastic reductions in spending.