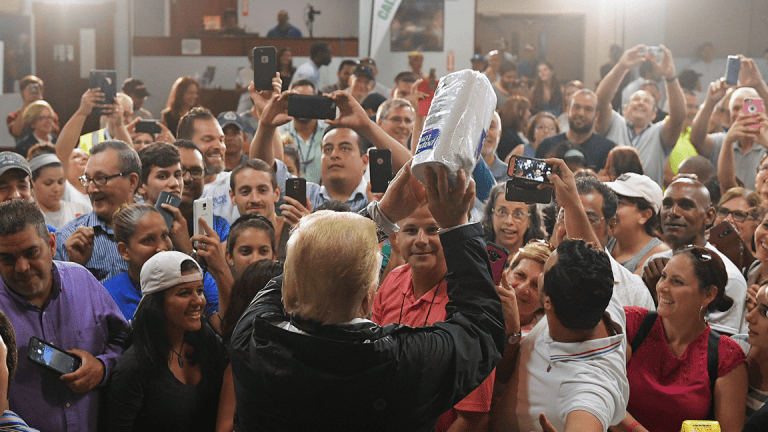 Trump Tax Plan Could Give $70 Billion Windfall to Foreign Investors
The White House says its tax plan would boost American workers. It might benefit foreign investors a whole lot faster.
The White House says its tax plan would boost American workers. It might benefit foreign investors a whole lot faster.
The tax proposal put forth by Trump administration officials and Congressional Republican leaders could translate to a $70-billion-a-year tax cut for foreign investors, according to a new analysis from the Tax Policy Center. The report comes a week after the White House released an estimate its plan could boost household incomes by $4,000 annually, a claim that has been disputed by many economists.
The nine-page framework GOP leaders -- the so-called "Big Six" -- unveiled in September calls for cutting the corporate tax rate to 20% from 35%, which would reduce corporate taxes by an average of $200 billion a year, or about $2 trillion over 10 years.
More of What's Trending on TheStreet:
Estimating foreign investors hold about 35% of U.S. corporate stock, that means they would save $70 billion annually on taxes in the short term, explained Steve Rosenthal, senior fellow at the Urban-Brookings Tax Policy Center and author of the analysis.
"The windfall to foreigners from lowering U.S. corporate income tax rates from 35 percent to 20 percent is exceptionally large," Rosenthal, a veteran tax attorney, wrote.
That $70 billion is three times the $23 billion in annual savings the Tax Policy Center has estimated middle-income families would save annually under the GOP's incomplete tax framework.A White House spokeswoman declined to comment on the analysis.
Rosenthal arrives at his estimate that foreigners own 35% of U.S. stock using Federal Reserve reports on foreign portfolio stock and foreign direct investments. He takes only the corporate reduction into account, leaving aside the likely repatriation tax holiday and other likely tax changes.
"Shareholders will be the principal beneficiaries of the corporate tax cuts, and since foreign investors are big shareholders, they stand to benefit significantly," said Mark Zandi, chief economist at Moody's Analytics in an email.
Nobel Prize-winner and liberal economist Paul Krugman in a New York Times op-ed on Wednesday said Rosenthal's observation is one everyone "somehow missed" in examining the White House tax plan. "This observation should transform discussion of the whole issue, at least among economists, although my cynical guess is that Republican-leaning academics will ignore it," he wrote.
There are ways corporate taxes could be reformed to limit the size of the windfall to foreigners, such as keeping the current 35% rate but adopting full corporate tax integration with a deduction on dividends paid to shareholders. Senate Finance Committee Chairman Orrin Hatch (R-UT) has been an advocate of such a measure.
But it's easier to enact tax cuts than it is tax reform, as Republicans are quickly learning. President Donald Trump on Monday tweeted there would be no change to the amount American workers can save on their 401(k) retirement accounts, killing an idea the GOP was considering as a revenue raiser. They've already scrapped the border adjustment tax, which taxes imports and exempts exports, which would have accounted for $1 trillion in revenue.
"Everyone agrees that a corporate rate cut creates benefits for shareholders, especially in the short term. Many shareholders are foreigners. Thus, a corporate rate cut will create benefits for foreigners," said Scott Greenberg, senior analyst at the Tax Foundation. But that doesn't mean workers couldn't see a boost as well.
"It's not mutually exclusive to say workers benefit and shareholders benefit," he said. "The question isn't where people keep their money, the question is if additional investment in the United States is more profitable on an after-tax basis."
The White House last week released an analysis making the case its corporate tax cuts will boost household incomes by $4,000 to $9,000 annually. Many economists panned the report. Jared Bernstein, chief economist to former Vice President Joe Biden, slammed it as "non-credible, trickle-down fairy dust." Former Treasury Secretary Larry Summers called it "absurd."
The Wall Street Journal editorial board on Monday evening released an op-ed arguing that tax cuts will help workers. It seemed to hedge on the Trump administration's $4,000 mark, citing other estimates that tax cuts would translate to $1,000 to $3,500 in boosted income.
Rosenthal in an email to TheStreet said cutting corporate taxes to raise wages is a "dubious proposition" but emphasized that another big question is the timeline. Shareholders will benefit from tax cuts now. Workers, well, eventually.
"If it would occur, when? I think we measure the time in decades, not years," he said. "Remember the Big Six plan would cut taxes for corporate investments that already have been made, which is a windfall to existing investors, including foreign shareholders. Perhaps the tax cut also will benefit future shareholders (and, arguably, future workers), but that's not what we ought to count on today."
More of What's Trending on TheStreet:
Updated with Krugman's op-ed. 
Editors' pick: Originally published Oct. 24.