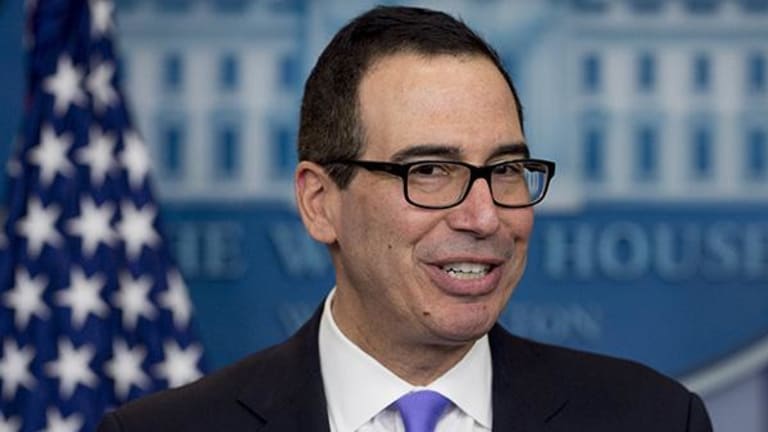 Republicans Aim to Pass Tax Bill in 2017, Calendar Says Otherwise
Washington Republicans say they want to enact tax reform by the end of the year. Problem is, they've got a lot of other things on their plate, too.
Washington Republicans say they want to enact tax reform by the end of the year. Problem is, they've got a lot of other things on their plate, too.
The White House unveiled its latest framework for tax legislation on Wednesday. Put together by a group of administration and Congressional leaders known as the "Big Six," the nine-page proposal lays out in broad strokes ideas for a tax overhaul while leaving it up to Congressional committees to fill in the blanks. Administration officials and GOP leaders have said they hope to pass a bill by the end of the year. They've got a tough calendar ahead of them.
Fiscal year 2018 starts on October 1, and Congress has yet to pass a budget for it. That budget is a precursor for tackling tax legislation through the reconciliation process, which requires only a simple majority in the Senate. The current budget expires on September 30. So does funding for the Children's Health Insurance Program and the Federal Aviation Administration, which Congress has yet to renew.
The Treasury Department will release its bi-annual report on currency manipulation in October, and open enrollment for Obamacare, which the Republicans have repeatedly failed to repeal, starts in November.
November will also see major elections for the Virginia and New Jersey governorships and New York City mayor. And in December, Alabama's special election to see who replaces Attorney General Jeff Sessions in the Senate will take place.
Trump will travel to Southeast Asia in November and probably China as well. That same month, he will likely also announce his pick to succeed Janet Yellen at the Federal Reserve (or decide to keep her on).
The three-month extender on government funding Trump negotiated with Democrats in early September will expire on December 8. Lawmakers will have to strike a new deal or face a government shutdown on December 9. And negotiations won't be easy -- there are major breaks between Democrats and Republicans on what to do about DREAMers and Trump's proposed wall.
Congress could address the debt ceiling at in December as well, or allow Treasury Secretary Steven Mnuchin to use extraordinary measures to pay the United States' bills for a few more months. But at the end of the year Capitol Hill will see what Cowen analyst Chris Krueger in a recent note describes as a "mini-tax cliff" on certain Obamacare taxes and extenders as well as the expiration of the Foreign Surveillance Authority.
The GOP insists it plans to keep trying to repeal and replace Obamacare, too. And then there are the matters of the continuing threat of North Korea and disaster relief in Puerto Rico, the U.S. Virgin Islands, Florida and Texas, among others.
In other words, there's a lot going on in Washington, D.C., much of which is much more pressing in the immediate term than taxes. And there are fewer than 40 days left on 2017's legislative calendar.
"We would expect any timetable associated with the Big Six [tax] blueprint to continue the dominant legislative trend of 2017: over promising and under-delivering," wrote Cowen analyst Chris Krueger in a note on Wednesday.
To be sure, sentiment on Wall Street and among many external analysts in Washington has been that a tax bill is unlikely to pass by the end of the year. While many experts agree Congress is likely to accomplish something on taxes sooner rather than later, they say chances are it will happen in early 2018.
John Gimigliano, principal-in-charge of federal tax and regulatory services at KPMG LLP, in a statement on Wednesday's tax plan said that while the framework represents progress, the hardest part is still to come.
"Congress still needs to figure out how to make the math work, both politically and procedurally, and then needs to convert that to legislation," he said. "And if Congress is serious about using 'regular order' to move a bill, it could take months, not weeks for legislation to get to the president's desk."