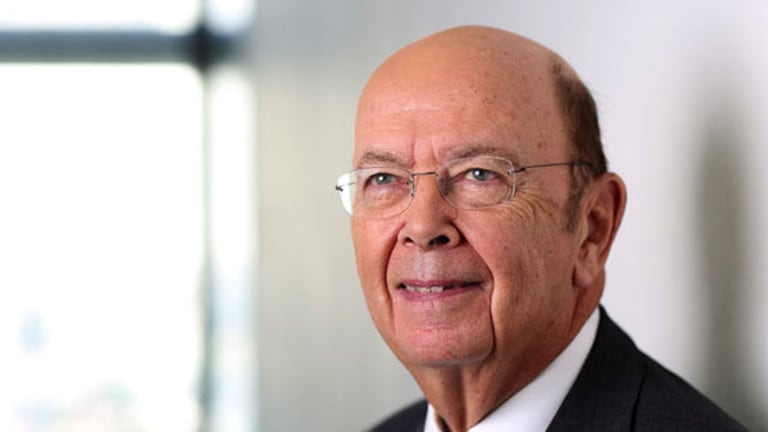 Trump Taps "King of Bankruptcy" Wilbur Ross for Secretary of Commerce
Ross' distressed investments have made him a fortune and also a lightning rod for controversy.
President-elect Donald Trump officially tapped private equity billionaire Wilbur Ross to serve as his Secretary of Commerce on Wednesday, giving the so-called "king of bankruptcy" first crack at implementing his economic platform.
"Wilbur knows that cutting taxes for working families, reducing burdensome government regulations and unleashing America's energy resources will strengthen our economy at a time when our country needs to see significant growth," Trump said in a statement.
Ross, 79, served as a senior policy adviser on Trump's campaign. If confirmed, he will be called upon to promote Trump's ostensibly protectionist agenda. The President-elect has vowed to renegotiate, or exit, the North American Free Trade Agreement with Mexico and Canada, withdraw from the Trans-Pacific Partnership and take a more aggressive stance towards China.
Ross will have oversight of the International Trade Administration, which promotes U.S. exports of nonagricultural goods, as well as the Economic Development Administration, which provides grants to stimulate job growth in economically distressed areas.
"Protectionism is a pejorative term. It's not really something that's meaningful," Ross said Wednesday on CNBC. "There's trade, sensible trade, and dumb trade. We've been doing a lot of dumb trade. That's the part that's going to get fixed."
In an October Wall Street Journal op-ed, Ross and University of California-Irvine professor Peter Navarro wrote that Trump would be able to eliminate the U.S.' trade deficit through "smart, tough negotiations" and reduce regulatory burdens on domestic business. Navarro did not respond to a request for comment.
Though most observers will be focused on Ross' approach to trade, he will also have control of some more disparate entities thanks to his position, such as the Census Bureau and the National Weather Service.
Ross made his name - and his fortune, estimated to be about $2.9 billion - investing in distressed companies, first at Rothschild Inc. and then at his own firm, WL Ross & Co. Ross sold his company to Invesco in 2006 for $375 million. A call to his office at Invesco was not immediately returned.
Ross' best-known investments have been in the heavy industrials and energy sectors, which have shrunk in the U.S in the late 20th and early 21st centuries. Trump attracted disaffected workers in those industries with campaign promises to restore economic security and bring back manufacturing jobs.
In 2002, Ross created the International Steel Group after he purchased the struggling LTV Steel, Acme Steel, Weirton Steel and later, Bethlehem Steel companies. He sold the company for $4.5 billion in 2005 to Indian billionaire Lakshmi Mittal, who was in the process of forming Luxembourg-based steel conglomerate ArcelorMittal.
His coal play was less successful.
Ross built the International Coal Group in 2004, which was centered around the assets of bankrupt Horizon Natural Resources. His investment in the company allowed him to shed existing contracts with the United Mine Workers of America, drawing the ire of the labor union. In 2006, 12 miners died in an explosion at an ICG mine in Sago, West Virginia, an incident that briefly turned Ross into a national villain over perceived unsafe conditions at the mine.
"I don't know what is harder-trying to get to sleep at night with Sago hanging over me or getting up in the morning to face another day of internal sorrow and external criticism," Ross told New York magazine at the time. He pledged to match contributions to the victims' families dollar-for-dollar: Trump reportedly gave $25,000.
Ross sold International Coal Group to Arch Coal in 2011 for about $3.4 billion. Arch Coal began Chapter 11 proceedings in January 2016 and cut about $4.5 billion in debt before it emerged from bankruptcy in October.
A mine workers' union spokesman declined to comment on Trump's selection of Ross.
Since the 2008 financial crisis, Ross' investments have largely focused on the financial sector. He has a large stake in the Bank of Cyprus and is currently vice chairman of the institution.
He currently sits on the board of at least five public companies, including ArcelorMittal, Bank of Cyprus, Exco Resources Inc., Sun National Bank and Nexeo Solutions Inc., according to data gathered by relationship mapping service BoardEx, a subsidiary of TheStreet.
If he becomes Secretary of Commerce, Ross would need to immediately resign from all the boards and likely sell his investments or place them into a blind trust, Nell Minow, vice chairman of governance consultancy firm ValueEdge Advisors, previously told The Deal.
Trump himself has been a lightning rod for controversy over perceived conflicts of interest between his real estate empire and his role as President. Trump claimed on Twitter Tuesday that "legal documents are being crafted which take me completely out of business operations," but it is unclear what measures he will take.
Trump said he will hold a news conference to discuss the matter on Dec. 15. For now, he's touting his fellow dealmaker.
"Wilbur Ross is a champion of American manufacturing and knows how to help companies succeed," Trump said. "Most importantly, he is one of the greatest negotiators I have ever met, and that comes from me, the author of The Art of the Deal. Together, we will take on the special interests and stand up for American jobs."