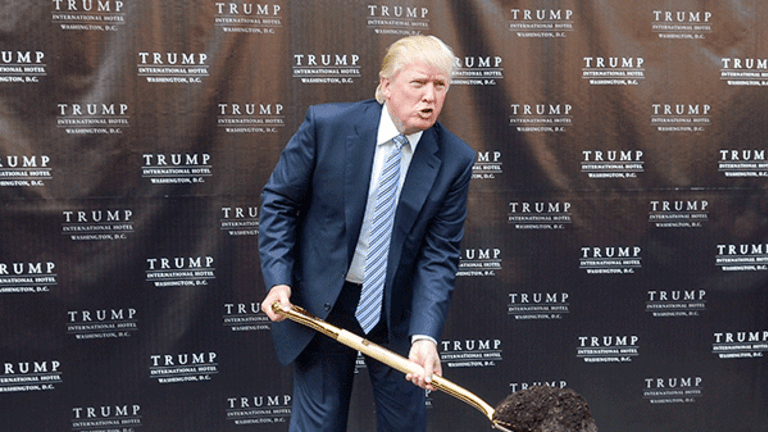 Trump Taps Former Reagan Appointee Robert Lighthizer as U.S. Trade Representative
President-elect Donald Trump will nominate Robert Lighthizer as United States Trade Representative, he announced on Tuesday morning.
President-elect Donald Trump will nominate Robert Lighthizer as United States Trade Representative, Trump said on Tuesday morning.
Lighthizer served as deputy U.S. Trade Representative under the Reagan administration, where he was involved in the negotiation of two dozen bilateral international agreements. As part of the Trump administration, he will work alongside incoming Secretary of Commerce Wilbur Ross and Peter Navarro, the head of the newly-created White House Trade Council, to develop and implement trade policies.
In a statement from his transition team, Trump said Lighthizer will do an "outstanding job representing the United States as we fight for good trade deals that put the American worker first."
"He has extensive experience striking agreements that protect some of the most important sectors of our economy, and has repeatedly fought in the private sector to prevent bad deals from hurting Americans. He will do an amazing job helping turn around the failed trade policies which have robbed so many Americans of prosperity," Trump said.
Lighthizer, 69, said he is fully committed to Trump's mission to "level the playing field for American workers and forge better trade policies which will benefit all Americans."
Lighthizer is currently a partner at law firm Skadden, Arps, Slate, Meagher & Flom LLP, where he focuses on traditional trade litigation, policy advice and legislative initiatives, according to the firm's website. His clients include large U.S. corporations and coalitions in heavy manufacturing, agriculture, technology and financial services.
He has also been the lead counsel in numerous antidumping and countervailing duty cases.
Lighthizer also served as vice chairman of the board of the Overseas Private Investment Corporation, which promotes economic growth in developing countries through U.S. investment, and served as chief of staff of the United States Senate Committee on Finance prior to his appointment as deputy USTR.
He has spoken and written on a number of occasions about a range of trade issues.
At a 2008 hearing held by the House Ways and Means Committee on climate change prevention, Lighthizer discussed competitiveness implications for U.S. companies in relation to climate change legislation. "The competitiveness issue is not an ancillary topic but goes to the very core of the climate debate," he said.
In a 1999 op-ed in the New York Times, he warned of the dangers of China joining the World Trade Organization. (The country became part of the WTO in 2001.) As Bloomberg notes, Lighthizer has been a vocal critic of China and its trade practices.
In another 2008 Times op-ed, he weighed the alignment of free trade and conservatism.
"Conservative statesmen from Alexander Hamilton to Ronald Reagan sometimes supported protectionism and at other times they leaned toward lowering barriers. But they always understood that trade policy was merely a tool for building a strong and independent country with a prosperous middle class," he wrote.
Lighthizer will replace Obama appointee Michael Froman, who has served as the U.S. Trade Representative since 2013.