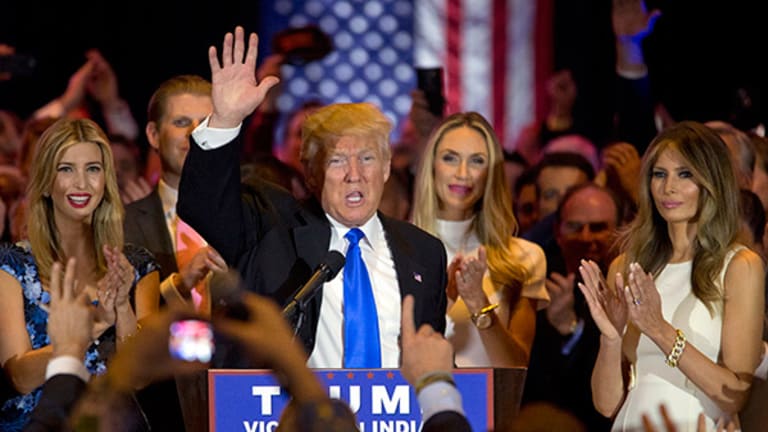 Publish date:
Nordstrom Shares Pop After Trump Attacks Retailer for Dropping Ivanka on Twitter
Shares of Nordstrom rallied more than 4% after President Trump slammed the Seattle-based retailer for its decision to drop his daughter's clothing and accessories line.
Shares of Nordstrom rallied more than 4% after President Trump slammed the Seattle-based retailer for its decision to drop his daughter's clothing and accessories line.
Story updated with statements from Sean Spicer, TJX spokeswoman, Ivanka Trump spokeswoman, Nordstrom spokeswoman and Nordstrom stock price and adds information on TJX.
Investors aren't sweating President Trump's Nordstrom (JWN) - Get Nordstrom, Inc. (JWN) Report tweet. Shares of the Seattle-based retailer rallied more than 4% after Trump slammed it for its decision to drop his daughter's clothing and accessories line.
The president took to Twitter to on Wednesday to criticize the company for "unfairly" treating his daughter, Ivanka Trump. The company said last Thursday it won't sell this season's Ivanka Trump merchandise. "My daughter Ivanka has been treated so unfairly by @Nordstrom. She is a great person -- always pushing me to do the right thing! Terrible!" Trump said in a tweet.
White House press secretary Sean Spicer in a press briefing later in the day defended Trump's tweet, which was published on his personal @RealDonaldTrump account and retweeted from the official @POTUS account.
"He ran for president, he won, he's leading this country, and I think for people to take out their concern about his actions or his executive orders on members of his family, he has every right to stand up for his family and applaud their business activities, their success," Spicer said. "For someone to take out their concern with his policies on a family member of his is just not acceptable, and the president has every right as a father to stand up for them."
Nordstrom told The Seattle Times last week the decision to drop Ivanka was based on sales performance, not politics.
"We've got thousands of brands," the spokesperson said. "Each year we cut about 10% and refresh our assortment with about the same amount. In this case, based on the brand's performance we've decided not to buy it for this season."
A Nordstrom spokeswoman reiterated in a statement provided to CNN on Wednesday that the decision to drop Ivanka Trump was made based on performance and that Trump was informed of the decision in early January.
Nordstrom is not the only retailer to stop selling Ivanka Trump's clothing and accessories line. On Friday, Nieman Marcus said it would drop the line.
And on Wednesday, The New York Times reported that TJX Companies  (TJX) - Get TJX Companies Inc Report , which owns T.J. Maxx and Marshalls, instructed employees in a note not to display Ivanka Trump merchandise separately and to throw away Ivanka Trump signs. 
Spokeswoman Erika Tower said in an email to TheStreet that the note reported by the Times was indeed sent and that TJX continues to offer the Ivanka Trump line of merchandise. "From time to time, we communicate with our stores about how to handle merchandise. The communication we sent instructed stores to mix this line of merchandise into our racks, not to remove it from the sales floor," she said.
Racked has reported that in addition to Nordstrom and Neiman's dropping Ivanka Trump's line, Jet.com, Belk, HSN, and ShopStyle had also cut ties.
American companies have been put under increasing pressure by a grassroots group called #GrabYourWallet, which encourages consumers to boycott companies that carry Trump family products. 
Ivanka Trump announced plans to take a leave of absence from her companies in January. Her husband, Jared Kushner, serves in the Trump administration.
"There's clearly a targeting of her brand," Spicer said on Wednesday. "While she's not directly running the company, it's still her name on it."
"We are proud to say that the Ivanka Trump brand continues to embody the principles upon which it was founded. It is a company built to inspire women with solution-oriented offerings, created to celebrate and service the many aspects of their lives," said Rosemary K. Young, senior director of marketing at Ivanka Trump, in an emailed statement to TheStreet.
Trump targeted a number of companies on Twitter prior to his inauguration, including Ford (F) - Get Ford Motor Company Report and Boeing (BA) - Get Boeing Company Report . On January 13, he tweeted in support of LL Bean, encouraging supporters to buy the apparel company's products after the granddaughter of its founder made headlines for donating to pro-Trump groups.
After Trump called for a boycott of Macy's (M) - Get Macy's Inc Report  in 2015 when they dropped his line in reaction to his comments about Mexican immigrants, he attributed the declining stock to his boycott. Throughout 2015, Trump tweeted or retweeted dozes of anti-Macy's tweets. Granted, Macy's decline probably had more to do with one of the warmer winters in history than Trump dictating his distaste for them on a social media platform. He took credit for it anyway.
Wednesday's Nordstrom remarks are the first time Trump has tweeted to criticize about a specific company -- beyond media outlets -- since his inauguration.