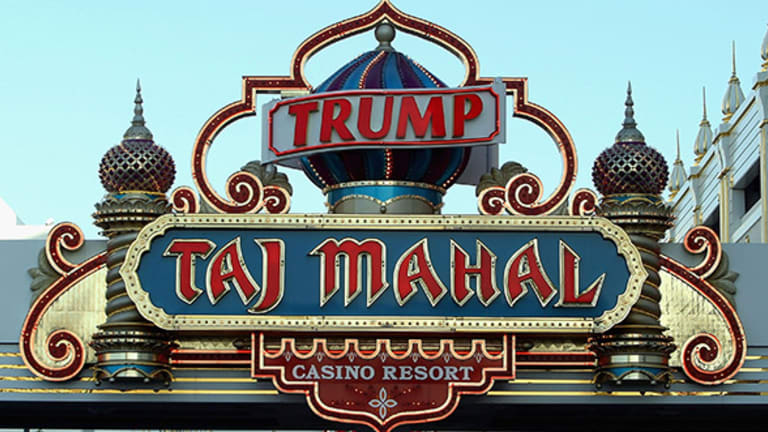 Trump Taj Mahal Workers Skewer Carl Icahn and Trump at Democratic National Convention
Donald Trump has boasted he has 'tremendous support within unions.' But gauging by a labor meeting in Philadelphia Monday, he might be overestimating his numbers.
PHILADELPHIA (TheStreet) -- Donald Trump has boasted he has "tremendous support within unions." But gauging by a labor meeting in Philadelphia Monday, he might be overestimating his numbers.
The Democratic National Convention hosted its very first labor council at the Pennsylvania Convention Center on Monday. Special guests at the event included about a dozen workers from the Trump Taj Mahal in Atlantic City. On strike since the start of the month, the workers represented by Unite Here Local 54 are fighting to win back the benefits cut by casino owner and Trump backer Carl Icahn.
"These brave workers have been on strike since July 1 after a 20-month struggle to restore the pay and the benefits that they lost during a bankruptcy struggle with Donald Trump's friend and ally, the guy that he thinks would make a great treasury secretary, Carl Icahn," said Richard Trumka, president of the AFL-CIO, eliciting boos at the mention of Icahn's name.
Trump Entertainment Resorts, the business behind the Taj Mahal, emerged from bankruptcy earlier this year to become a wholly owned subsidiary of Icahn Enterprises (IEP) . Trump hasn't owned the casino company since 2009 aside from a 10% stake in return for the use of his name, which was wiped out following its latest bankruptcy.
Trumka introduced Chuck Baker, a relief cook at the Taj Mahal, who addressed the room. The crowd chanted, "Sí se puede," (in Spanish, "Yes you can") as he took the stage.
"Before Donald Trump came to town...life was good," said Baker, who has been at the Atlantic City casino since 1990.
Baker discussed the workers' experiences at the Taj Mahal and railed against both Icahn and Trump. He also noted the struggle extends beyond New Jersey.
"It's not only the fight in Atlantic City, it's the fight that goes on all over this country," he said. "Donald Trump is not your man."
"One day longer," the crowd chanted as he and other striking workers descended from the stage.
Maria Elena Durazo, general vice president for immigration, civil rights and diversity at Unite Here, read quotes from Taj Mahal workers on stage.
"Trump is a taker," she said, quoting a worker named Charles.
"Working at Trump's hotel is hard, less pay, more abuse and no respect. They spy on us and they bully us. What happens to us happens to America," she said, quoting another worker, Carmen.
The workers hope to highlight what they say is a big risk the Trump-Icahn model poses for the American workforce. Trump has invoked Icahn's name on numerous occasions on the campaign trail as someone who he says will help him to grow the U.S. economy -- something union leaders and striking workers here in Philadelphia say won't be a pretty picture.
Hillary Clinton at the start of the month traveled to Atlantic City to give a speech and meet the striking workers on the picket line. In Philadelphia, she appears to have won the crowd over.
"We're going to beat Donald Trump," Durazo said, to cheers.
"The choice between Hillary Clinton and Donald Trump, well, that's a no-brainer," said Trumka, stealing a line from Icahn.
Still, fears remain that union workers aren't all in on Clinton.
In the hallway outside the event, a New York delegate said that while he is going for Clinton (he was originally a Bernie Sanders backer), where he's from in Putnam County, there's plenty of support for Trump. He said many union workers in his area -- largely young, white men -- are drinking the "make America great again" Kool-Aid, including members of his own family.
"I've made my son sleep out on the lawn a couple of nights," he said, joking his wife no longer allows politics talk in the house.