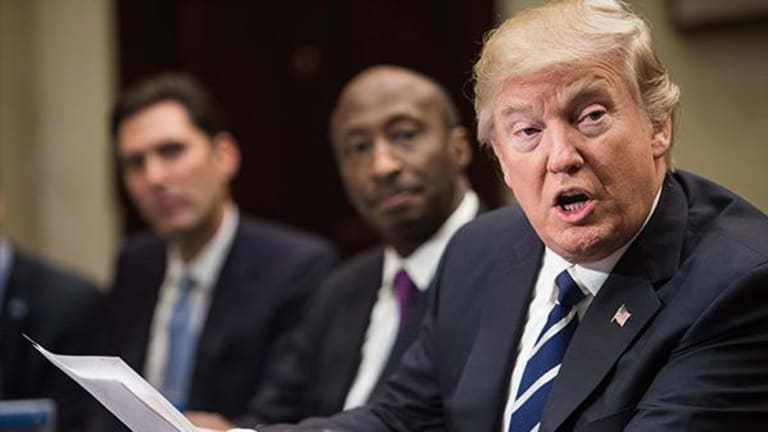 Trump Gets Ready to Take a Hatchet to Dodd-Frank Finance Law
Big banks are likely to benefit, but Trump's impact will be limited without Congressional support.
President Trump signed an executive order Friday laying out his "core principles" on financial regulation in what is likely a first step toward pruning portions of the Dodd-Frank reform law passed after the 2008 crisis.
"We expect to be cutting a lot out of Dodd-Frank, because frankly I have so many people, friends of mine, that have nice businesses and they can't borrow money," Trump said Friday morning. "They just can't get any money because the banks just won't let them borrow because of the rules and regulations in Dodd Frank."
The regulatory regime for financial institutions, according to Trump's order, should focus on preventing taxpayer-funded bailouts, enabling U.S. companies to compete with foreign firms and advancing the interests of American companies in international rule negotiations. The measure ordered federal regulators and the Treasury Secretary to produce a report within 120 days detailing current regulations that don't jibe with those priorities.
The KBW Bank Index rose 2.2% Friday as investors reacted to Trump's initiative, while JPMorgan Chase (JPM) - Get JPMorgan Chase & Co. (JPM) Report, the country's largest lender, gained 2.8% to $86.97 and Goldman Sachs (GS) - Get Goldman Sachs Group, Inc. (GS) Report surged 4% to $239.70.
While rewriting Dodd-Frank itself would require action on Capitol Hill, the Trump administration and its agencies still may use the report's findings to modify rules set under the Obama administration's interpretation of the law.
Already, National Economic Council Director Gary Cohn has reportedly said that the government shouldn't designate so-called non-bank financial firms as "systemically important financial institutions."
The label, which was applied to companies including AIG (AIG) - Get American International Group, Inc. Report -- the insurer that received a $182 billion bailout in the aftermath of the financial crisis, subjects some institutions to stricter limits on capital spending, heightened liquidity standards and yearly stress tests.
Cohn's comments and the order bolstered share prices of some of the largest insurance companies and asset managers designated as non-bank SIFIs, including the poster child for the financial crisis, AIG.
The Financial Stability Oversight Council, a group of regulators headed by the Treasury Secretary that monitors potential risks to the financial system, originally designated AIG, Prudential (PRU) - Get Prudential Financial, Inc. Report , General Electric's (GE) - Get General Electric Company (GE) Report  lending business and MetLife (MET) - Get MetLife, Inc. (MET) Report as SIFIs.
GE convinced regulators to remove its label last year, after shedding more than $180 billion in financial assets, while a federal judge ordered officials to rescind MetLife's designation.
Additionally, Cohn noted, the Trump administration is planning a review of a system set up by Dodd-Frank to dismantle a failing mega-bank without wreaking havoc on financial markets.
The plan, prompted by the catastrophic effect on credit markets of investment bank Lehman Brothers' 2008 collapse, is known as Orderly Liquidation Authority, or OLA. It has been criticized by Republicans who say it gives regulators too much discretion to pick winners among junior and senior creditors.
Critics also argue that the system lets regulators infuse a failing bank and its creditors with taxpayer funds that might never be recouped -- even though the law sets up a fee on big banks that's intended to restore the cash.
Regulatory agencies can't agree whether that works, Cohn told the Wall Street Journal. His comments suggest a bigger priority will be placed on a Republican effort on Capitol Hill that would rework the bankruptcy process for big banks in a way that provides more expediency but maintains creditor priority and transparency.
Democratic lawmakers including Sen. Elizabeth Warren, D-Mass., quickly responded to Trump's action, arguing that the real estate mogul has betrayed the trust of Americans who thought he would be tough on Wall Street.
While Trump's platform suggested reinstating a law splitting investment and commercial banks and he criticized his Democratic rival Hillary Clinton for giving well-paid speeches to Goldman employees, the new president has appointed several of the investment bank's alumni to key positions and promised to do a "big number" on Dodd-Frank.
Trump's latest order puts two former Goldman executives in charge of "gutting the rules that protect you from financial fraud and another economic meltdown," Warren charged.
Indeed, Steven Mnuchin, the Goldman alum whom Trump nominated to be Treasury Secretary but has yet to receive Senate confirmation, has criticized Dodd-Frank just like his would-be boss -- though he has expressed support for portions of it.
In his confirmation hearing before the Senate Finance Committee, Mnuchin said he backed the Volcker Rule, which prohibits proprietary trading by the largest U.S. banks, but would want to take a closer look at it following a Federal Reserve report in December that said the measure has a "deleterious effect on corporate bond liquidity."
The president "talked a big game about Wall Street during his campaign," Warren said, but "we're finding out whose side he's really on."