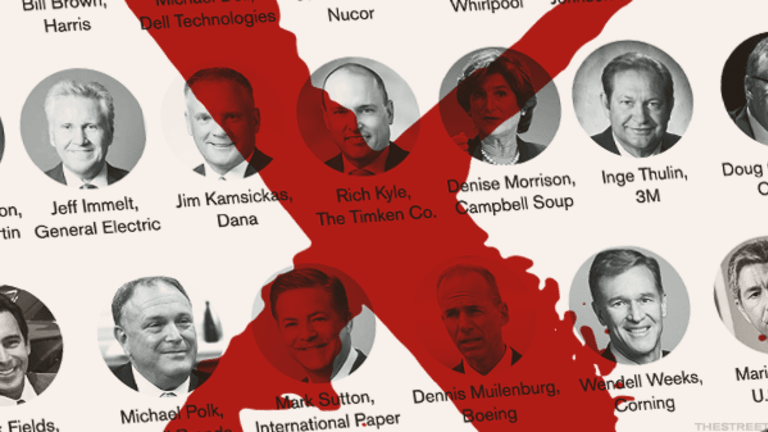 President Donald Trump said in a tweet on Wednesday that he is ending both the CEO advisory councils he created after several executives quit the groups in response to his equivocal reaction to racist violence in Charlottesville, Virginia, over the weekend.
The announcement came after several CEOs had already announced they would quit his manufacturing council and as a separate strategic and policy forum prepared to disband.
Merck (MRK) - Get Merck & Co., Inc. (MRK) Report CEO Kenneth Frazier was the first executive to exit the manufacturing council on Monday, followed by Under Armour's (UA) - Get Under Armour, Inc. Class C Report Kevin Plank, Intel's (INTC) - Get Intel Corporation (INTC) Report Brian Krzanich, Alliance for American Manufacturing president Scott Paul, AFL-CIO president Richard Trumka, former AFL-CIO chief of staff Thea Lee, Campbell Soup Company (CPB) - Get Campbell Soup Company Report CEO Denise Morrison and 3M (MMM) - Get 3M Company Report CEO Inge Thulin.
"Racism and murder are unequivocally reprehensible and are not morally equivalent to anything else that happened in Charlottesville," Morrison said in a statement on Wednesday. "I believe the President should have been -- and still needs to be -- unambiguous on that point."
GE (GE) - Get General Electric Company (GE) Report chairman Jeffrey Immelt said in a statement he had notified the remaining members of the council on Wednesday morning that he could no longer serve.
"The president's statements yesterday were deeply troubling," Immelt said. "GE has no tolerance for hate, bigotry, racism and the white supremacist extremism that the country witnessed in Charlottesville."
The Boston-based conglomerate, which exports $20 billion of American-made goods around the world, benefits when executives can engage with governments of the U.S. and other countries, Immelt noted, which was his reason for joining the panel.
But "given the ongoing tone of the discussion, I no longer feel that this council can accomplish" its goal of fostering "policies that promote American manufacturing and growth," he said.
John Flannery, who succeeded Immelt in the role of CEO earlier this month, subsequently offered the company's workforce of 300,000 more background on the decision in a memo obtained by TheStreet.
Following Trump's press conference on Tuesday, he said, committee members discussed with each other the possibility of disbanding the manufacturing panel altogether.
"Sometimes, it is necessary to take a stand in public,"Flannery wrote. "People are drawn to GE by the idea that anyone can make it here. Performance is what matters -- not ethnicity, nationality, religion, sexual orientation, or race. I have always been fiercely proud of this culture and would defend it in the four corners of the globe with anyone."
Trump's strategic and policy forum, announced in December, decided to disband essentially at the same time Trump determined to end the group. The council, which was headed by Blackstone Group's (BX) - Get Blackstone Group Inc. Class A Report Stephen Schwarzman and included JPMorgan Chase's (JPM) - Get JPMorgan Chase & Co. (JPM) Report Jamie Dimon, PepsiCo's (PEP) - Get PepsiCo, Inc. Report Indra Nooyi and IBM's (IBM) - Get International Business Machines (IBM) Report Ginni Rometty, said in a statement that the debate over participation has become "a distraction from our well-intentioned and sincere desire to aid vital policy discussions on how to improve the lives of everyday Americans."
"I strongly disagree with President Trump's reaction to the events that took place in Charlottesville over the past several days," Dimon said in a note to JPMorgan employees obtained by TheStreet. "Racism, intolerance and violence are always wrong."
While Dimon had long emphasized the need to work with a sitting president on economic and regulatory policies that would benefit both U.S. business and consumers, he pointed out Wednesday that reaching those goals alone "will not matter if we do not address the divisions in our country. It is a leader's role, in business or in government, to bring people together, not tear them apart."
Tesla's (TSLA) - Get Tesla Inc Report  Elon Musk and Disney's  (DIS) - Get Walt Disney Company Report  Bob Iger in June dropped out of a strategic and policy forum  following the president's decision to withdraw the United States from the Paris climate accord. Since-ousted Uber CEO Travis Kalanick quit the council in February over employee backlash.
President Trump has faced fierce criticism in the wake of his response to violence over the weekend that left three people dead. White supremacists and neo-Nazis marched in Charlottesville to protest the removal of a statue of Confederate General Robert E. Lee.
Trump on Tuesday delivered an improvised presser at Trump Tower, reverting to his original line of placing blame on both sides for the events in Charlottesville.
The president on Saturday declined to condemn the far-right groups at the center of the violence, instead going after actions on "many sides." On Monday he delivered more forceful remarks in Washington. "Racism is evil," he said. But on Tuesday, he was back to moral equivalence. "You had a group on one side that was bad. And you had a group on the other side that was also very violent," he said. He also noted that the white nationalist group of protesters had a permit.