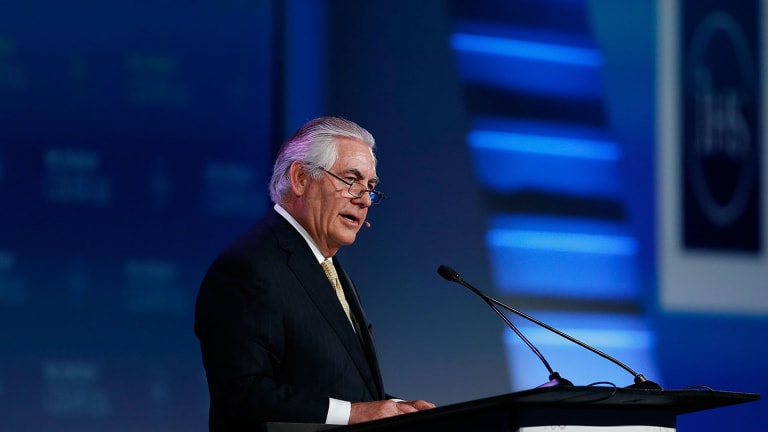 Trump Said to Pick Exxon Mobil CEO Tillerson for Secretary of State
The appointment comes just one day after a rift emerged between the president-elect and U.S. intelligence services over Russia's purported involvement in the U.S. election.
President-elect Donald Trump reportedly has selected Exxon Mobil (XOM) - Get Exxon Mobil Corporation Report CEO Rex W. Tillerson (pictured) as his Secretary of State.
NBC's Andrea Mitchell reported Saturday afternoon that Trump had selected Tillerson, who joined Exxon in 1975 and has served as its CEO since 2006. Mitchell also reported that John R. Bolton, the former U.S. ambassador to the United Nations, would join him as deputy secretary of state.
Other front-runners included former New York City mayor Rudy Giuliani and former Massachusetts Gov. Mitt Romney.
The New York Times and The Wall Street Journal both reported last night that Tillerson was the front-runner.
Tillerson's policy proscriptions diverge markedly from Trump's, including his defense for Common Core, support for free trade and acknowledgement of the human impact on climate change.
The news comes just a day after Trump mocked U.S. intelligence services' assessments that Russia interfered in the election on Trump's behalf.
Tillerson has ties with Russian President Vladimir Putin; according to Tillerson's biography on Exxon's website, Putin awarded him the Russian Order of Friendship in 2013. The award followed Exxon's 2011 deal, worth up to $500 billion, to operate together with Russian oil giant Rosneft. The deal was never consummated after the United States imposed sanctions against Russia following its invasion of Crimea. 
In his role as president of several Exxon divisions in the 1990s, Tillerson "was responsible for Exxon's holdings in Russia and the Caspian Sea as well as the Sakhalin I consortium operations offshore Sakhalin Island, Russia," the biography stated. 
For his part, Trump said that U.S. intelligence's assessment on Russian hacking could not be trusted as "these are the same people that said Saddam Hussein had weapons of mass destruction," adding, wrongly, that the election had resulted in "in one of the biggest Electoral College victories in history." (While the votes are not entirely counted, Trump's current Electoral College margin against Hillary Clinton of 74 electoral votes ranks his victory 46th of 58 total elections in U.S. history.)
Other corporate executives who will serve in the upper echelons of Trump's presidency include Goldman Sachs (GS) - Get Goldman Sachs Group, Inc. (GS) Report alum Steven Mnuchin as Secretary of the Treasury and, reportedly, current Goldman COO Gary Cohn as director of the National Economic Council.