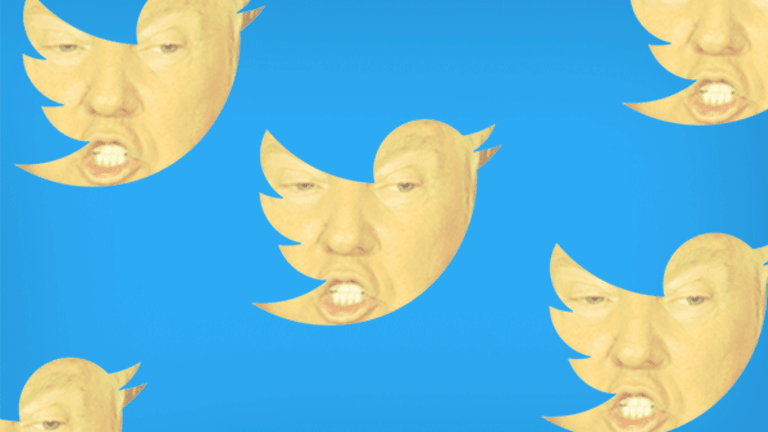 In the Long Run, Trump's Tweets Don't Matter
Donald Trump's tweet knocking Nordstrom coincided with the company's stock's best and most-traded day of the year.
President Trump tweeted about two companies on Wednesday -- one praising Intel (INTC) , another knocking Nordstrom (JWN) . Shares of Intel ended the day flat; Nordstrom's stock climbed more than 4%, marking its best and most-traded day of the year so far.
The president's habit of targeting specific companies on Twitter has become a major point of focus for corporate America, including Wall Street. Headlinesflash declaring that Trump wiped billions of dollars off of multinational companies' market caps. Firms tee up and recycle jobs announcements in hopes of avoiding the president's 140-character wrath. But over time, Trump's tweets really don't matter.
No clear pattern can be derived from the performance of the public companies Trump has attacked or complimented on Twitter.
Boeing (BA) , which Trump slammed over the cost of its 747 Air Force One on December 6, has rallied about 8% since that time. Lockheed Martin (LMT) , which he hit over the cost of its F-35 just six days later on December 12, has fallen about 0.50% since then.
Shares of Ford (F) , Fiat Chrysler (FCAU) and Walmart (WMT) have all climbed since the president sent out positive tweets about them after his November 8 election.
So have shares of Rexnord undefined , which Trump called out over "viciously firing" workers and moving jobs to Mexico. The Milwaukee-based industrial company's stock has gained about 6% since Trump's December 2 tweet. And it's still going to Mexico, the Wall Street Journal reported this week.
According to a Financial Times analysis of Trump's Twitter usage since the start of 2017, the president's insults have had almost no effect on the targeted company's share price within an hour of investors having a chance to react. Praise has on average resulted in around a 1% bump in the first trading hour but wears off in about a day.
"That Trump tweets cause volatility is unquestionable," said Ted Merz, news content business manager at Bloomberg. "Sometimes the market goes up and down and ends the same, but in between, there's volatility."
There have for months been talk of algorithms being developed to take advantage of Trump's tweets. Merz said market movements after the tweets suggest that there is "definitely" algorithmic trading going on.
But no one on Wall Street seems to know -- or at least is willing to say -- exactly who might be doing it on a scale broad enough to move markets.
"At this point, we're sort of waiting for someone to show some kind of proof or data that actually shows that this is happening and is the result of an algorithm," said Bill Harts, CEO of Modern Markets Initiative, an advocacy group for high-frequency trading.
Smaller projects are popping up.
Google X developer Max Braun has built an open-source bot that tracks Trump's tweets. It scans the commander-in-chief's Twitter feed for mentions of publicly-traded companies, detects sentiment, and then either buys or shorts the stock, exiting the position at the end of the trading day. It also appears to grab some institutional investment firms it associates with the companies Trump tweets about, like State Street (STT) and BlackRock (BLK) .
Braun just started putting money into the algorithm (he plans to donate any profits to the ACLU, NRDC and Planned Parenthood), but a simulated fund using it has an annualized return of about 59% since inception -- before Trump's Wednesday tweets.
The simulated fund took a "big hit" after that, Braun said, but is still slightly up overall. "I'm starting to see the limits of that strategy with Nordstrom," he said. "I'm always iterating on the algorithm."
Texas-based advertising agency T3 has developed "The Trump and Dump Bot" that shorts stocks based on Trump's tweets. Its president, Ben Gaddis, told Bloomberg it would donate nay profits from it to the ASPCA.
After Trump's Nordstrom tweet, the company said on Twitter there was no trade made, but the "bot's learning."
Merz said Trump has joined the ranks of Tesla's (TSLA) Elon Musk and billionaire investor Carl Icahn as figures whose tweets Wall Street closely follows. (Bloomberg and Twitter have a custom alerts agreement.) He added that many Trump tweets come during trading, whereas companies usually save potential stock-moving announcements for before or after the closing bell.
"Traders love volatility, so if things are happening intraday, it's something they want to pay attention to," he said. "They have to be aware of everything that could introduce volatility to the market."
While Trump's tweets appear to have a short-term effect, after a matter of hours, if not minutes, it dissipates. And trading around tweets regardless can be dangerous.
"Any kind of strategy that's based around a tweet is extremely risky and in no way is a guaranteed profit," Harts said.