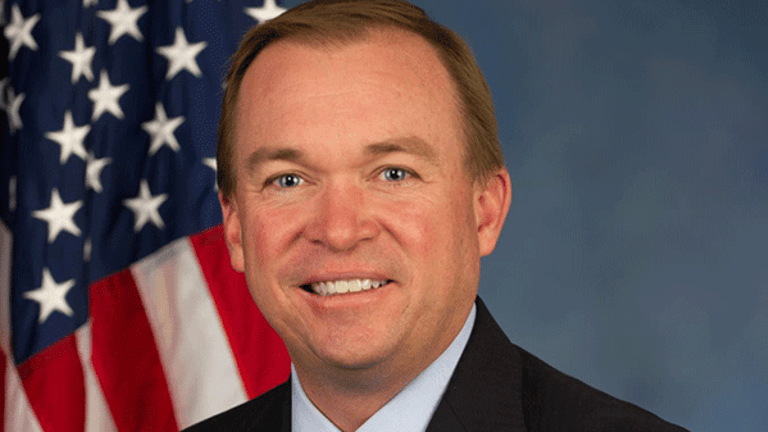 Trump's OMB Pick, Mulvaney, A Boon To Public BDCs
The president-elect's pick to to run the Office of Management and Budget is the lead sponsor of a bill that would allow BDCs to hike their leverage.
President-elect Trump's choice of Rep. Mick Mulvaney to run the government's Office of Management and Budget is a plus for publicly-traded Business Development Companies hoping to advance legislation that would expand the amount of debt the specialized private equity firms could take on.
Mulvaney, if confirmed by the Senate to be OMB chief, won't have any direct power to move legislation through Congress. However, he is the lead sponsor of a bill that would allow BDCs to hike their leverage. As OMB director, Mulvaney would have a prominent voice in the Trump Administration, likely making his BDC bill a priority in 2017. In addition, the legislation has a real shot of being approved because Republicans control the House, Senate and the White House and because parts of the bill have the support of a number of Democrats in the House. 
"We have long believed that BDC reform would advance as soon as it became a priority for leadership," said Cowen Washington Research Group analyst Jaret Seiberg. "With Mulvaney a key player in the Trump White House we believe this condition would be met and we would expect BDC reform to advance in the next Congress."
Most BDCs are publicly-traded funds that seek to provide debt or equity capital investments to private middle market and small companies. Fund managers oversee a portfolio of illiquid loans and equity securities and they have a number of restrictions, such as portfolio diversification requirements, limits on leverage and a mutual fund-like regulatory compliance structure. Publicly-traded BDCs must distribute 90% of their earnings to shareholders in the form of dividends.
Potential beneficiaries include a variety of BDCs, including Main Street Capital (MAIN) - Get Report , Triangle Capital  (TCAP) , TICC Capital (TICC) , Full Circle Capital (FULL) , TPG Specialty Lending Inc. (TSLX) - Get Report and Equus Total Return Inc. (EQS) - Get Report .
While in Congress, Mulvaney, R-N.C., introduced a bill that would give BDCs the option of increasing their leverage to 2-to-1. Currently, BDCs have a debt to equity ratio of 1-to-1, which means they can borrow $1 for every dollar of equity they have raised. His bill would also allow BDC's to allocate more capital to financial service companies, a point of contention among many Democrats. BDCs can currently allocate 30% of their portfolio companies to financial services companies mostly in the small to middle-market space. Mulvaney's bill would allow the firms to allocate up to 50% of their total portfolio to financial services firms. 
Brett Palmer, president of the Small Business Investor Alliance, said that he expects that as OMB director, Mulvaney will be in a position to recommend President Trump sign legislation he supports, including measures involving BDCs.
In addition, the Securities and Exchange Commission plays a big role, mostly behind-the-scenes, in whether lawmakers support legislation. For example, outgoing SEC Chairman Mary Jo White in 2013 issued a letter to Congress suggesting that legislation under consideration at the time to significantly expand BDC leverage gave "rise to investor protection concerns." Regulatory observers contend it is likely the letter drove many Democrat lawmakers away from supporting the effort.
The leverage component of the BDC legislation being advanced by Mulvaney has been significantly pared down. Nevertheless, Palmer contends that Mulvaney as OMB chief will send a message to the incoming Trump Administration's SEC chief that legislation to hike BDC leverage isn't a problem. "Our odds were going up anyway because I expect that new leadership at the SEC will likely be more supportive of capital formation for BDCs," Palmer said.
Many Democrats, however, are still going to push back. In particular, they have  raised concerns about the provision in the bill that would expand the amount of lending BDCs could provide to financial services companies. University of Denver Law Professor J. Robert Brown said that he is concerned that more lending to financial firms, such as pay day lenders, that are already leveraged, increases the risk associated with their investments.
In addition, Brown said that the shift could reduce the amount of funds allocated to small and mid-sized manufacturers and other operational businesses that otherwise would have been the beneficiaries of BDC investments and could use the managerial assistance that the funds provide. "Small manufacturing companies have trouble raising money and gaining the expertise needed for their business," Brown said. "If you expand the funds to be eligible to allocate more to financial firms you may see less lending to operating companies that need operational expertise while financial firms are less likely to need to management assistance."
However, speaking to The Deal in June, Mulvaney said he wants to allow for greater allocations to financial services firms because "that is where the market has told us there is a demand." 
Palmer noted that financial services companies some BDCs lend to include leasing companies, small industrial banks that cater to manufacturers as well as pay day lenders.
In recent years, the sector has become a hotbed for activist investments and other managers seeking to take over BDC boards, shake up executive teams and, in some cases, liquidate funds. In addition, rival strategic management firms have started to launch campaigns to take over advisory contracts at poorly performing BDCs, adding to what has become quite a volatile environment.