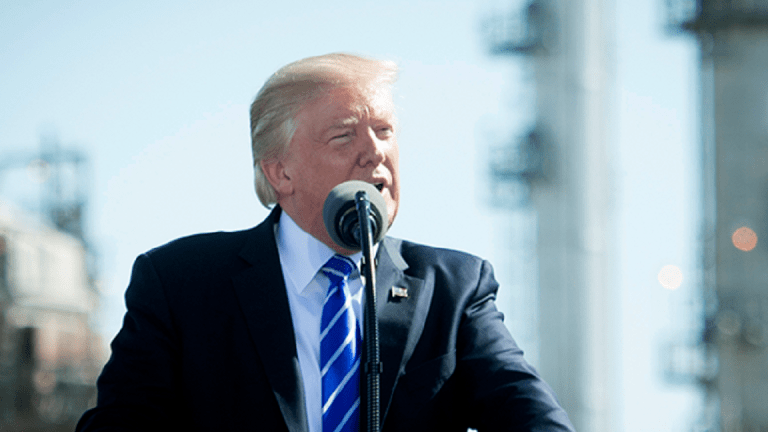 Trump's Obamacare Payments Bombshell a Blow to Insurers and Patients
If Congressional Republicans can't address the Affordable Care Act legislatively, President Donald Trump appears determined to take a sledgehammer to the law himself in a maneuver that could do severe damage to healthcare markets.
With Congressional Republicans unable to fix the Affordable Care Act legislatively, President Donald Trump appears determined to take a sledgehammer to the law himself in a maneuver that could do severe damage to healthcare markets.
The president on Thursday evening announced his intention to end key cost-sharing reductions under the ACA intended to make health insurance more affordable for qualified individuals and families. The decision could throw insurance markets into chaos.
"It's a very kind of crazy way to make policy, because it's putting these insurers in a situation where the rules have changed underneath them after they in good faith have been participating in these markets and setting premiums based on the rules on the books," said Linda Blumberg, senior fellow at the Health Policy Center at the Urban Institute. "They're not given the opportunity to incorporate a policy change into their business."
The ACA requires insurers to provide cost-sharing reductions (CSRs) that lower deductibles, co-payments, co-insurance and out-of-pocket maximums for those with incomes below 250% of the federal poverty level. The payments, made around the 20th of each month, are expected to total $7 billion in 2017.
White House Press Secretary Sarah Huckabee Sanders in a statement on Thursday slammed the payments as "unlawful" and a "bailout" for insurance companies.
Low-income consumers eligible for CSRs are still guaranteed that assistance, the problem is just that insurers won't be paid for them. As a result, insurers will likely either flee markets or raise premiums to cover the cost.
Many insurers, such as Anthem undefined , Centene (CNC) , Cigna (CI) and Molina Healthcare (MOH) , have already increased premiums for 2018 in anticipation of the Trump administration possibly scrapping cost-sharing payments. Others, however, did not, hedging their bets that the White House would continue with the payments and keeping premiums low in order to stay competitive.
Now, the ground has shifted beneath their feet. Most insurers have already set premiums for the Obamacare markets in 2018, enrollment for which begins on November 1. Moreover, insurers are still on the hook for 2017 payments, meaning they will lose money in November and December at the very least. That group includes Aetna (AET) , Anthem, Centene, Cigna, Humana (HUM) , Molina, UnitedHealth Group (UNH) and WellCare Health Plans (WCG) .
Those insurers are likely to sue for the reimbursed expense, said Height Securities analyst Alex Cynamon in a note on Friday. The attorneys general of California and New York have already threatened to sue the administration over stopped payments as well.
The administration has tossed the ball to Congress to find a solution to appropriate funds for the payments, which are due next week (when the Senate is in session but the House is on recess).
The Wall Street Journal reported that Trump would support a bipartisan agreement such as the one Senate HELP Committee leaders Lamar Alexander (R-TN) and Patty Murray (D-WA) have been working on since August, but given Congress' inaction on healthcare, it is unclear how successful legislative efforts will be. Office of Management and Budget Director Mick Mulvaney said in an interview with Politico on Friday that Trump will oppose congressional attempts to reinstate funding for Obamacare subsidies unless he gets something in return.
If no solution is reached and the payment stop isn't blocked, it could toss insurance markets into chaos -- not only the Obamacare marketplace but the entire individual market as healthy people flee insurance pools. "Everybody's premiums, if they don't have access to a premium tax credit, goes up, and insurance goes down," Blumberg said.
The nonpartisan Congressional Budget Office in August estimated that cutting off cost-sharing subsidies under Obamacare would increase premiums for silver plans by 20% in 2018 and 25% in 2020. It also estimated federal deficits would increase by $6 billion in 2018, $21 billion in 2020 and $26 billion in 2026, because while the federal government would save money by not making CSR payments, it would face increased costs for tax credits that subsidize premiums for marketplace enrollees with incomes of 100% to 400% of the poverty level.
Trump's cost-sharing payments announcement came after he signed an executive order instructing administration departments to consider drafting new rules governing the healthcare industry, such as expanding association healthcare plans for small business, extending the parameters of short-term insurance and changing healthcare reimbursement arrangements between employees and their employers. The order's full effects will likely be destabilizing but until the rules are written the degree is difficult to tell.
Thursday's cost-sharing reduction announcement, however, will have immediate ramifications.
More of What's Trending on TheStreet:
Editors' pick: Originally published Oct. 13.