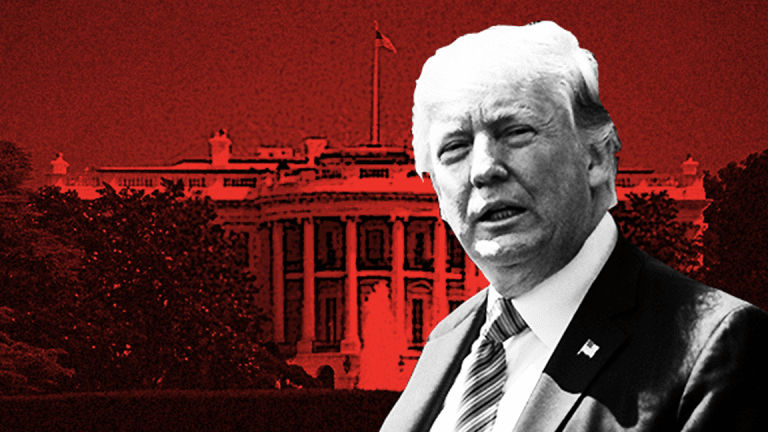 Trump's North Korea Bombast Is out of Sync With Gradual Sanctions Squeeze
The president's bombastic rhetoric on North Korea is out of sync with the deliberate diplomatic measures being taken by the rest of his administration.
The president's bombastic rhetoric on North Korea is out of sync with the deliberate diplomatic measures being taken by the rest of his administration.
President Donald Trump warned that the United States would "totally destroy North Korea" if necessary and called North Korean leader Kim Jong-un "Rocket Man" from the floor of the United Nations on September 19. Two days later, his administration announced a new executive order tightening sanctions on the country.
Trump on Sunday again tossed an insult at Jong-un, calling him "Little Rocket Man" on Twitter and warning the country might not "be around much longer." North Korea's foreign minister said the tweets amounted to a declaration of war. On Tuesday, the Treasury Department released a new list of North Korean individuals and banks operating in China, Russia, Libya and the United Arab Emirates to be sanctioned.
Secretary of State Rex Tillerson on Saturday acknowledged the U.S. was in direct communication with Pyongyang, North Korea's capital, over its missile and nuclear tests. Trump in a pair of tweets on Sunday said Tillerson should stop wasting his time on trying to negotiate. "Save your energy Rex, we'll do what has to be done!" he wrote.
The president is talking Armageddon, while the State and Treasury Departments are gradually adjusting the thermostat. 
"The president is out of sync with others in the administration on North Korea," said David Cohen, partner at WilmerHale and former CIA deputy director and Treasury undersecretary. "His rhetoric is unhelpful in ultimately trying to get a negotiated resolution here."
Trump's September 21 executive order pulls a page from the playbook the Obama administration used in negotiating with Iran. It expands the Treasury Department's ability to cut off access to the U.S. financial system and freeze assets of those doing business with North Korea.
This week's announcement by the Office of Foreign Assets Control of new sanctions on specific North Korean people and entities ratchets up the process a bit more. It still leaves negotiators with more tools in their toolbox, and it puts other countries on warning.
"They want to show they're taking a gradual approach, that they're serious about expanding the scope of these sanctions beyond North Korea itself to hit North Korea's overseas networks," said Christopher Swift, partner at Foley & Lardner LLP and adjunct professor at Georgetown University. "They're also signaling to the Chinese and the Russians and others that they're moving in that direction and...turning up the temperature."
China, specifically, has been put on notice.
China's central bank has reportedly instructed institutions to suspend the accounts of clients doing business with North Korea in compliance with United Nations sanctions, though it is unclear whether interactions have been cut off entirely. In June, the United States cut off China's Bank of Dandong because of its purported ties to North Korea.
The signal the United States is sending: China needs to do more on North Korea, and if they don't, then we'll do it for them.
"The play here has always been to try to get China to be more of a partner in these efforts through a combination of inducements and coercive action," Cohen said.
The next step in upping pressure that would signal a fundamental shift would be for the United States to sanction a Chinese or Russian bank. If the U.S. sanctions a government-controlled entity, that would mark an even bigger change.
"If they go there quickly, it means they're running out of rope," Swift said. "If it takes them a while to get there or never get there, it means that they think they're getting something from the Chinese or the Russians."
The wildcard in all of this is the escalating war of words between Trump and Kim Jong-un.
President Trump in August warned of "fire and fury" against North Korea and has as of late taken to referring to the North Korean leader as "Rocket Man." Jong-un returned the insult this month, referring to the U.S. president as "mentally deranged" and a "dotard" whom he would meet with "fire."
There is value in being clear about deterrents and the consequences of the other party's actions, including a credible military threat. But there's a fine line between smart posturing and going over the top.
"The concern now is that both sides have gone too far and that we're in an area where a miscalculation could occur," said Anthony Ruggiero, senior fellow at the Foundation for Defense of Democracies and former official at the State and Treasury Departments.
Presumably Trump's rhetoric is designed to signal the United States' seriousness to the North Koreans and the Chinese. But it is unclear whether there is any underlying strategy to his words. The danger is that they will be understood by North Korea as an indication that the U.S. intends to make a first-strike attack, and that could spur North Korea to go first. And then, the sanctions won't matter.
More of What's Trending on TheStreet:
Editors' pick: Originally published Sept. 29.