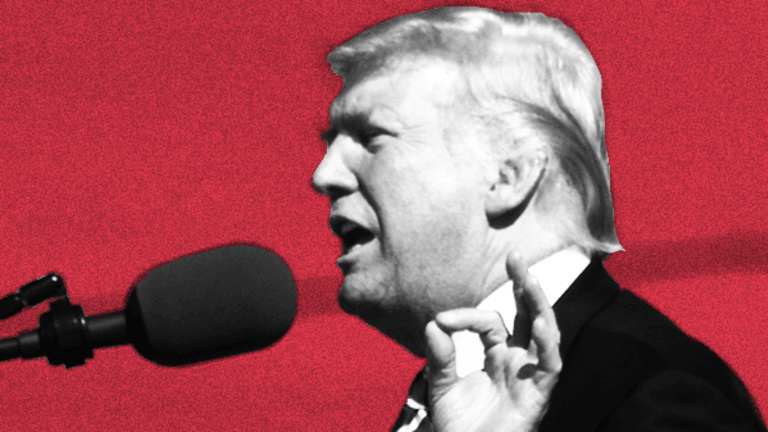 Trump's Lattice Deal Block Could Cause Cascade of China Cancellations
President Donald Trump's decision to block Canyon Bridge Capital Partners LLP's $1.3 billion plan to acquire Lattice Semiconductor Corp. could trip a domino effect of dealmakers calling off pending transactions.
President Donald Trump's decision to block Canyon Bridge Capital Partners LLP's $1.3 billion plan to acquire Lattice Semiconductor Corp. (LSCC) - Get Free Report could trip a domino effect of dealmakers calling off pending transactions.
Trump's order, which follows the recommendation of the Committee on Foreign Investment in the U.S. (CFIUS), is among the president's first actions telegraphing how cross-border deals might be dealt with under his administration, especially when it comes to national security concerns and China. It could lead to other companies currently in the review process with CFIUS to cancel deals in anticipation they might be blocked.
The Lattice deal is only the fourth transaction ever blocked by a U.S. president under the CFIUS statute. Most parties choose to terminate their deals when CFIUS recommends against them, but Lattice sought to force the president's hand, hoping his economic-growth focus might pull him in its direction and inspire him to cut past bureaucratic recommendations.
The Hillsboro, Oregon-based company said in a Sept. 1 securities filing that CFIUS had recommended Trump suspend or prohibit its merger with China-backed Canyon Bridge but that it remained convinced the transaction did not raise any national security concerns, CFIUS's area of focus.
Instead, Lattice said it hoped to convince Trump of the benefits of the transaction to shareholders and employees, including a pledge to double its American workforce to 700 people from 350. "Growing U.S. jobs with someone else's money -- that's a good thing for the United States and a good thing for us," Lattice CEO Darin Billerbeck said in an interview with The Wall Street Journal this week before the deal was blocked.
Trump didn't buy it.
The Wednesday decision "will be read by CFIUS as a vote of confidence in their analyses and recommendations," said Shawn Cooley, special counsel focusing on national security and foreign investment regulations and Freshfields Bruckhaus Deringer LLP in an interview with TheStreet. "That vote of confidence comes at a time when CFIUS has a deficit of politically-accountable management."
None of the assistant secretaries who would typically handle day-to-day matters at CFIUS, an inter-agency committee under the Treasury Department, have been confirmed by the Senate. "The career staff at CFIUS has not been getting a lot of guidance, and this will help fill that gap," Cooley said.
He observed that there is an unusually large number of transactions in a limbo similar to where Lattice found itself. Some have pulled and refiled their notifications to CFIUS to give the panel extra time to negotiate possible mitigation agreements before a recommendation has to be passed on to the president.
Genworth Financial Inc. (GNW) - Get Free Report and China Oceanwide Holdings Group Co. Ltd. in July announced they had withdrawn and refiled their notification with CFIUS for a second time regarding their pending $2.7 billion deal. Broadcom Ltd. (AVGO) and Brocade Communications Systems Inc. (BRCD) and Ant Financial and MoneyGram International Inc. MGI withdrew and refiled their notifications with CFIUS that same month.
China-based semiconductor investment fund Unic Capital Management's $580 million acquisition of U.S. semiconductor testing company Xcerra Corp. (XCRA) - Get Free Report is likely to get a fair degree of CFIUS scrutiny. So is HNA Group Co.'s estimated $200 million bid to buy former White House Communications Director Anthony Scaramucci's SkyBridge Capital.
"Genworth and Oceanwide continue to engage with all regulators, including CFIUS, on the pending transaction. Approval of the transaction with China Oceanwide is the best option for Genworth's stockholders and achieves the best outcome for its policyholders and other stakeholders as well as the broader LTC insurance industry," Genworth spokeswoman Julie Westermann said in a statement. "As always, Genworth is committed to serving the policyholders of its insurance companies, which includes continuing to ensure their personal information is protected to the fullest extent."
Representatives for SkyBridge and Xcerra declined to comment on the state of the deals with regard to CFIUS; representatives for MoneyGram did not return request for comment.
A source close to Brocade said the parties see their transaction as different from the Lattice deal and are still working with CFIUS on approval. Two other Broadcom deals have undergone successful CFIUS reviews in recent years.
Following the president's decision, "I imagine some cases will take it as a negative sign and will voluntarily abandon their deals and walk away. But others might double down on trying to come up with mitigation solutions with a renewed purpose in light of a more credible threat that President Trump will accept a CFIUS recommendation to block a deal," Cooley said. "It will be interesting to see if any are willing to be the second pair of companies to roll the dice and ask the president to reject a CFIUS recommendation."
President Trump has positioned himself as jobs-focused figure focused on economic growth while simultaneously taking an outward tough-on-China stance. The mere fact that Lattice and Canyon Bridge tried to make an economic argument to counter national security concerns shows others might take a similar tack if Trump or Congress expands the type of issues CFIUS must consider in judging whether a merger poses a risk to the U.S., said Stephen Paul Mahinka, a Morgan, Lewis & Bockius LLP partner who handles CFIUS reviews in a recent interview with TheStreet.
"I did not think this approach would work in this context, but an interesting issue is whether, if employment effects are included in any future Executive Order on how CFIUS should assess filings or in new legislation, labor effects could overbalance security concerns, at least in industry contexts of less direct and consequential concern than semiconductors," he said.
More of What's Trending on TheStreet:
Editors' pick: Originally published Sept. 14.