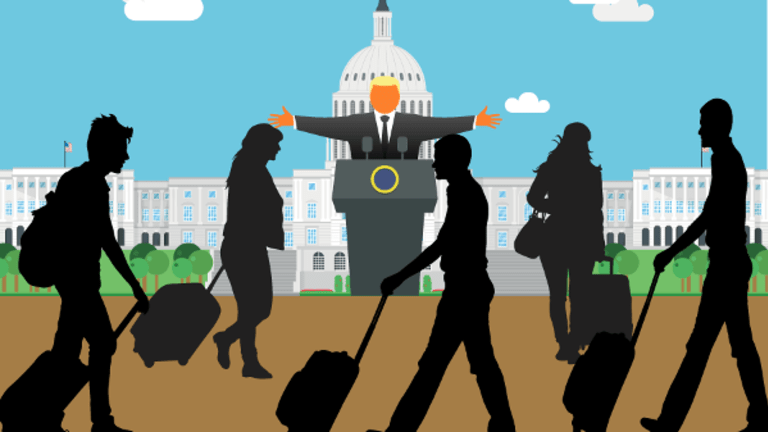 Trump's Latest Crisis Could Hamper Already Complicated Tax Efforts
President Donald Trump's increased isolation aren't exactly helping tax reform efforts. But it's unclear whether he was going to be much of an asset in the first place.
President Donald Trump's increased isolation in the wake of his comments faulting both sides in violent white nationalist protests over the weekend aren't exactly helping tax reform efforts. But it's unclear whether he was going to be much of an asset in the first place.
Washington lawmakers, corporate executives and military leaders alike have distanced themselves from the president in recent days. Republican and Democratic members of Congress criticized Trump's equivocal attitude towards the events in Charlottesville, Virginia, and two CEO advisory councils to the president disbanded. Analysts and policymakers on Thursday weighed what the fallout would mean for the item next on top of the political agenda: tax reform.
The White House and Congressional Republicans have laid out an aggressive agenda for tax legislation. Several officials have promised a bill this year, though most on Wall Street agree such a timeline is overly ambitious.
With Trump's approval ratings falling and his political capital diminished, doubts are rising about his capacity to help advance legislation. This week's events have exacerbated the problem, but it's not new.
"There was already an awareness and resignation that he was just not going to be able to help in the traditional ways that Ronald Reagan was able to help or even George Bush," said veteran Wall Street political forecaster and Capital Alpha president Chuck Gabriel in an interview with TheStreet. "He really can't be your evangelist."
Congressional Republicans have already been moving on progress without Trump. Top GOP tax writers are meeting at Reagan Ranch this week to discuss ideas and drum up support. House Ways & Means Committee Chairman Kevin Brady (R-TX) in an interview with CNBC on Wednesday indicated that despite Trump, efforts won't be deterred. "This is about delivering tax relief to all Americans," he said.
Relations between President Trump and Republican leadership are "undeniably at a low point," wrote Compass Point analyst Isaac Boltansky in a Thursday note, but the alliance was already a marriage of convenience for legislative purposes, not some binding tie.
"President Trump's capacity to influence lawmakers continues to decline, but his power to cajole Congress was already dubious as evidenced by the health care failure," Boltansky said. "Tax reform was always going to be driven by Congress and GOP lawmakers remain committed to the effort."
That doesn't necessarily mean that Trump's self-inflicted wounds are good for tax reform efforts, either.
Jack Ablin, chief investment officer at BMO private bank, said the CEO council exodus and accompanying statements dinging Trump may be a sign corporate America isn't as bullish about a tax bill as it used to be.
"If they felt that corporate tax reform were imminent, many would have stayed onboard to try to shape the legislation," he said. "Having that group kind of walk away suggests that perhaps tax reform isn't as close as we may have thought."
Even as a growing number of Republican lawmakers have distanced themselves from Trump, they won't be able to separate themselves entirely. That could deter them from taking more drastic measures on pushing tax legislation through.
The GOP plans to use budget reconciliation to pass tax legislation. The measure requires a simple majority but brings with it certain limitations items such as deficit increases and economic assumptions. Some have suggested Republicans seek to bend the rules on reconciliation by extending the time frame for deficit neutrality, using dynamic scoring or taking more bullish estimates about economic growth. Trump's latest crisis makes that a risk fewer and fewer lawmakers may be willing to take.
"I don't think that Trump's popularity or his support from business was necessarily at this stage all that problematic, but the trend we're heading on, it's problematic with regard to what's going to have to happen fairly early in the tax reform process, which is to decide what baselines to use, what rules to adhere to, etc.," Gabriel said.
President Trump on Thursday morning dinged Republican Senators Jeff Flake (R-AZ) and Lindsey Graham (R-SC) on Twitter and lamented calls for the removal of Confederate monuments.
"Certainly, [Trump's] tone deafness doesn't help," Ablin said. "It's an unnecessary leak of political capital."
On top of it all, is the U.S. in an economic war with China? Jim Cramer thinks so. 
More of What's Trending on TheStreet:
These 10 Office Catch-Phrases Will Drive Your Coworkers Absolutely Insane