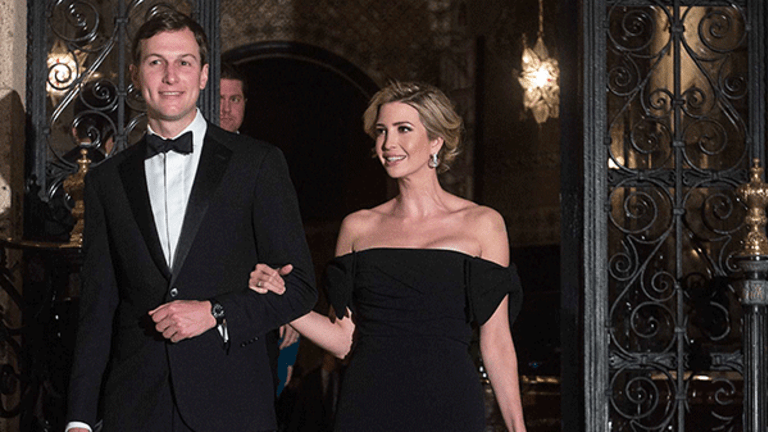 Trump's Immigration Policies Could Lead to a Less Fashionable America
Not only are President Trump's immigration policies potentially harmful to the economy, they're bad for your wardrobe, too.
Not only are President Trump's immigration policies potentially harmful to the economy, they're bad for your wardrobe, too.
The fashion industry is feeling the effects of two major hurdles in relation to immigration, according to a new report released on Monday -- first, gaining access to and retaining top talent, and second, navigating the United States immigration system. An overhaul of immigration laws could be a major boon to the $250 billion fashion and apparel industry, namely, reforming visa laws and establishing a path forward for undocumented immigrants.
"For over a century, immigrants and their children have built world-renowned fashion houses here and created thousands of American jobs," said Todd Schulte, president of FWD.us, in a statement. "We need to reform our immigration laws to protect American workers while boosting our ability to bring in the best and brightest from around the world so we can continue driving the U.S.' global leadership in fashion and multiple other industries."
FWD.us, a lobbying group launched by Facebook's (FB) - Get Meta Platforms Inc. Class A Report Mark Zuckerberg in 2013, commissioned the report in cooperation with the Council of Fashion Designers of America (CFDA). They collected feedback in two CFDA industry roundtables and surveyed over 100 industry professionals.
While H-1B worker visas are most commonly associated with the tech industry, they are important in fashion as well, as are O-1 visas awarded to individuals with extraordinary ability or achievement. Over two-thirds of study participants have employees on H-1B visas, and more than one-fifth on O-1 visas. The Trump administration has suspended expedited H-1B visa approvals, a sign even further crackdowns could be on the horizon.
The U.S. also does not currently have a visa for entrepreneurs, meaning it's next to impossible for foreign designers to start a company in the U.S.
It's difficult for fashion students from abroad to stay here as well. Forty percent of students at Parsons School of Design and 12% of students at the Fashion Institute of Technology, two top-ranked fashion schools based in New York, are international.
Diane von Furstenberg, a Belgian-American fashion designer and CFDA president, in a statement drew from her own experiences as an immigrant entrepreneur in fashion.
"I left Europe and arrived in New York with a baby in my belly and a suitcase full of little dresses made in Italy. With these dresses I lived an American dream," she said. "Young people from all over the world come to America in search of those same opportunities, and young people with limitless talent and potential will continue building and innovating in our industry as long as we put in place immigration policies that allow the U.S. to remain a magnet for them."
The issue is especially prevalent in New York City, where 900 fashion companies are headquartered, employing 180,000 people, or about 6% of the local workforce. The New York fashion industry generates more than $2 billion in tax revenue, with $10.9 billion in total wages. New York Fashion Week represents about $900 million in economic impact on the city each year.
President Trump's immigration policies stand to further complicate matters for fashion. Upped interior enforcement measures, including the threat of increased deportations of undocumented immigrants, would be a major disruptor for a sector that relies heavily on immigrant labor. Undocumented immigrants comprise 20% of all workers in U.S. clothing and manufacturing and 4.2% of all workers in wholesale retail and trade.
To be sure, the use of undocumented immigrants in clothing manufacturing is a controversial matter, as undocumented workers are often paid very low wages and subject to poor working conditions.
The travel ban, which is now stuck in courts, has been impactful as well. NYC & Co., New York's destination marketing organization, predicted 300,000 fewer visitors would travel to New York this year than last, resulting in $600 million in losses for city businesses. Interest from international students looking to travel to the U.S. could be affected as well.
Some names in fashion and apparel have spoken out against Trump's immigration plans. Nike (NKE) - Get NIKE, Inc. Class B Report CEO Mark Parker told employees in a letter in January that the travel ban was not something the company supports, and Warby Parker, Etsy (ETSY) - Get Etsy, Inc. Report and Levi Strauss & Co. signed onto an amicus brief against it. A number of designers, including Cristian Siriano, Marc Jacobs and Tom Ford, have refused to dress First Lady Melania Trump.
Fashion will also be paying attention to where the Trump administration lands on the border adjustment tax, a measure being pushed by some House Republicans that would tax imports and exempt exports. It has been met by fierce opposition from retailers and those who manufacture goods abroad to be sold in the United States. The White House has not yet weighed in definitively on the matter, which American Apparel & Footwear Association president and CEO Rick Helfebein in February warned could be a "death tax for fashion."
The industry might be hoping for a kind ear in Trump and his daughter, Ivanka, both of whom have experience launching fashion lines of their own.