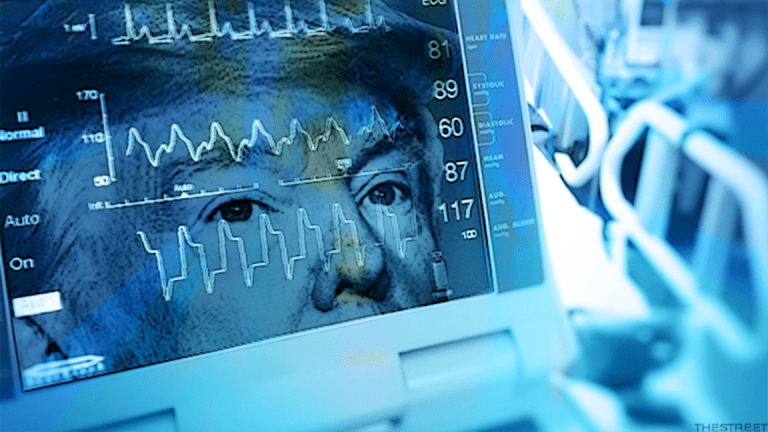 Trump's Healthcare Executive Order Could Destabilize Already Fragile Market
President Donald Trump's upcoming executive order on Obamacare could throw the already-delicate American healthcare industry into further chaos.
President Donald Trump's upcoming executive order on Obamacare could throw the already-delicate American healthcare industry into further chaos.
The White House has in the works an order that will lift some insurance rules set by the Affordable Care Act. The president teased the order in an early-morning tweet on Tuesday. Speaking from the Oval Office later in the day, he said it is "very simple in one way but very intricate in another" and will mean "great, great healthcare for many, many people."
Until the order is released in its entirety, it is difficult to predict what effect it might have. However, it is already causing consternation among experts and insurers who worry it will do more to undermine the stability of the U.S. healthcare system than to fortify it.
"If the executive order is as expansive as it sounds, it could severely destabilize the individual and small business insurance markets," said Larry Levitt, a health policy expert at the Kaiser Family Foundation, on Twitter.
Trump plans to order three agencies to take steps to make it easier for people to band together and buy insurance through "association health plans," an administration official told The Wall Street Journal. Such plans allow small businesses to band together through trade associations, professional organizations and community groups to buy insurance and appear to be what Trump is be referring to when he talks about selling plans across state lines.
As Vox explains, before Obamacare, national associations were able to pick and choose which states' rules they wanted to follow and use those rules to guide plans they offered nationwide. The ACA changed guidelines so that they were instead treated as small businesses and required to cover all of the ACA's mandated requirements, such as essential health benefits.
There are many unknowns in the scope of Trump's order, such as whether it would allow individuals to join association plans or stick to small businesses, and how it would comply with the Employee Retirement Income Security Act of 1974 (ERISA), which sets minimum standards for private health plans.
"The risks of trying to do the kinds of things we're hearing about are really tremendous," said Linda Blumberg, senior fellow at the Health Policy Center at the Urban Institute.
The ACA currently permits the sales of insurance across state lines provided there is a compact between each state so that insurers don't undermine one another or consumers aren't protected. If association health plans make a comeback in the way Trump's order is rumored to allow, that would no longer be the case. Such plans would be exempt from any state regulations and instead subject to federal oversight.
As a result, consumers could lose many of the protections currently provided by them by states. Say you're in California and your insurer in Mississippi becomes insolvent and stops paying your doctor for your last visit -- you won't have state resources to back you up.
"It's completely unclear to me how it's going to deal with regulatory issues, because traditionally, insurance has been regulated at the state level," said University of Southern California health economist Darius Lakdawalla.
Large nationwide insurers such as Aetna (AET) , Cigna (CI) - Get Cigna Corporation Report and UnitedHealth Group (UNH) - Get UnitedHealth Group Incorporated Report might see an opportunity in providing association healthcare plans as opposed to state-based systems such as Blue Cross Blue Shield. But in the long-term, anything that splits insurance markets isn't going to be a good thing, one healthcare lobbyist said.
Proponents of association health plans, such as Senator Rand Paul (R-KY), say they increase competition by allowing younger, healthier patients to access cheaper, skimpier health plans. But they also risk creating a bifurcated insurance market where older, sicker patients are left in a separate pool. As a result, insurers would either flee the Obamacare markets where they are or hike premiums.
"The more choices consumers have, the more opportunities they have to segregate themselves, the more opportunities healthy people have to flee pooling with sick people, and you're just creating more opportunities for the exacerbation of the problem," Lakdawalla said.
If lawmakers were first seeking to address adverse selection problems in the health insurance market, more competition would be a good thing. But they aren't.
"They would probably make people better off. But the sequencing is all mucked up here," Lakdawalla said.
To be sure, the scope of Trump's executive order remains to be seen, and there are some who hold that concerns over insurance market bifurcation are overblown.
"It's an overstated risk," said Merrill Matthews, resident scholar and health policy expert at the Institute for Policy Innovation. Most Americans get insurance through their employers, Medicare and Medicaid, and Obamacare enrollees who get generous subsidies may decide to stay there. "You're really only talking about the individual market," he said.
Persistent uncertainty in healthcare law under Trump has businesses and consumers in limbo. The administration has spent months publicly doubting whether to make cost-sharing reduction payments, has slashed its budget for Obamacare advertising and taken numerous other steps to undercut the ACA and current health policy in the U.S.
"The common theme here is the undermining is always to the detriment to people with health problems," Blumberg said. "You may get a bonus if you're healthy at a particular moment, but you're getting that advantage at the detriment directly of people who have health problems and at your own detriment if and when your health problems occur."
More of What's Trending on TheStreet: