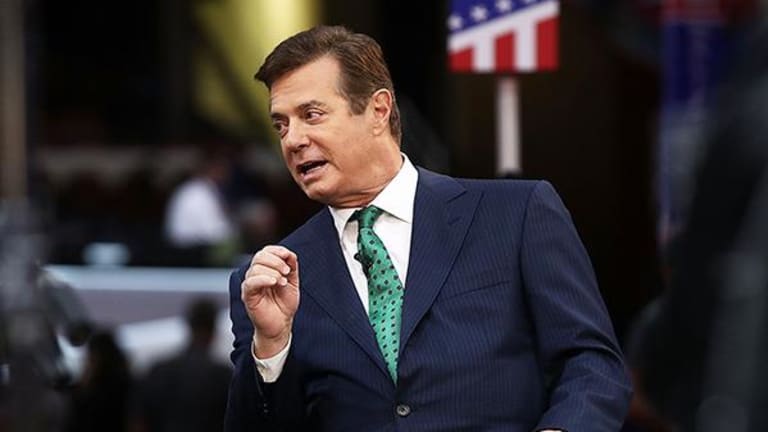 Publish date:
Trump's Former Manager Manafort Reportedly Pitched Plan to Benefit Putin
Questions about President Donald Trump's former campaign chairman, Paul Manafort, and his ties to Russia continue to deepen.
Questions about President Donald Trump's former campaign chairman, Paul Manafort, and his ties to Russia continue to deepen.
Questions about President Donald Trump's former campaign chairman, Paul Manafort, and his ties to Russia deepened following a report that he secretly worked for a Russian billionaire to advance the interests of Russian President Vladimir Putin in the mid-2000s.
According to an Associated Press report on Wednesday, Manafort proposed in a confidential strategy plan as early as 2005 that he would influence politics, business dealings and news coverage in the United States and Europe to benefit the Putin government. He pitched plans to Oleg Deripaska, an aluminum billionaire with close ties to Putin, and eventually signed a $10 million annual contract with him.
"We are now of the belief that this model can greatly benefit the Putin Government if employed at the correct levels with the appropriate commitment to success," Manafort wrote in the 2005 memo to Deripaska.
Manafort in a statement to the AP confirmed that he had worked for Deripaska in various countries but insisted there was nothing "inappropriate or nefarious" about his activities.
"I worked with Oleg Deripaska almost a decade ago representing him on business and personal matters in countries where he had investments," Manafort said. "My work for Mr. Deripaska did not involve representing Russia's political interests."
Manafort is one of a handful of Trump campaign advisers under the microscope over their relationships and communications with Russia. FBI Director James Comey on Monday in testimony before the House Intelligence Committee confirmed that his agency is investigating the matter.
"I've been authorized by the Department of Justice to confirm that the FBI, as part of our counterintelligence mission, is investigating the Russian government's efforts to interfere in the 2016 presidential election," Comey said. "That includes investigating the nature of any links between individuals associated with the Trump campaign and the Russian government, and whether there was any coordination between the campaign and Russia's efforts."
Manafort, 67, this week also faced new allegations out of Ukraine when a local lawmaker released documents allegedly showing that he laundered payments for a disgraced ex-leader using offshore accounts in Belize and Kyrgyzstan. A Manafort spokesman called the allegations "baseless."
Manafort joined the Trump campaign in March 2016 and became its chairman in April 2016 after former manager Corey Lewandowski was ousted. He resigned in August 2016 after questions about some of his ties abroad bubbled to the surface and was replaced by Kellyanne Conway and Steve Bannon.
The White House has sought to distance itself from Manafort. Press Secretary Sean Spicer Monday claimed he played a "limited role [in the campaign] for a very limited amount of time."
White House representatives did not immediately return request for comment on the matter.
You're Invited ...
Wall Street Goes to Washington. In the first of a series of conversations with President Trump's economic advisers, acclaimed author and columnist Michael Wolff will sit down with Trump insider Anthony Scaramucci, co-founder of private-equity firm Skybridge Capital. They'll discuss the Trump administration, Scaramucci's thoughts on the policies and regulations under debate and his outlook for the next four years. Join us for this cocktail party on Monday, March 27, at The Metropolitan Club in New York. The event is free, but seating is limited and reservations are required. For more information or to RSVP, email events@thestreet.com.
Jim Cramer recently wrote about the market selloff. Learn more here.