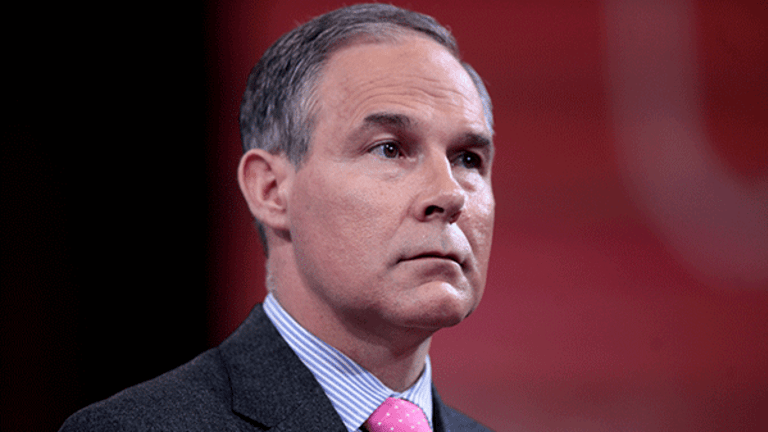 Trump's EPA Pick, Oklahoma AG Scott Pruitt, Is Currently Suing the Agency
Donald Trump's pick to nominate to head the Environmental Protection Agency is currently suing it.
Donald Trump's pick to nominate to head the Environmental Protection Agency is currently suing it.
The president-elect plans to nominate Oklahoma Attorney General Scott Pruitt to lead the EPA, his transition team announced on Thursday morning. Several media outlets reported the selection on Wednesday. Pruitt is part of a coalition of state attorneys general suing the agency over the administration's Clean Power Plan, the Washington Post noted, and has written that the debate on climate change is "far from settled."
In the nomination announcement, Trump criticized the EPA for spending taxpayer dollars on an "out of control anti-energy agenda" and said Pruitt will "reverse this trend and restore the EPA's essential mission of keeping our air and our water clean and safe."
Pruitt said he would run the agency "in a way that fosters both responsible protection of the environment and freedom for American businesses."
Trump met with Pruitt on November 28 at Trump Tower and again on Wednesday.
In a call with the press on Wednesday morning before reports of Pruitt's nomination emerged, Trump spokesman Jason Miller highlighted his credentials and experience, including his legal challenges to the EPA, Obamacare, executive actions on illegal immigration and Dodd-Frank as attorney general.
"Attorney General Pruitt has a strong conservative record as a state prosecutor and has demonstrated a familiarity with laws and regulations impacting a large energy resource state," he said.
Pruitt has served as Oklahoma's attorney general since 2011. He was a state senator from 1998 to 2006, where he served as Republican whip from 2001 to 2003. He was also co-owner and general manager of the Oklahoma City RedHawks, a Triple-A baseball team.
Pruitt, 48, is a long-time EPA critic. On his LinkedIn profile, he characterizes himself as a leading advocate against the agency's "activist agenda."
He is part of a coalition of attorneys general suing the agency's Clean Power Plan, an Obama administration initiative aimed at combating climate change.
In 2015, Pruitt slammed the plan as an "unlawful attempt to expand federal bureaucrats' authority over states' energy economies in order to shutter coal-fired power plants and eventually other sources of fossil-fuel generated electricity."
He also came to the defense of ExxonMobil (XOM) - Get Exxon Mobil Corporation Report when a coalition of states were investigating whether it and other energy companies misled investors and the public about how climate change might affect their businesses.
"Reasonable minds can disagree about the science behind global warning, and disagree they do," he said in a joint statement with Alabama Attorney General Luther Strange. "This scientific and political debate is healthy, and it should be encouraged. It should not be silenced with threats of criminal prosecution by those who believe that their position is the only correct one and that all dissenting voices must therefore be intimidated and coerced into silence."
ExxonMobil CEO Rex Tillerson met with Trump this week and is thought to be in the running to be his Secretary of State nominee. Harold Hamm, the CEO of Continental Energy who has been rumored to be a candidate for Energy Secretary, was co-chairman of Pruitt's 2013 re-election campaign, the New York Times points out.
Trump's daughter, Ivanka, met with former Vice President Al Gore on Monday, a move that encouraged environmentalists worried about Trump's climate change views. The Pruitt pick has sounded the alarm bells again.
"Whatever Al Gore said, Donald Trump apparently didn't get it," remarked David Axelrod, former top Obama adviser, on Twitter.
Vermont Senator Bernie Sanders called the pick "sad and dangerous."