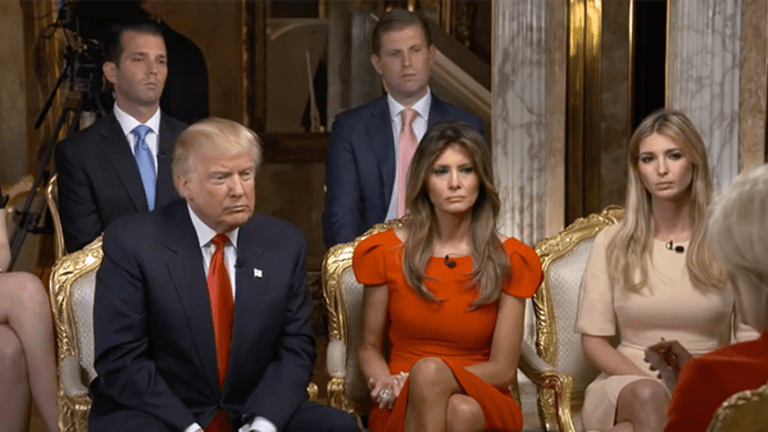 Trump's DC Hotel Shows Threat of Unprecedented Conflicts of Interest in the White House
The path Donald Trump is currently on would represent an unprecedented conflict of interest in the presidency.
Editors' pick: Originally published Nov. 15.
Many of the potential conflicts of interest entailed in Donald Trump's presidency can be seen in a single project: Trump International Hotel in Washington, D.C.
Trump has secured a 60-year lease for the Old Post Office building where the newly-opened hotel is housed from the U.S. General Services Administration, the head of which he will now be in charge of appointing. His Trump Organization has filed to receive major federal tax credits for developing the building, which would come through the IRS and Treasury Department, the leaders of which he will also select. For the project, he took out a $170 million loan from Deutsche Bank (DB) - Get Deutsche Bank AG Report , one of the few entities still willing to lend him money. It faces the threat of a $14 billion penalty over mortgage-bond investigations from the Department of Justice, the head of which -- the Attorney General -- Trump will choose as well. 
"We have landlord-tenant. We have taxpayer-tax collector. We have prosecutor-friend of the prosecuted. These are all of the conflicts that arise in just one relatively minor holding of President-elect Trump through the Trump Organization," said Paul S. Ryan, vice president of policy and litigation at Washington, D.C.-based watchdog group Common Cause. "We're looking at the potential of the greatest conflicts of interest of any White House of any president in this nation's history."
What Trump will do with his sprawling business ventures has raised red flags among observers regarding what appears to be an unparalleled potential for entanglements between the president-elect's financial ties and his governance obligations. He has sought to tamp down critics with assurances he will not be influenced, but many aren't buying it. 
Trump consistently boasted of his wealth and private-sector success on his path to the presidency. His Trump Organization owns and controls over 500 entities in the U.S. and worldwide that engage in hundreds of transactions, deals and new enterprises every year, according to a letter from his lawyers. He claims to have a net worth of $10 billion, more than $3 billion of which is derived from his estimated value of his brand.
The organization announced last week that it is "in the process of vetting various structures" for the immediate transfer of its management and portfolio to his children, Donald Jr., Ivanka and Eric Trump, in an arrangement that "will comply with all applicable rules and regulations." Michael Cohen, an attorney for Trump and his company, in an interview called the new setup a "blind trust" -- a characterization experts say is inaccurate.
"The unequivocal answer is no, it is not a blind trust," said Meredith McGehee, strategic adviser at the Campaign Legal Center in Washington, D.C.
Trump's children have been named as part of his presidential transition team, already signaling cross-pollination between his business and political interests. A Trump official denieda report on Monday that the real estate magnate had asked the White House for permission to give his family top security clearance.
Former New York Mayor Rudy Giuliani in an interview over the weekend said there would be a "wall" between Trump and his kids "with regard to government matters," but even if that were to be the case, it would still not be sufficient. Trump knows what is owned and controlled by the Trump Organization, and he cannot simply unknow it.
The creation of a true blind trust would require the sale of all of the Trump Organization's assets. The resulting sum of money would be placed into a trust account controlled by an independent manager, and Trump would remain unaware of where that money was being invested.
"They've given no indication that they'll be willing to do that," said Ryan.
Nor do they have to.
Presidents have followed the practice of placing assets in a blind trust traditionally, but there is no legal requirement for them to do so. (The vice president and members of Congress have no obligation to place their assets into a blind trust, either.)
If Trump stays on the path he is currently on, he stands to enmesh his public and private responsibilities in an unprecedented manner.
"For a candidate who ran on the promise of draining the swamp and cleaning up corruption in D.C., it would be a real disservice to his supporters and to America at large for him to run the most conflicted White House in the history of the nation," said Ryan.
A Trump Organization spokesperson declined to comment further on the matter.
Representative Elijah Cummings on Monday filed a letter to House Oversight Committee Chairman Jason Chaffetz asking him to review Trump's financial arrangements.
Chaffetz told the Wall Street Journal he is "happy to look at any letter the Democrats send" but clarified he would need to see a connection between Trump's investments and the federal government. "There needs to be a federal nexus," he said. "His past business dealings didn't necessarily have a federal nexus."
Chaffetz has doggedly investigated Hillary Clinton and has indicated he plans to continue his probe despite her election loss.
Ryan said he remains doubtful the House Oversight Committee will take any real action on Trump, though he said it should.
"It's their job, but I wouldn't bet money on it," he said. "Because of the sheer size of Mr. Trump's private business dealings, nearly every political decision he makes as president can and will be questioned as a potential conflict of interest if he doesn't do something about this situation."
In an interview with "60 Minutes" aired Sunday, his first televised sit-down since the election, both Trump and his daughter Ivanka said what happens with their brand and business pales in comparison to the task of governing ahead. But watchdogs say it's not so simple.
"I hope that, like many other things, as he gets a better grasp of the issues that arise, he will give these things that he didn't think would be a problem a second look as the gravity of the position he is about to enter [sets in], as he fully begins to understand what it all means," said McGehee.