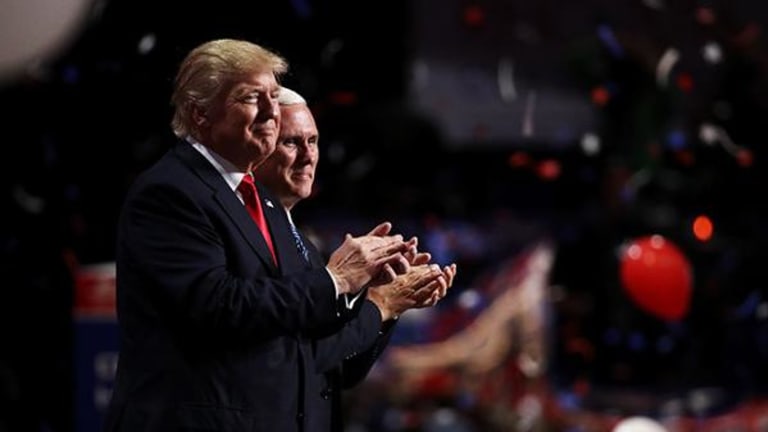 Trump's Carrier Deal Pleased Voters Amid Growing Concerns Over Implications, Poll Shows
Donald Trump's deal with Carrier was a hit with voters, despite the red flags it raises.
Donald Trump's deal with Carrier was a hit with voters, despite the red flags it raises.
A Politico/Morning Consult poll released on Tuesday shows the agreement the president-elect struck with United Technologies' (UTX) - Get n.a. Report Carrier last week to keep about 1,000 jobs in Indiana played well with the American electorate. Six out of 10 voters surveyed said Trump's intervention to keep the heating and air conditioning systems maker from shipping hundreds of jobs in Mexico made them view him in a more positive light, even as a growing chorus voices alarm about the real estate magnate's tactics toward governing business.
"The Carrier announcement was big for Trump," Kyle Dropp, Morning Consult cofounder and chief research officer, told Politico. "Rarely do we see numbers that high when looking at how specific messages and events shape public opinion."
The Carrier deal helped Trump across party lines. Four in 10 Democrats say they view him four favorably and 54% of independents. Even about a third of Hillary Clinton voters said it improved his standing.
Moreover, most voters say the tactics Trump and Vice President-elect Mike Pence, the current governor of Indiana, employed were appropriate. More than half of respondents said they believe it is acceptable for the pair to directly negotiate private business, offer tax breaks, incentives or government contracts to keep jobs in the United States, and negotiate with individual companies on a case-by-case basis.
The online survey polled 1,401 registered voters on December 1 and December 2 and has a margin of error of three percentage points.
Not everyone is so comfortable with the strategies Trump employed in negotiating the Carrier deal and what they may mean for governance after his inauguration.
Some have pointed out that while saving 1,000 jobs in the state of Indiana is a good thing for those workers, it is quantitatively insignificant when considering there are 150 million jobs in America, including 12 million to 13 million in manufacturing.
Moreover, the president engaging in public stunts and behind-the-scenes deals with private companies sets an alarming precedent and could encourage others to adopt similar tactics. Former Alaska Governor Sarah Palin last week maligned the deal as "crony capitalism," and Vermont Senator Bernie Sanders declared that United Technologies "took Trump hostage and won."
While speaking at Carrier's Indianapolis factory in celebration of the deal on Thursday, Trump suggested he had forgotten about his pledge to keep it from moving jobs to Mexico, even though he invoked Carrier as a major talking point throughout his presidential campaign.
"I never thought I made that promise. Not with Carrier. I made it for everybody else. I didn't make it really for Carrier," he said.
As the Washington Post points out, he did make such a promise. "We're not going to let Carrier leave," he said in April. "Because say what you want, Indiana. I've been talking about Carrier now for four months, right?"
Trump's apparent campaign-pledge amnesia on Carrier and his actions since his election indicating he may not be so keen to keep his campaign promises have an increasing number of observers worried.
"Was it a bait and switch?" asked Julian Zelizer, professor of history and public affairs at Princeton University in a recent CNN op-ed.
While Trump has painted himself as a sort of post-ideological policy renegade, a number of his maneuvers since November 8 signal a clear shift to the right. He has announced Steve Bannon, former Breitbart News chairman and alt-right champion, as his senior adviser and plans to nominate Senator Jeff Sessions, who takes a hard line on immigration and voting rights, as Attorney General.
He also plans to nominate Representative Tom Price, an ardent Obamacare opponent, to head the Department of Health and Human Services, despite promises to maintain parts of the healthcare law that would be structurally impossible to hold onto under repeal. And, he has pulled a number of former Goldman Sachs executives into his realm, including Bannon, his Treasury Secretary nominee Steve Mnuchin and adviser Anthony Scaramucci, despite railing against his opponents' ties to the bank on the campaign trail. Last week, he met with Goldman COO Gary Cohn.
"For all the talk about divisions within the GOP and Trump's unorthodox policy position, this is really looking like a very traditional Republican administration, and one that will veer to the right, not the center, on domestic and foreign policy," wrote Zelizer.
"The white working class is about to be betrayed," wrote Paul Krugman, New York Times columnist and economist, in an op-ed on Friday, pointing to the president-elect's promises on healthcare coverage and manufacturing jobs it will be difficult for him to keep once in the Oval office.
"One tactic, which we've already seen with this week's ostentatious announcement of a deal to keep some Carrier jobs in America, will be to distract the nation with bright, shiny, trivial objects," he wrote.
Judging by the Monday's poll, the tactic worked.