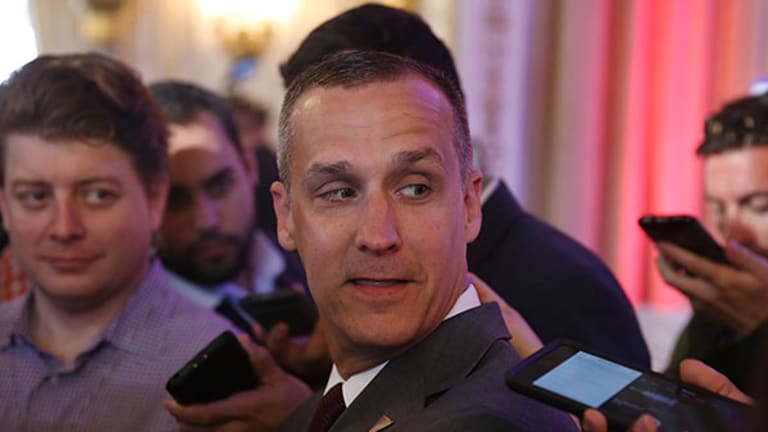 Trump's Manager Lewandowski Makes U.S. Presidential Campaign History
Donald Trump's campaign manager Corey Lewandowski has gone where no presidential campaign manager has been before him.
Donald Trump's campaign manager Corey Lewandowski has apparently achieved a first in U.S. presidential campaigns.
Lewandowski was charged with misdemeanor battery on Tuesday over a March 8 incident involving a former Breitbart News reporter, Michelle Fields, that took place at the Trump National Golf Club in Jupiter, Fla.  
"In modern campaigns, since the days of Plunkitt of Tammany Hall, we have not had campaign managers do something like this," said James Thurber, professor of government at American University's School of Public Affairs, in a phone interview from Washington. "We've had politicians bribe people with money and booze, and threaten people. But nothing like this."
Jupiter's police posted a video of the alleged incident, explaining in a report that "Lewandowski then grabbed Fields' left arm with his right hand, causing her to turn and step back," the Jupiter police in a report. "Based on the above-described investigation, probable cause exists to charge Corey Lewandowski."
The order for Lewandowski to appear in a Florida court on May 4 follows a week in which Trump and Ted Cruz, the leading contenders for the Republican nomination, traded nasty barbs about each other's wives. It also follows House Speaker Paul Ryan pleading with Republicans to embrace respect and civility, comments that generated as much scorn as praise.
Trump's campaign has seen its supporters slug protesters, leading to an arrest in North Carolina, and the candidate himself warn of "bad things" at the party's Cleveland convention in July if he holds the lead in delegates but is ultimately denied the nomination.
"The sorts of things we're seeing this time around are jarring," said Michael Hanmer, associate professor at the University of Maryland's Center for American Politics & Citizenship, in a phone interview. "I'm surprised that if [the Lewandowski incident] did happen as it looks like it did, that the Trump campaign didn't issue an apology, explain that the circumstances were frantic, and look to mend fences. But that doesn't seem to be their style."
Instead, Lewandowski tweeted that Fields was "delusional" after the reporter tweeted a photo of her bruised arm. Fields subsequently resigned her position at Breitbart, exiting along with at least three colleagues. One of them, Ben Shapiro, an editor-at-large, charged the news site's executive chairman Steve Bannon of ignoring, downplaying her accusations.
"Steve Bannon is a bully, and has sold out [founder] Andrew's [Breitbart] mission in order to back another bully, Donald Trump," adding that he "undercut his own reporter, Breitbart News' Michelle Fields, in order to protect Trump's bully campaign manager, Corey Lewandowski, who allegedly assaulted Michelle."
Bannon has been an ardent supporter of Trump's campaign.
The Trump campaign has denied the charges against Lewandowski, pledging to back him in court. Trump himself has accused Fields of fabricating the accusation against Lewandowski despite an account from The Washington Post's Ben Terris that Trump's campaign manager "grabbed her arm and yanked her out of the way," bruising her in the process.
Lewandowski, a former political operative for the Koch brothers' Americans for Prosperity, has been filmed personally removing protesters from Trump rallies.
Trump has sat atop the Republican polls since July, despite the drama surrounding his campaign, much of it self-created: invectives against respected Arizona Senator John McCain, the Fox News anchor Megyn Kelly and the Pope, among others; calling Mexicans "rapists" and "thieves;" threatening to prevent Muslims from entering the U.S.; and defending the size of his hands on both a nationally televised Republican debate, and in a meeting with top editors of The Washington Post.
"This reinforces what Trump has been doing in being critical of the media and encouraging people in his crowds to get rid of those who don't agree with him," Thurber added. "This takes the campaign to another level of outrageous behavior."