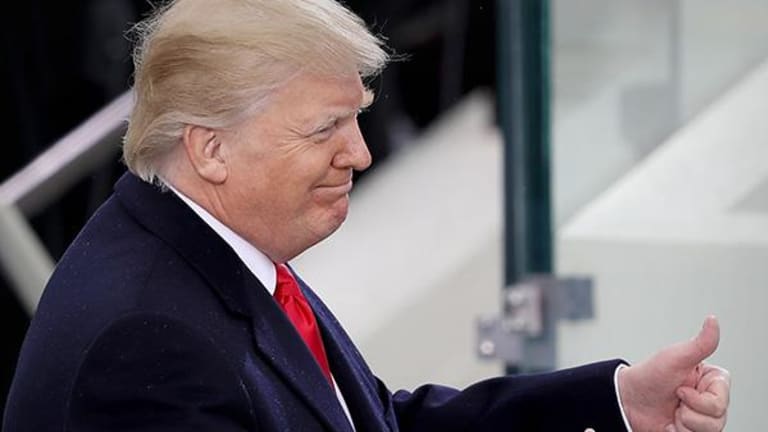 Trump's Border Wall Could Cost $120 per American Household
While the president insists Mexico will pay for his proposed wall at the U.S.-Mexico border, if and until it does, the project could cost $95 to $120 per American household.
While President Donald Trump insists Mexico will pay for his proposed wall at the United States-Mexico border, if and until it does, the project could cost $95 to $120 per American household.
The estimate comes from the Committee for a Responsible Federal Budget, a Washington, D.C.-based organization focused on fiscal policy and the national debt. The CFRB estimates the border wall, a pillar of Trump's presidential campaign, would add $12 billion to $15 billion to the national debt, based on recent numbers put out by Senate Majority Leader Mitch McConnell and Speaker of the House Paul Ryan. (Some estimates say the cost of the wall could be higher.) That would come out to $95 to $120 per American household. 
"Any border wall should be fully paid for in the same legislation that spends the funds, either through other spending cuts or revenue increases, and those pay-fors should be specific, credible, and not used to pay for multiple policies," the CFRB said in a statement.
Trump signed an executive order on Jan. 25 to kick-start the construction of a wall at the border, and discussions are underway with Congress on how to approach the project and pay for it.
The president has insisted Mexico will foot costs for the wall, even though Mexico says it will not. Mexican President Enrique Pena Nieto last week cancelled a planned meeting between the two in Washington after Trump tweeted that the huddle should be called off if Mexico was unwilling to shoulder the full costs. 
The presidents subsequently spoke on the phone and released a joint statement that recognized their "clear and very public differences of positions" on the issue of the wall's costs. They said they plan to "work these differences out as part of a comprehensive discussion on all aspects of the bilateral relationship," such as trade, drug trafficking and illegal arms sales.
Mexico's version of the joint statement said Trump and Pena Nieto would refrain from publicly discussing payment for the wall. The U.S. statement left that part out.
White House Press Secretary Sean Spicer last week floated the idea of imposing a 20% tariff on imports from Mexico, but the White House later walked back the assertion, saying it's one of many options being discussed to cover costs.
Regardless of how the wall is paid for, a number of companies could benefit from its construction, including building concerns Granite Construction (GVA) - Get Granite Construction Incorporated Report and Tetra Tech (TTEK) - Get Tetra Tech, Inc. Report , cement firms Martin Marietta Materials (MLM) - Get Martin Marietta Materials, Inc. (MLM) Report and Cemex (CX) - Get Cemex SAB de CV Sponsored ADR Report , and construction equipment companies Deere & Co. DE and Caterpillar (CAT) - Get Caterpillar Inc. Report .
Still, questions loom about how much Trump's project could add to the United States' already-ballooning debt.
"The first rule for getting out of a hole is to stop digging," said the CRFB, in a statement. "This minimum criteria of complying with pay-as-you-go rules will at least keep our unsustainable debt situation from getting worse."