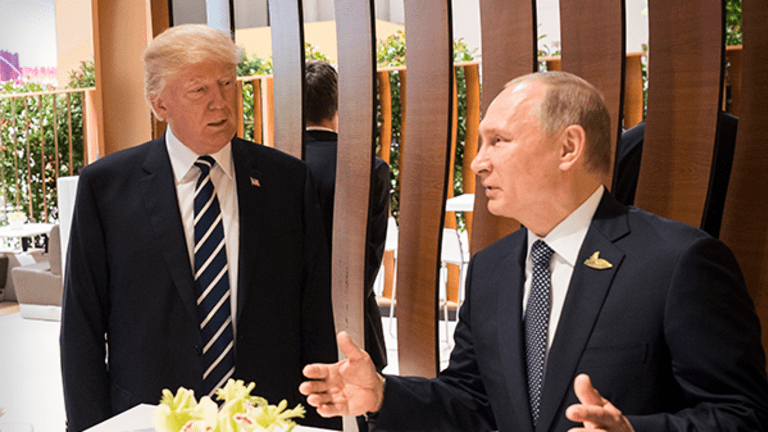 President Donald Trump steps onto the global stage on Friday at the G20 summit in a landscape where the United States' traditional leadership role is diminished and expectations for progress are low.
Trump will huddle with the leaders of the 19 other economies that form the Group of Twenty, an international forum of governments and central bank governors founded in 1999. On the agenda will be a wide range of matters, including climate change, monetary policy and trade.
"I don't expect anything very concrete to come out of these talks because there's obviously a lot at stake, but there's not much prospect for any real agreement," said James Boughton, senior fellow at the Center for International Governance Innovation and former International Monetary Fund historian. "On the positive side, we should be looking for any sign of softening of the U.S. position on trade, because this current strategy of trying to reject all existing trade deals, reject really any kind of multilateral deals in favor of bilateral negotiations in which the U.S. is trying to get to better deals than everybody else, that's not going to get anywhere. Unless that changes, we're going to look at a continued stalemate."
President Trump withdrew the United States from the Trans-Pacific Partnership soon after his inauguration and has consistently railed against multilateral trade deals, such as the North American Free Trade Agreement. He has called for bilateral trade deals but made little progress towards such agreements.
The United States' protectionist stance has pushed other nations to explore agreements of their own. Leaders from Japan and the European Union this week announced a free trade pact that would create the biggest open economic area in the world.
"Trump has succeeded in uniting most of the other G20 governments against protectionism," said Andrew Kenningham, chief global economist at Capital Economics, in a note. He said the EU-Japan deal has "symbolic value in signaling support for global free trade."
It's not just on trade that other nations are seeking to fill the gap left by a Trump-led United States. It is the global leadership position the country has relinquished as it has turned inwards under the president's "America First" mantra.
"The United States has isolated itself and withdrawn, and other major economies see this as an opportunity to move in and try to enhance their position," said Tom Bernes, distinguished fellow at CIGI who has held senior positions at the IMF, the World Bank and the Organization for Economic Cooperation and Development.
China is taking the opportunity to fill the leadership gap. As Trump announced plans to withdraw from the Paris climate accord last month, China sought to establish itself as a leader on the matter. It is also taking advantage of opportunities on trade.
"China's the elephant in the room about negotiating trade deals that will work to their joint advantage, sort of picking up where the U.S. has left off," Boughton said.
Observers will also be watching Trump's interactions with Chinese President Xi Jinping, especially in light of North Korea's recent missile test. Trump fired off a pair of tweets targeted at China before leaving the United States earlier this week.
"The effect that this will have on larger U.S.-Chinese relations is unclear since it appears Trump will need to secure additional Chinese support to counter North Korea," wrote Height Securities analysts in a note previewing the G20 summit.
Trump's highly-anticipated meeting with Russian President Vladimir Putin has dominated much of the lead-up to the G20. A five-second video of the pair shaking hands swept across the internet on Friday morning.
Ongoing tensions with German Chancellor Angela Merkel have put her interactions with Trump under scrutiny, and observers will pay attention to the American president's dealings with French President Emmanuel Macron and Canadian President Justin Trudeau.
When asked by a reporter after meeting with Mexican President Enrique Pena Nieto on Friday whether he still wants Mexico to pay for a border wall, Trump replied, "Absolutely."
Bernes noted that what may make the G20 unique this time around, besides the fact that Trump is president, is that the U.S. officials normally in place at such summits won't be in attendance. Trump has been slow to staff his administration, and it shows in Germany this week.
"They don't have officials that are in place that can carry on discussions, so it's very hard for other countries to get a sense of where the real U.S. position is," he said.
"The key question here is why is the United States abdicating its leadership role in international finance?" said Boughton. "At a time when people all over the world are questioning the continued appropriateness of the U.S. dominating these discussions, the U.S. is just voluntarily giving up."