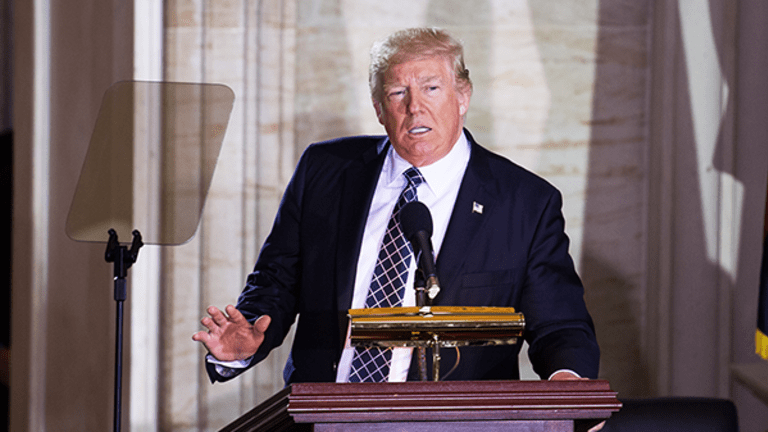 Trump Resurrects Talk of 10% Tax Holiday in Big Gift to Tech
President Trump delivered some good news to tech giants and other corporations hoarding loads of cash abroad -- a 10% repatriation holiday is back on the table.
President Trump delivered some good news to tech giants and other corporations hoarding loads of cash abroad -- a 10% repatriation holiday is back on the table.
Trump told The Economist in an interview published Thursday morning that he indeed plans to enact a 10% rate for American companies to repatriate what is estimated to be trillions of dollars in foreign profits. The remarks come just two weeks after the White House declined to specify a rate in the unveiling of its principles for tax reform.
"We're going to make it 10%. Now it's 35%," Trump said. When asked for clarification on what he was referring to with the 10% remark, Trump replied, "The repatriation."
Trump campaigned on a proposed 10% repatriation rate, but when National Economic Director Gary Cohn and Treasury Secretary Steven Mnuchin released his one-page set of tax principles last month, the figure was nowhere to be found. At an April 26 press briefing discussing the plan, Mnuchin said the administration was working with the House and Senate on the rate, which he said would be "very competitive" without giving an exact number.
Trump in his sit-down with The Economist seems to have resurrected the campaign rate.
A Treasury spokeswoman said the department has nothing to provide on specifics and pointed to the principles released in April. Spokespeople for the White House did not immediately return request for comment.
The enactment of a 10% repatriation holiday would be a boon for American companies that have stashed loads of cash abroad.
Silicon Valley would perhaps be the biggest beneficiary and tech giants like Apple (AAPL) - Get Apple Inc. (AAPL) Report , Microsoft (MSFT) - Get Microsoft Corporation (MSFT) Report , Cisco Systems (CSCO) - Get Cisco Systems, Inc. Report , Oracle (ORCL) - Get Oracle Corporation Report and Alphabet (GOOGL) - Get Alphabet Inc. Class A Report . Moody's Investor Service reports those five companies alone had $505 billion in offshore cash at the end of 2016.
And tech wouldn't be the only winner. According to a recent analysis from Washington, D.C.-based think tank the Institute of Taxation and Economic Policy, Citigroup (C) - Get Citigroup Inc. Report , Amgen (AMGN) - Get Amgen Inc. Report , Gilead Sciences (GILD) - Get Gilead Sciences, Inc. (GILD) Report , JPMorgan Chase (JPM) - Get JPMorgan Chase & Co. (JPM) Report , Goldman Sachs (GS) - Get Goldman Sachs Group, Inc. (GS) Report and Bank of America (BAC) - Get Bank of America Corp Report would reap billions of dollars in savings from a repatriation tax holiday as well.
ITEP estimates that Fortune 500 companies could reap a more than $500 windfall from a 10% repatriation holiday. That's estimating that American companies currently have $2.5 trillion in offshore earnings. Trump told The Economist he believes that figure could be even higher.
"I believe it could be anywhere from $4 trillion to $5 trillion outside, you know don't forget we've been talking about $2.5 trillion for four years now," he said. "I've been using $2.5 trillion, the same number we've all been using for years. Well, you know, it grows. I wouldn't be surprised if it was $5 trillion but, you know, we're close."
Trump also gave nod to corporate inversions, calling them a "disaster, with the companies leaving."
Ironically, an executive order Trump signed in April could resurrect inversions by rolling back Obama-era rules limiting corporate earnings stripping, a practice common among inverters.
Jim Cramer has a private investment club. Learn more here.
Don't miss these trending stories on TheStreet:
Macy's Stock Is Now Crashing