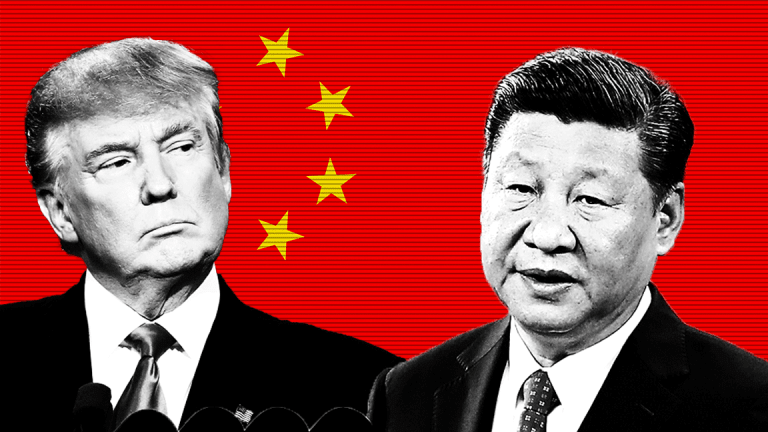 Beijing and Washington Agree on Trade Truce at G-20, But Questions Remain
U.S. President Donald Trump and Chinese President Xi Jinping agree to a cease-fire in their ongoing trade war, but some experts were skeptical of long-term outcome while Chinese media took at aim at U.S. 'hawks' on Sunday.
U.S. President Donald Trump and Chinese President Xi Jinping on Saturday announced a cease-fire in their ongoing trade war, with Trump agreeing to lift a ban on U.S. companies selling high-tech goods and services to Huawei Technologies, and Xi agreeing to re-start start buying large amounts of U.S. farm imports.
The two leaders unofficially made the announcement on the sidelines of the Group of 20 meeting in Osaka late Saturday afternoon Japan time, with both leaders announcing they have has also agreed to refrain from adding any new tariffs as part of re-kickstarting their discussions.
"We're going to work with China on where we left off to see if we can make a deal," Trump said at a news conference following a day of official and offline discussions between leaders G-20 leaders.
"If it can be done as promised, we welcome it," Wang Xiaolong, special envoy for G-20 affairs at China's Foreign Ministry, said at a separate briefing, according to media reports.
Few official details were announced over the rest of the weekend, as Trump praised the deal on Twitter and in public comments as "far better than expected."
The Most We Could Have Hoped For
"News that China and the U.S. will restart talks is probably the most we could have hoped for today, so in that sense, it's positive," said Neil Shearing, a chief economist with Capital Economics, in an email to TheStreet around 1 a.m. Saturday ET, following the news. "I expect it will give a lift to equity markets on Monday, particularly in countries and sectors most exposed to U.S.-China trade."
But "we've been here before," added Shearing, who is based in London, referring to the headlines from spring about supposed progress in talks.
Also, despite Trump's praise of the meeting, over the weekend, China's official news media began taking a tough stance on the negotiations. 
In an opinion column on Sunday, the Chinese news service Xinhua warned that, "China's utmost sincerity demonstrated over the months seems to have only prompted some trade hawks in Washington to push their luck.
Now that the two sides have picked up their trade talks, they need to proceed by treating each other on an equal footing and showing due respect, which is a condition to the final settlement of their divergence."
On Saturday, China Daily went further, saying that, "though Washington agreed to postpone levying additional tariffs on Chinese goods to make way for negotiations, and Trump even hinted at putting off decisions on Huawei until the end of negotiations, things are still very much up in the air, and that is how they will no doubt remain until a deal is formally signed, sealed and delivered."
The face-to-face meeting between the leaders of the world's first- and second-largest economies was the first in about a half year, since both men met on the sidelines of the last G-20 meeting in Argentina in December.
In December, Trump and Xi made a deal that would hold off on raising tariffs on hundreds of billions of dollars in Chinese imports for a couple months, but over time the two failed to see eye-to-eye and the U.S. began increasing tariffs from 10% to 25%, with the Chinese responding in kind.
While for months news of a possible deal and then subsequent let-downs shook up the markets, many interpreted Wall Street's action toward the end of this week as a sign of detachment from any expected outcome over the weekend -- despite the looming consequences of rolling out additional import fees.
A Knock to Chinese GDP
"We estimate that Trump's threatened 25% tariff on $300 billion or so of imports would directly knock off around 0.3% from China's GDP," wrote Julian Evans-Pritchard, Mark Williams and Martin Rasmussen, three China economists for Capital Economics, in the lead-up to the talks between Trump and Xi at the G-20 in Osaka. 
Washington was threatening to increase tariffs on $300 billion in additional imports from China if talks fell apart again, as they did nearly two months. That would be on top of the tariffs already in place.
But markets would "welcome any easing of trade tensions," wrote Evans-Pritchard and his fellow economists in the June 28 Capital Economics note. They added that Chinese equities rallied in the lead up to the weekend and "already look to be pricing in a G20 ceasefire, but they may retain some positive momentum in the coming weeks if trade negotiations resume and appear to make progress."
Real Money Pro. Huawei Ban Might Offer Opportunity to Non-U.S. Semiconductor Companies
But like Shearing, Evans-Pritchard and his team were not so optimistic, noting that "We continue to think that Trump will eventually pull the trigger on his threatened 25% tariff, most likely early next year. We had also flagged the possibility of this being preceded by a lower 10% tariff, an idea that Trump himself now appears to support." 
They also bet that if China's leaders feel a truce is too elusive, they will allow the nation's currency to weaken to help lower the cost of its exports.
This story has been updated.