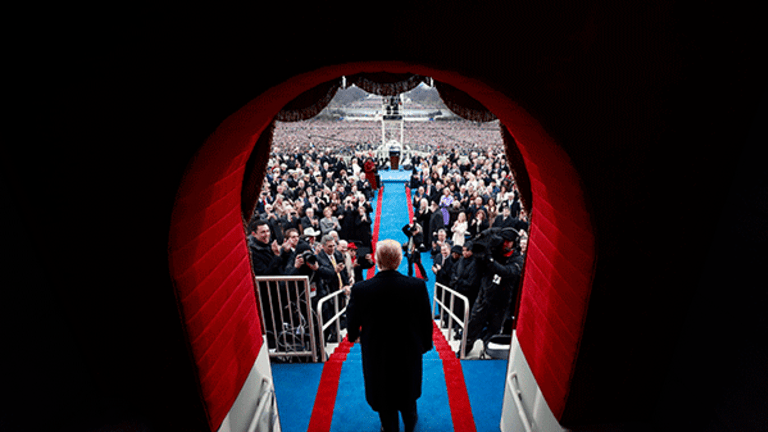 Trump Regulation Freeze Puts Fiduciary Rule in Limbo
President Donald Trump's regulation freeze puts in limbo a rule requiring financial advisers to act in the best interests of their clients saving for retirement.
President Donald Trump's regulation freeze puts in limbo a rule requiring financial advisers to act in the best interests of their clients saving for retirement.
White House Chief of Staff Reince Priebus issued a memorandum on Friday night putting a halt to new and pending regulations until the new administration has time to review them. Among the regulations affected are a fiduciary duty rule that would require financial advisers to put their clients' interests above their own. The rule now faces an uncertain future.
Proposed by the Department of Labor under the Obama administration, the rule aims to address conflicts of interest in retirement advice and to close loopholes in a 1970s law that predates many of the retirement investment vehicles most common today. It was originally set to go into effect in April.
The rule would require advisers to abide by a "fiduciary" standard and increase transparency by requiring that all fees and commissions be clearly disclosed in dollar form to clients and that any potential conflicts be out in the open. It would also bar institutions from giving advisers financial incentives to make recommendations that aren't best for their customers.
The rule could save investors more than $40 billion in 10 years, according to estimates from the Labor Department.
Registered investment advisers are already fiduciaries and have to abide by such guidelines, but stock brokers and insurance agents selling annuities, for example, don't. They can instead essentially double as advisers and salespeople, doling out advice on 401(k)s and IRAs while receiving kickbacks, commissions and other incentives behind the scenes.
Kate McBride, the chair of the Committee for the Fiduciary Standard, a volunteer campaign that has advocated for the rule, estimates that an adviser charging 2% too much each year over a customer's lifetime can cut his retirement nest egg in half. She said even 1% in extra costs can cut retirement savings by up to one-third.
"Investors just have no idea what this is costing them," she said.
The fiduciary rule has met pushback from Republicans in Washington.
Speaker of the House Paul Ryan slammed the rule as "Obamacare for financial planning" in a blog post last year, arguing that while it may have a "noble intent," it's a "one-size-fits-all regulation that's bad for Americans."
Financial Services Committee Chairman Jeb Hensarling said in April of last year that the rule will make advice "more costly and less available" for workers and retirees. "Congress must act to stop this misguided regulation that's unfair to Americans who only want the freedom to plan for financial independence and the right to shape their own future," he said.
McBride said the GOP's resistance to the rule is misguided. Retirees whose advisers have been skimming off the top have less money to inject into the broader economy. Moreover, they will wind up being more dependent on entitlements.
"The business case for Republicans should be that investors need to have more in their nest eggs so they are less dependent on Social Security," she said.
Even before Trump's inauguration, the fiduciary rule faced an uncertain future.
Representative Joe Wilson (R-S.C.) introduced a bill at the start of the year asking for a two-year delay in its implementation, and the U.S. Chamber of Commerce has also called for it to be put off. Analysts began forecasting that the rule would be in limbo soon after Trump's election.
Senator Elizabeth Warren (D-Mass.) sent a letter to 33 financial firms last week, including Capital One Financial (COF) , JPMorgan Chase (JPM) , BlackRock (BLK) , Morgan Stanley (MS) and TD Ameritrade (AMTD) , asking them whether they would support delaying and completely rolling back the fiduciary rule.
Many firms have already spent millions of dollars on compliance and preparation for its implementation.
"They don't want to go backwards," said McBride. "It's not as easy to unwind this rule as this administration may think."
Although companies have to begin implementing the rule this April, the "effective date" of it was last June. Some argue that it would be a violation of the Administrative Producers Act to use Friday's order to try to delay a rule that is already in effect. That said, there is speculation that Trump could take some separate action to delay or get rid of the rule.
Anthony Scaramucci, the former SkyBridge Capital executive and Trump campaign adviser who has now joined the administration, spoke out against the rule last year. "What's wrong with this thing is it's the government overreaching once again and making a decision for investors about what are good products and what are not necessarily good products," he said in an interview with Yahoo! Finance.
Trump himself has not commented publicly on the fiduciary rule.
Andrew Puzder, the CEO of Hardee's and Carl's Jr. parent CKE Restaurants, has been tapped by the Trump administration to head the Department of Labor. He may be asked to address the rule at his confirmation hearing before the Senate, which is set for Feb. 2.