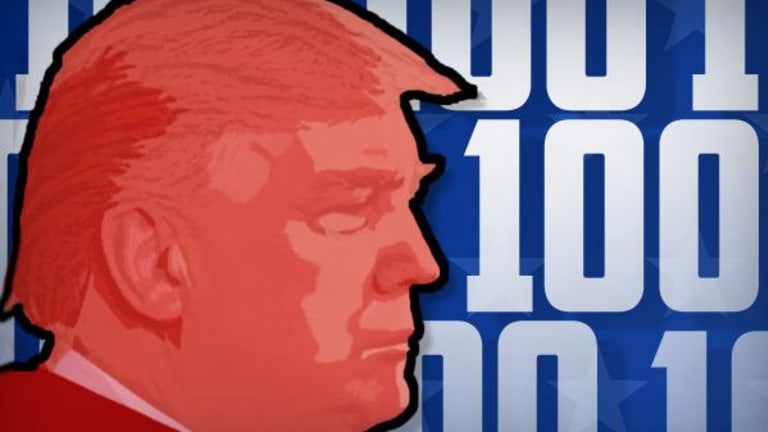 Trump Portfolio Beats S&P 500 in First 100 Days, Led by GEO Prison Stock
Donald Trump's presidency has been a boon for a private prison company that backed his campaign.
Donald Trump's presidency has been a boon for a private prison company that backed his campaign.
Shares of the GEO Group (GEO) - Get Report soared during the opening days of the Trump White House, rallying more than 27% since Inauguration Day. Investors in the Boca Raton, Florida-based private prison company are apparently bullish on the administration's promise to up immigration enforcement and the Department of Justice's tough-on-crime stance under Attorney General Jeff Sessions.
The GEO Group is the top-performing stock in TheStreet's Donald Trump Stock Portfolio, a set of 15 stocks identified by TheStreet that are poised to benefit from the president's policies. Bitcoin Investment Trust (GBTC) - Get Report climbed 17%, and shares of Boeing (BA) - Get Report , Oracle (ORCL) - Get Report and Elbit Systems (ESLT) - Get Report made gains of more than 10% as well. The Trump portfolio has outperformed the benchmark Standard & Poor's 500 Index by about a half of a percentage point since he became president.
Private prison stocks have been some of the top performers since Trump's election -- shares of GEO are up more than 100% since Election Day on November 8, and shares of Corecivic (CXW) - Get Report have climbed nearly 140%.
The Obama administration in 2016 sought to curb the federal government's use of private prisons. The DOJ sent a memo in August directing the Bureau of Prisons to decline to renew or scale back its contracts with such facilities, and Democratic candidate Hillary Clinton was widely expected to continue such policies. She called for an end to the use of private prisons on the campaign trail.
With Trump's victory, however, the tides have turned. The DOJ in February reversed the Obama administration's August order, and the department under Sessions is poised to up immigration enforcement and take a tougher stance on crime. The administration in April awarded a $110 million contract to GEO for a new immigrant detention center to be built in Texas.
GEO donated more than $200,000 to a pro-Trump super PAC during the campaign. It also gave $250,000 to Trump's inaugural committee, making it one of a number of corporations to donate to the festivities. Most of its prisons are in Texas and across the South.
The Bitcoin Investment Trust was the second-best-performing holding in TheStreet's Trump portfolio from the inauguration through market close Friday, its shares gaining 17%. And Boeing gained more than 15%.
The aircraft giant could emerge a big winner in Trump's reversal on the Export-Import Bank. The government credit agency, which hasn't been fully operational since 2015, has in the past authorized billions of dollars in loan guarantees to Boeing. CEO Dennis Muilenburg reportedly helped convince Trump to back the Ex-Im Bank.
Not all stocks in the Trump portfolio have climbed.
Shares of U.S. Steel (X) - Get Report have declined 33% since the inauguration. The stock, which rose past $41 in late February, plunged this week after reporting a large first-quarter loss. Optimism about Trump's ability to deliver on items like infrastructure and clamping down on China has waned, putting pressure on the stock as well.
Perhaps surprisingly, Exxon (XOM) - Get Report is another loser in the Trump portfolio, having fallen about 4%. Many expected the oil giant -- and former home of Secretary of State Rex Tillerson -- would fare well under Trump. However, Exxon doesn't seem to be getting special treatment. Last week, Treasury Secretary Steven Mnuchin said the administration won't be issuing waivers to U.S. companies authorizing drilling prohibited by Russian sanctions -- including Exxon.
TheStreet's Donald Trump Portfolio has gained 5.52% from market open on Inauguration Day through market close on Friday, April 28 -- the last trading day before Trump hits the 100-day mark. By comparison, the S&P 500 is up about 5.03% in the same period. Here's how the individual stocks have done:
Editors' pick: Originally published April 28.