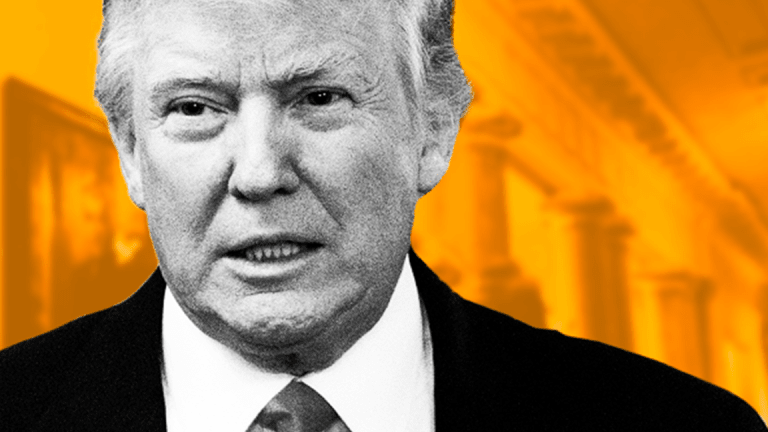 Trump Pitches Tax Plan to Truckers as Threat to Scrap NAFTA Looms
President Donald Trump will pitch his tax plan to truckers on Wednesday, though just how much his policies will benefit the group is unclear. And his trade policies could actually do the trucking industry harm.
President Donald Trump will pitch his tax plan to truckers on Wednesday, though just how much his policies will benefit the group is unclear. And his trade policies could actually do the trucking industry harm.
Trump will speak in front of an audience of about 1,000 people, many of whom are truckers, in Harrisburg, Pennsylvania, on Wednesday. There, he will make a case for why his tax framework, unveiled last month, will benefit the industry through simplification, lower rates and the end of the estate tax.
"When your trucks are moving, America is growing," he is expected to say, according to excerpts provided by the White House. "That is why my administration is taking historic steps to remove the barriers that slow you down. America first means putting American truckers first."
Trump will make the argument that the nine-page framework his administration outlined in September will benefit truckers by lowering and simplifying individual tax rates. The White House has proposed reducing the number of individual brackets to three from seven, though it has not yet specified to which income thresholds they will apply.
His case to truckers is one that could be made to virtually any constituency.
"The very broad narrative is improving the efficiency of the tax code will improve the economy," said Kyle Pomerleau, director of federal projects at the Tax Foundation. "Everybody will be slightly better off than they are now."
He will also say that a lower 25% rate for pass-through entities -- which are currently taxed at an individual rate that tops out at about 39% -- will boost truckers. That could be true, but it would depend largely on each individual trucker's income.
Currently, individuals find themselves in the 25% tax bracket if they make up to about $92,000, according to the Tax Foundation's 2017 calculus. Individuals subject to the top 39% rate are those who make over about $420,000.
The median income for heavy and tractor-trailer truck drivers, according to the Bureau of Labor Statistics, was $41,340 in 2016.
Trump's pass-through proposal would largely benefit those that own small trucking companies. If you believe that those companies would boost their workers' wages in turn, it would potentially help individual truckers as well. But it is no guarantee that would be the case.
Moreover, it is unclear how many individual owners of trucking companies make upwards of $420,000 a year in income and are subject to the current top rate. According to data from the American Trucking Associations (ATA), 91.0% of the 1.5 million registered motor carriers in the U.S. operate six trucks or less, and 97.3% operate fewer than 20. Generally speaking, trucking is a low-sing-digit-profit-margin business.
"The [current] 28% bracket starts at $180,000 of income if you're a married couple with two kids," said Adam Looney, senior fellow at the Brookings Institution. "You only benefit if you're in the 28% bracket or above."
Trump on Wednesday will also pitch his plan to get rid of the estate tax as one that will boost truckers, citing Pennsylvania-based H.R. Ewell Inc., founded in 1946, as an example of a small business that could be negatively affected by the estate tax.
The federal estate tax, which its detractors often refer to as the "death tax," affects those whose estates are over $5 million. And for couples, that threshold is $10 million.
Only two of every 1,000 estates will owe a federal estate tax in 2017, according to the Joint Committee on Taxation. And while the top statutory rate on estates of that size is 40%, the effective tax rate paid is just 17% on average.
The largest estates consist of largely of unrealized capital gains that have never been taxed, according to the Center on Budget and Policy Priorities. And only 50 small businesses and farm estates nationwide will face an estate tax in 2017.
In other words, the Ewell family is the exception, not the rule.
The proposal Trump has put forth to reduce the corporate tax rate to 20% from 35% would benefit large shipping and transportation companies, such as FedEx (FDX) - Get FedEx Corporation Report , UPS (UPS) - Get United Parcel Service, Inc. Class B Report , Knight Transportation (KNX) - Get Knight-Swift Transportation Holdings Inc. Class A Report , Werner Enterprises (WERN) - Get Werner Enterprises, Inc. Report , Schneider National (SNDR) - Get Schneider National, Inc. Class B Report and Heartland Express (HTLD) - Get Heartland Express, Inc. Report , whose tax rates are "easily north of 30, 35%," said Kevin Sterling, an analyst at Seaport Global Securities. "You can see why they would be in favor of that."
The argument for individual truckers would be that a reduced corporate tax rate would lead such companies to create more jobs and raise wages.
"ATA supports President Trump's call for tax reform -- which would reduce the extraordinarily high rates our industry pays, letting us invest more in our drivers, technicians and equipment," ATA spokesman Sean McNally said in an email to TheStreet.
Trump's Wednesday remarks arrive in a context of heightened concerns about the future of the North American Free Trade Agreement, which he has threatened to try to scrap if renegotiations do not go his way. And whatever benefits the trucking industry could gain from Trump's tax plan could be wiped out by his threats on trade.
"Trucking is by far the largest mode of transportation hauling freight across both the northern and southern borders," wrote ATA president and CEO Chris Spear in the group's annual report.
Trucking hauls 70% of surface trade value between the U.S. and Mexico, representing $372.8 billion in 2016, and 60% between the U.S. and Canada, representing $327.2 billion. Even a 10% drop in trade between the U.S. and Mexico and Canada could result in a more than $60 billion reduction.
"The more stuff there is for moving around the world, the better it is for them," Sterling said.