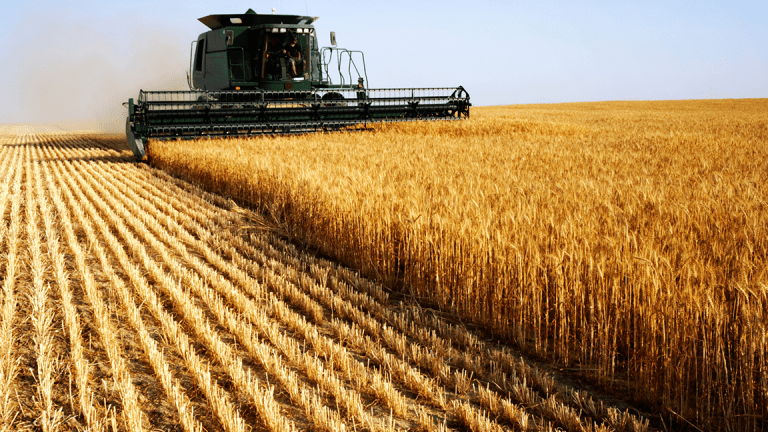 Trump Signs Massive Farm Bill
Bill provides farmers with billions in aid and other supports, as well as legalizing hemp.
President Donald Trump signed into law the so-called Farm Bill -- a massive volume of agriculture legislation that includes new rules governing growing hemp, as well as billions of dollars in various forms of assistance to farmers.
With a video post of the president donning overalls during his singing skit of "Green Acres" at the 2005 Emmy Awards, Trump posted on Twitter, "Farm Bill signing in 15 minutes!" earlier Thursday.
The bill, officially titled H.R. 2, the "Agriculture Improvement Act of 2018," has gotten attention for its earlier proposed tightening of the Supplemental Nutrition Assistance Program, or SNAP, often referred to as food stamp benefits, and its legalization of hemp farming.
But there's a lot more in the nearly 800-page text. The bill boosts so-called "farm safety net programs," bolsters federal crop insurance, and promotes rural development -- including by funding the expansion of high speed internet access. It also promotes agriculture research initiatives and specialty and organic farming. In addition, there are benefits for dairy producers, a program to prevent animal and crop disease and funding for animal health initiatives as well as the creation of a vaccine bank for diseases such as foot-and-mouth.
"I am glad to have had the support of President Trump and Vice President Pence," U.S. Sen. Pat Roberts (R-Kan.), chairman of the Senate Agriculture Committee, said in a statement after the passage of the bill. "They understood how important this bill is to all Americans, but especially to farm country."
But at the same time that the bill passed, Trump directed the U.S. Dept. of Agriculture to propose a new rule to push "able-bodied" poor people who get help feeding themselves through SNAP to go to work. Reductions to the food stamp benefits were taken out of the bill by the time it passed the House.
The rule would not apply to those with disabilities, children or pregnant women, according to the department. 
Under current SNAP requirements, recipients who are deemed "able bodied" must work for least 20 hours a week to get the benefits, but states can waive those requirements in certain cases. 
U.S. Secretary of Agriculture Sonny Perdue lamented that food stamps weren't restricted as earlier planned, but in a statement called the bill a "Christmas present" to farming.
"This is a great day for our farmers, ranchers, foresters, and producers," said Purdue. "Farmers take financial risks every year as a matter of doing business, so having a Farm Bill in place gives them peace of mind to make their decisions for the future.
The Senate passed the Farm Bill on Dec. 11 with a vote of 87-13 and the following day the House approved the bill 369-47.
More than 900 agriculture groups supported the legislation, said Roberts, an author of the bill, who said the work began nearly two years ago and has since been through scores of hearings and gotten thousands of public comments.
While hemp can be grown according to the new law, products containing cannabis or cannabis-derived compounds are still illegal at the federal level. 
Save 66% with our '12 Days of Holiday Deals' Sale. Join Jim Cramer's Action Alerts PLUS club for investors and get our best deal of the year. Click here for details or to sign up.