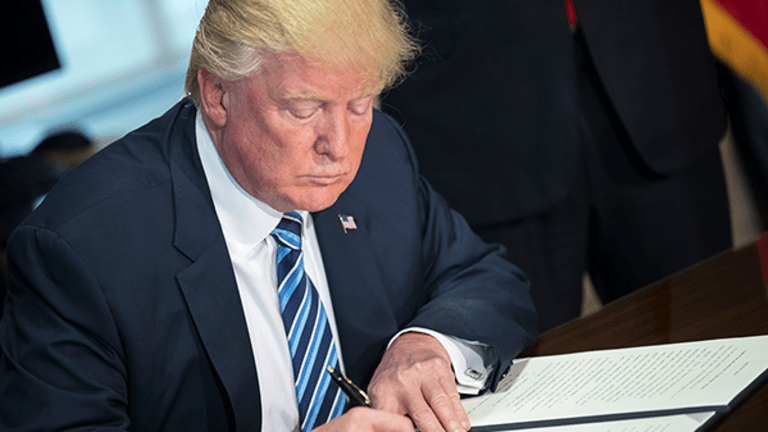 Trump Offshore Order Won't Solve Near-Term Woes for Oil Industry
President Trump's executive order to expand offshore drilling may be a long-term positive for a beaten down industry, but it's not a near-term solution.
President Trump's executive order to expand offshore drilling isn't a near-term solution for a beaten down industry, though it may be a long-term positive.
The president on Friday signed an executive order that aims to expand offshore drilling for oil and gas. It directs Interior Secretary Ryan Zinke to review a five-year plan issued in the final days of the Obama administration banning drilling in parts of the Pacific, Arctic and Atlantic Oceans.
"This order will cement our nation's position as a global energy leader and foster energy security for the benefit of American people, without removing any of the stringent environmental safeguards that are currently in place," Zinke said in a call with reporters on Thursday evening.
He said the order and other steps Trump has taken in his first months in office puts the U.S. "on track for American energy independence."
"Our country is blessed with incredible natural resources including abundant offshore oil and natural gas reserves," Trump said while signing the executive order in the Oval Office. "Today we're unleashing American energy and clearing the way for thousands and thousand of high paying American energy jobs."
The announcement was welcomed by the oil and gas industry, though most agree it's no panacea, especially not in the short term.
American Petroleum Institute president and CEO Jack Gerard in a statement said the association is "pleased" with the administration's efforts. "Developing our abundant offshore energy resources is a critical part of a robust, forward-looking energy policy that will secure our nation's energy future and strengthen the U.S. energy renaissance," he said.
He emphasized a particular interest in developing domestic sources of oil and gas in the Eastern Gulf of Mexico.
When pressed by reporters Thursday on whether the Trump administration has the legal authority to withdraw the Obama plan, Zinke said no decisions have been made yet and his first task will be to complete a review. "I'm sure whatever recommendation I make I believe we'll have the legal authority to complete it," he said.
"How big a difference [the order] makes on future production is going to be determined by market forces and prices, not only by reopening these areas to leasing," said Jason Bordoff, director of the Center on Global Energy Policy at Columbia University and a former Obama energy and environment adviser. "The biggest impact is not that lots more oil production is going to happen in the Arctic any time soon. The biggest impact will be that firms will have the option of going in and developing in those areas if and when it makes sense to do so."
The review could take two years to complete, and expected lawsuits could add more time into the equation. If and when action is taken, investors should not expect the order to save the day for offshore drillers such as Transocean (RIG) - Get Free Report , Diamond Offshore (DO) - Get Free Report , Seadrill (SDRL) - Get Free Report and Atwood Oceanics (ATW) .
Industry followers don't anticipate a near-term uplift for contract drillers as a result of Trump's executive order, as much of these waters would require extensive seismic and geological testing before drilling was even initiated.
And at current commodity prices, it may not be economic to even begin such testing -- at least not while more cost-effective and profitable oil reserves are widely available in U.S. shale basins.
If anyone is to benefit from the repercussions of the order, it will be diversified oilfield services providers who have invested in subsea, or offshore, seismic testing technologies through the years, such as Schlumberger (SLB) - Get Free Report , Baker Hughes (BHI) , and, to a lesser extent, Halliburton (HAL) - Get Free Report .
Dedicated subsea engineering and technology firms including Oceaneering International (OII) - Get Free Report could also stand to benefit from improving sentiment surround offshore U.S. development.
"Still a tad early to get bulled up on later cycle offshore rig and infrastructure driven businesses," RBC Capital Markets analyst Kurt Hallead said in a note on Thursday. "When the offshore spending cycle shifts gears, OII is undoubtedly well positioned to maximize its market share position in ROVs and Subsea Products."
In a general sense, companies that provide services focusing on the early stages of exploration, including seismic testing, would logically be the first to feel the positive effects of such an executive order.
But it is not the oilfield services providers that would be bidding on leases auctioned off by the U.S. government. Rather, it would likely be both U.S. and international oil and natural gas companies including Exxon (XOM) - Get Free Report , Chevron (CVX) - Get Free Report and BP (BP) - Get Free Report .
And whether or not these oil majors will be motivated to partake in such auctions is up for debate, since greenfield offshore projects really don't begin to look good on a grand scale until oil bubbles back up to $70 a barrel. Many analysts don't see the commodity anywhere near that mark until late 2018 at the earliest. Today, it's priced at about $49.
Zinke said on Thursday that revenues for offshore leasing had declined by $15 billion under the Obama administration. "Some of that, of course, is for the price of oil, but not all of it," he said.