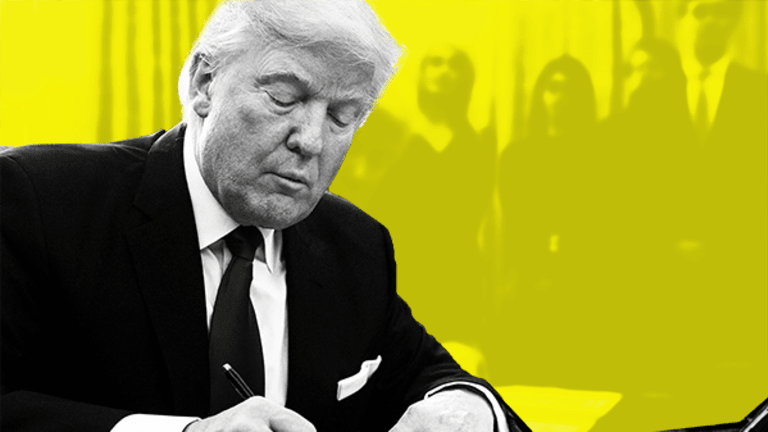 Trump May Be Unable to Kill AT&T-Time Warner Deal
If the DOJ sought to block the deal, it would have to lay out an antitrust rationale for doing so. "CNN is mean to Trump" can't be the excuse.
The White House might not be able to do much in the way of blocking AT&T Inc.'s (T) - Get AT&T Inc. Report pending $85-billion merger with Time Warner Inc. (TWX) , despite the president's ongoing feud with CNN and rumblings that he's searching for a way to retaliate against the news network.
President Donald Trump's public disdain for the television network is seen by some as a "wild card" in the Department of Justice's review of the deal, The New York Times reported on Wednesday, citing an unnamed senior administration official. Time Warner is CNN's parent company. There is little to signal that Trump might seek to actually influence antitrust regulators. And, even if he did try, the deck is stacked against him being able to actually sway competition enforcers, who are bound to judge a deal based on federal guidelines for handling mergers that have been endorsed by federal courts.
There's no provision allowing the president to wage political vendettas.
Trump ripped into the deal almost as soon as it was announced last October. At a campaign event in Gettysburg, Pennsylvania, he told supporters his administration would not approve the merger because "it's too much concentration of power in the hands of too few" and cited it as "an example of the power structure I am fighting."
Since his election, the president's position on the deal, at least publicly, has been murkier. Bloomberg reported in January that Trump told a confidant he still considered the merger to be a bad deal. Days later, AT&T CEO Randall Stephenson paid the then-president elect a visit at Trump Tower in what the telecom giant in a statement described as a "very good meeting."
While Trump's relationship with AT&T has warmed, his interactions with Time Warner's CNN have not. He has continuously railed against the network as "fake news" and last weekend tweeted a GIF of himself beating up the network. Questions have loomed about whether his animus towards the network and its president Jeff Zucker would inspire him to push for the AT&T-Time Warner deal to be killed unless Zucker steps down when the merger closes.
The Department of Justice, the agency reviewing the merger, is formally part of the executive branch and under Trump's purview, but if the DOJ sued to block the deal, it would have to lay out an antitrust rationale for doing so. In other words, "CNN is mean to Trump" can't be the excuse.
The DOJ must also be prepared to defend its position in federal court if it chooses to challenge the deal. The agency cannot block a merger on its own, it can only request that a judge block the deal.
"One of the DOJ Antitrust Division's mandates is to protect consumers from anticompetitive mergers. Accordingly, the DOJ is reviewing the AT&T/Time Warner merger to see whether it will have anticompetitive effects," said Norm Armstrong, partner at King & Spalding LLP and former deputy director of the FTC's Bureau of Competition, in an email. "If the DOJ were to sue for an injunction to block the deal it would have to be on antitrust grounds for them to have a chance of prevailing since the substantive arguments would have to hold up in court."
To be sure, there are no guarantees that AT&T would fight in court; it could terminate the merger if the DOJ sues. As in any merger litigation, the companies would have to assess the risks of litigating against the DOJ.
For all the inflammatory rhetoric surrounding the deal, so far Trump has leaned towards putting experienced, traditional professionals in place--not the type of people prone to act for political motivations. He enlisted Jeffrey Eisenach and Joshua Wright to help staff antitrust and competition posts during the presidential transition, both of whom are regarded as fair-minded experts in their fields.
Trump has nominated Makan Delrahim, former partner at Brownstein Hyatt Farber Schreck LLP and former DOJ deputy assistant attorney general, to head the Department of Justice's antitrust division. Delrahim has yet to be confirmed by the U.S. Senate.
Delrahim said in an interview last October that the merger would surely get a lot of attention but didn't see any major antitrust hurdles. "Just the sheer size of it and the fact that it's media, I think will get a lot of attention," he said. "However, I don't see this as a major antitrust problem."
Senator Amy Klobuchar (D-MN) asked Delrahim at his confirmation hearing in May how he might handle pressure from the White House and Delrahim said he would follow protocol against inappropriate influence from the president and his staff.
"The White House has commented on some pending mergers," Klobuchar said. "What will you do if the president or vice president or White House staffer calls and wants to discuss a merger investigation or antitrust matter?"
Delrahim insisted that White House officials would have to go through proper channels when presenting their views. "There are procedures in the White House about how you communicate with the Justice Department and there are a handful of senior officials who can communicate through the White House Counsel's office with senior officials at the Justice Department regarding pending matters," he said.
If Trump were to seek to influence the DOJ's review of the AT&T-Time Warner merger, he would likely be met with resistant bureaucrats well aware of the protocols of their jobs, including perhaps Delrahim, if and when he is confirmed. Officials could resign in protest or potentially be forced out, as was Obama holdover Sally Yates for refusing to defend the White House travel ban.
Trump's opposition to the AT&T-Time Warner would also make him an awkward bedfellow with some of the Senate's most left-leaning Democrats. Late last month, Senator Al Franken (D-MN) led a group of Dems in pressuring the DOJ to reject the merger, in a letter to Attorney General Jeff Sessions warning it would lessen competition and result in fewer choices and higher prices for consumers. The list of signatories included Elizabeth Warren (D-MA), Cory Booker (D-NJ) and Bernie Sanders (D-VT).
AT&T's shares fell 1.2% by Thursday's close. Time Warner's rose 0.4%.
-- Bill McConnell contributed to this story.
Visit here for the latest business headlines.
Editor's Pick: This article was originally published on July 6, 2017.