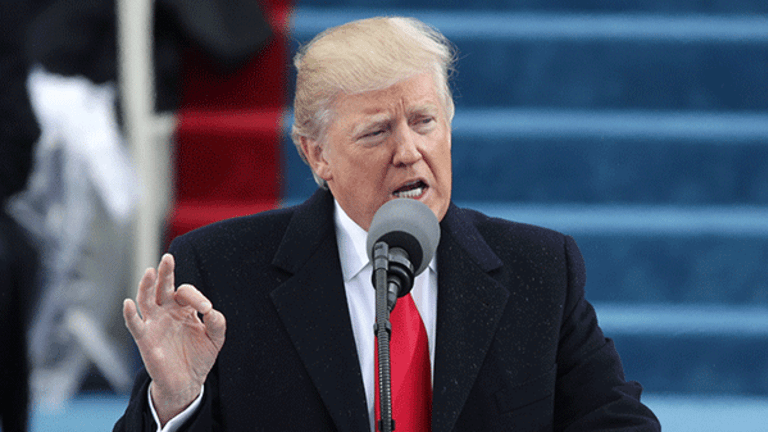 Trump Looks for Markets to Go 'Up, Up, Up' After Dow Hits 20,000
The president says he looks for markets to continue to rise after the Dow crossed 20,000 on Wednesday.
The president said he is looking for markets to continue to rise after the Dow Jones Industrial Average crossed the 20,000 milestone on Wednesday.
President Donald Trump, who just months ago said the market was in a "big, fat, ugly bubble," has become much more bullish since his inauguration about the state of affairs on Wall Street. He celebrated the Dow's climb to the 20,000 mark on Wednesday and in an interview with ABC News' David Muir aired Wednesday evening said he hopes things will go "up, up, up" from here.
"I'm very proud of [the Dow hitting 20,000]," he said. "Now, we have to go up, up, up; we don't want it to stay there."
Markets have responded positively to Trump's election, with their climb since the Nov. 8 election being dubbed the "Trump rally."
The S&P 500 has climbed nearly 8% since Election Day, and the Nasdaq has rallied almost 9.5%. The Dow has gained almost 10%.
"It's gone up a lot since I won," Trump said.
A number of economists and experts predicted prior to Trump's election that a victory by the real estate magnate could reap havoc on Wall Street and on the economy.
Futures markets initially plunged on election night as it became clearer Trump had defeated Democratic rival Hillary Clinton, but the conciliatory tone he struck during his victory speech -- and mention of infrastructure spending -- calmed investors, and markets opened strong on Nov. 9.
"Don't forget, when I won, people thought, 'Oh, maybe it will go down.' But the business world doesn't think that. The business world knows me, they don't think that. And it was a steady climb," Trump said. "And now we just hit a record, and a number, that's never been hit before, so I was very honored by that."
Trump took to Twitter at the official @POTUS account Wednesday morning soon after the Dow reached 20,000 to celebrate the milestone.
Trump striking an optimistic tone on the markets is a new look for the president.
At a presidential debate in September with Clinton, Trump issued a dire warning about the stock market's future in criticizing Federal Reserve Chair Janet Yellen.
"The only thing that looks good is the stock market, but if you raise interest rates even a little bit, that's going to come crashing down," he said. "We are in a big, fat, ugly bubble."
Trump issued a similar warning in October 2015 during the Republican primaries. "We're in a bubble," he said in an interview with looks, expressing concern that people are "being forced into an inflated stock market and at some point they'll get wiped out."