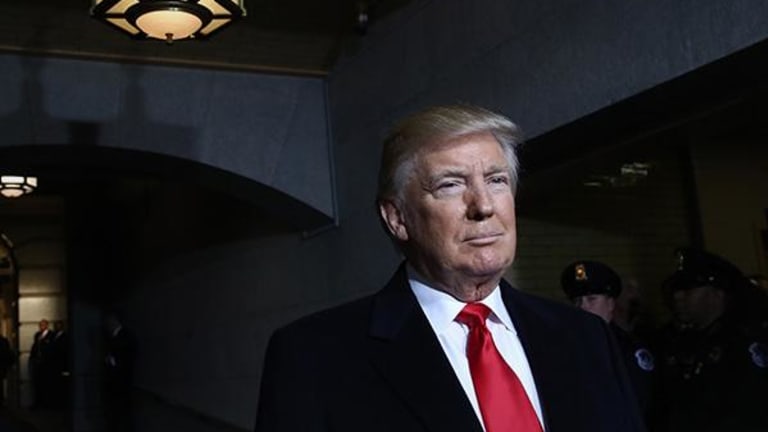 Trump Kills TPP, Cutting Off Potential Big Payday for Tech, Retail
President Donald Trump's decision to shelve the Trans-Pacific Partnership doesn't come as a surprise to much of corporate America, but it doesn't mean they're all happy about it either.
Much of corporate America may not have been surprised at President Donald Trump's decision to shelve the Trans-Pacific Partnership, but it doesn't mean they're all happy about it either.
Trump signed an executive order on Monday to withdraw the United States from the TPP, a 12-nation trade deal negotiated under the Obama administration. The agreement had not been approved by Congress.
Onlookers widely anticipated the move from the president, who railed against the agreement on the campaign trail and pledged in a video released shortly after his election to nix it early on in his tenure. The decision does not negatively affect any American companies, per se, but it does eradicate benefits for a number of industries that would have occurred if the agreement had gone forward.
"It's something that could have been a benefit," said Stefanie Miller, research analyst at Washington, D.C.-based investment research firm Height Securities. "A lot of the companies in the United States have had years of free trade to make their supply chains as low-cost as possible, and this could have helped further some of that along."
A wide range of companies and industries stood to profit from the TPP.
Major retailers like Walmart (WMT) - Get Free Report would have enjoyed the reduction of import tariffs, and as would apparel companies such as Nike (NKE) - Get Free Report and Columbia Sportswear (COLM) - Get Free Report that bring products in from countries such as Vietnam.
Obama visited Nike's headquarters in Beaverton, Oregon, in 2015 to pitch the TPP, touting it as the "highest-standard, most progressive trade deal in history."
The tech industry had been a proponent of the TPP as well. It would have gained from the greater access to Asian markets and increased intellectual property protections, said Moody's analyst Mark Zandi. The TPP promised to broaden the definitions of patentable technology, boost patent enforcement in Asia and increase trade secret protection.
A number of tech industry executives had spoken out in favor of the TPP.
IBM (IBM) - Get Free Report CEO Ginni Rometty was among a number of political and business leaders to meet with former President Obama regarding the agreement in September. In a statement released after the meeting, she touted the TPP as "the world's first pro-data, pro-digital" trade agreement. "As the economy evolves to usher in a new era -- the cognitive era -- it will be necessary to reinvent many structures and systems, including those that facilitate global trade," she said.
Microsoft (MSFT) - Get Free Report , Apple (AAPL) - Get Free Report , Facebook (FB) - Get Free Report and Alphabet's (GOOGL) - Get Free Report Google were all pro-TPP.
The Technology CEO Council, whose membership includes Rometty, Dell CEO Michael Dell and Oracle's  (ORCL) - Get Free Report Safra Catz, last year penned an open letter to Congressional leaders in support of the TPP. Dell was among a group of executives who met with Trump on Monday as part of his newly-created manufacturing council. Catz was part of his presidential transition team.
Dow Chemical (DOW) - Get Free Report CEO Andrew Liveris, who also supported the agreement, heads the manufacturing council. His firm would have enjoyed the benefits of increased exports through the TPP.
To be sure, there are industries that aren't sweating the TPP's demise.
Zandi pointed to the pharmaceutical industry, whose patent protections would have been shortened under the agreement.
Auto parts companies might have been harmed by the TPP as well. The deal would have reduced local content requirements contained in existing laws under the North American Free Trade Agreement (NAFTA) that mandate a certain percentage of products, materials or labor be sourced locally.
"The absence of TPP -- whether or not combined with more protectionist changes to NAFTA -- should be helpful to this industry," said Miller.
The Trump administration plans to initiate discussions to renegotiate NAFTA soon.
Prior to the agreement's demise, the Peterson Institute estimated that the TPP would increase annual real incomes in the United States by $131 billion and annual exports by $357 billion by 2030. It also estimated delaying the TPP's launch by even one year would represent a $94 billion permanent loss, or opportunity cost, to the U.S. economy.
Trump's press secretary, Sean Spicer, said in a press briefing on Monday that the president believes multilateral agreements like the TPPP are not in the U.S.'s best interest and will instead pursue bilateral trade opportunities around the globe.
"The beautiful thing about a bilateral agreement is that if any one of the true parties in the agreement decides at any time they want to get out of the agreement, or they're not being treated fairly, they can renegotiate much easier," he said.
The United States has free trade agreements in force with 20 countries, most of which are bilateral. Negotiating more such agreements is certainly feasible, but it is more time consuming than the Trump administration might make it seem. It also requires Congressional approval.
"It's not as efficient a way, but it's still a positive," said Miller.