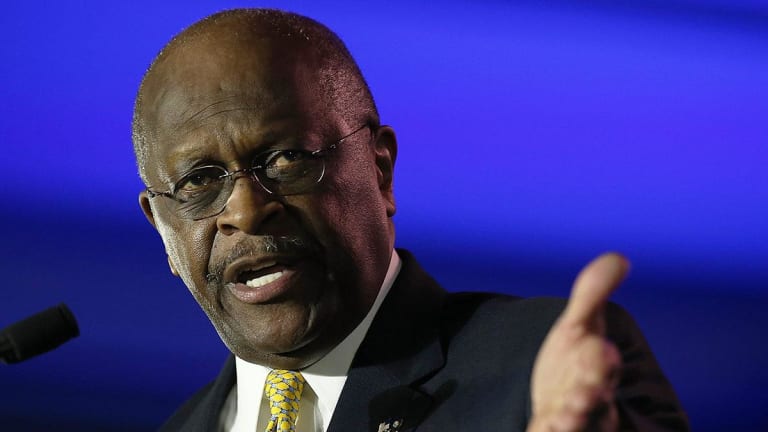 Trump Wants Herman Cain for Seat on Federal Reserve
President Trump says he wants to recommend Herman Cain, pizza exec and failed GOP contender, for a seat in on the Federal Reserve board.
President Donald Trump says he's considering recommending Herman Cain -- of Godfather's Pizza pizza fame -- for a spot on the Federal Reserve Board.
Cain, a longtime businessman, came into the national spotlight when he competed for the Republican nomination for president for the 2012 campaign, but dropped out by December 2011 after accusations of sexual misconduct.
"I have recommended him highly for the Fed," said Trump during a televised press meeting on China trade negotiations, after asked by a reporter about Cain. "He's a very terrific man."
He called Cain a "friend" and a "truly outstanding individual," and suggested Cain was being vetted for the job.
During his campaign, Cain touted a trademark "9-9-9" tax proposal that he said would replace the federal tax code with a 9% income, business and sales tax. The simplistic plan was boasted by some conservatives but mocked by opponents.
Cain, who often appears on Fox News, has repeatedly praised Trump on his Twitter feed, while bashing his Democratic foes.
Cain served on the Kansas City Federal Reserve between 1989 and 1996.
The move by Trump further highlights his contentious relationship with Fed, whose chairman, Jerome Powell, he has been critical of. Powell has refrained from firing back, saying the seat should be one of independence and free of politics. In a recent interview on the CBS news magazine 60 Minutes, Powell said he did not believe he could be fired and he refused to make any comment critical of the president. 
Trump recently said he also planned to nominate economist Stephen Moore. Both Moore and Cain are reportedly undergoing background checks. If Trump does nominate them, they must be confirmed by the Senate. There are seven governors on the Fed board, who are appointed for 14-year terms.