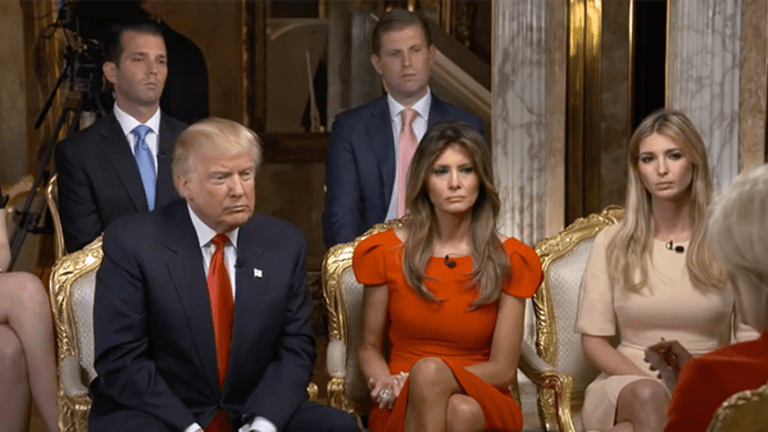 The Trump administration's crackdown on worker visas has some crying foul over the president's own use of the program in the past.
President Trump this week signed a new executive order promoting "Buy American, Hire American" policies that is aimed at, in part, overhauling the H-1B visa system for foreign workers. Critics were quick to point out that the president's own businesses in the past have benefitted from the same program he may now seek to curb.
Trump-affiliated organizations applied for 82 H-1B visas from 2008 to 2015, according to progressive group American Bridge, citing data from the Office of Foreign Labor Certification. Of those 82 applications, 76 were approved.
Trump Model Management, Trump's New York City-based modelling agency, applied for the most H-1Bs over that eight-year span, requesting 41 and receiving 38. Trump International Hotel and Tower in New York, applied for nine visas and received eight, Trump's Chicago businesses received 12, and the president's Mar-a-Lago resort received eight.
Trump's children's businesses have utilized H-1Bs as well -- Eric Trump's winery applied for four visas and was awarded two, and Ivanka Trump's fine jewelry business applied for and was awarded two.
Representatives for the Trump Organization did not return request for comment on the matter.
The executive order calls for executive branch departments to explore ways to weight H-1B visa approvals toward higher-skilled, higher-paid workers and away from the current lottery system.
"Right now, H-1B visas are awarded in a totally random lottery, and that's wrong," Trump said after signing the order in Kenosha, Wisconsin on Tuesday. "Instead, they should be given to the most skilled and highest-paid applicants, and they should never, ever be used to replace Americans."
Trump has used even harsher rhetoric in the past -- in March 2016, he said he would "end forever the use of the H-1B as a cheap labor program, and institute an absolute requirement to hire American workers first for every visa and immigration program. No exceptions."
But Trump appears to have taken advantage of the lottery system he wants to squash. The New York Times reported in August that his companies have asked the federal government to bring in more than 1,000 foreign workers on guest visas, according to Labor Department data, including more than 200 models who qualify by possessing "distinguished merit and ability," unlike other H-1B applicants who must possess "highly-specialized knowledge."
Trump businesses have also requested hundreds of H-2B visas for temporary workers for places like Mar-a-Lago, Jupiter Gold Club and the Trump National Golf Club, according to CNN. And Trump Vineyards has received 64 H-2A visas for temporary agricultural workers.
"Donald Trump's rhetoric on this is completely hollow because he's a shameless hypocrite," said Andrew Bates, spokesman for American Bridge. "At a time when even many of his strongest supporters are feeling sold-out by a Trump agenda that turns its back on the working families he promised to help -- especially with regard to healthcare and taxes -- it's becoming very clear that Trump has nothing to offer the country but lip-service."
The White House's crackdown on H-1B visas has been especially worrying to the tech industry, which relies heavily on the program. Senior administration officials on Monday name-checked specific companies it may seek to target - consultancy and outsourcing firms Tata, Infosys (INFY) - Get Infosys Limited Sponsored ADR Report and Cognizant Technologies (CTSH) - Get Cognizant Technology Solutions Corporation Class A Report . Companies like Amazon (AMZN) - Get Amazon.com, Inc. Report , Apple (AAPL) - Get Apple Inc. (AAPL) Report and Intel (INTC) - Get Intel Corporation (INTC) Reportmay soon start to distance themselves from such firms in an effort to stay out of the administration's crosshairs.
Starting this month, U.S. Citizenship and Immigration Services temporarily suspended premium processing for all H-1B visa petitions. The number of visa applications fell below 200,000 this year for the first time since 2014.
Todd Schulte, president of tech-backed lobbying organization FWD.us, said in a statement he is hopeful Trump's executive order will improve the high-skilled immigration system in America.
"We should do so in a targeted manner by increasing the wage floor, treating super-dependent companies (50 employees and 50% or more of domestic workforce H-1Bs) differently and banning their ability to do third-party placement. Highly-skilled immigrants create new American jobs, raise wages for native-born workers, and contribute enormously to growing our economy," he said. "Finally, Congress should expand the number of H-1B visas offered while reforming the system to protect American workers."