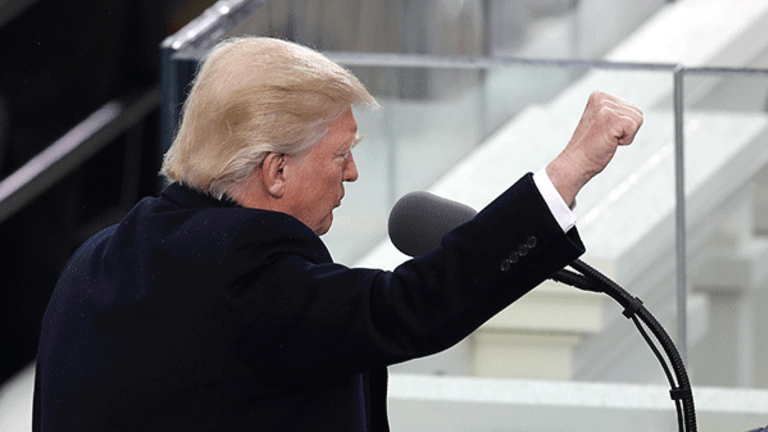 Trump Halts Rule Protecting Retirement Investors
The president signed an executive memorandum on Friday that puts in limbo a rule requiring financial advisers to act in the best interests of their clients saving for retirement.
The president signed an executive memorandum on Friday that puts in limbo a rule requiring financial advisers to act in the best interests of their clients saving for retirement.
The Department of Labor fiduciary rule, set to go in effect in April, was put forth under the Obama administration. It aims to address conflicts of interest in retirement advice, essentially making sure financial advisers put their clients first -- not their compensation packages. 
"The rule is a solution in search of a problem," press secretary Sean Spicer said in a White House press briefing. "There are better ways to protect investors."
The Trump administration's regulation freeze soon after his inauguration already put the rule's implementation into question, and Friday's memorandum puts it in even greater jeopardy. Apart from the delay, the memo calls for the Department of Labor to conduct a legal and economic review of the rule and potentially rescind it.
House Speaker Paul Ryan, a Republican from Wisconsin, commended the regulation's delay, calling it "deeply flawed" in a statement. "Now we have the chance to study any unintended consequences before it is too late. In today's economy, people's access to sound financial advice must be protected," he said.
Senator Elizabeth Warren slammed the maneuver in a statement of her own.
"Donald Trump talked a big game about Wall Street during his campaign -- but as President, we're finding out whose side he's really on," the Massachusetts Democrat said. "The Wall Street bankers and lobbyists whose greed and recklessness nearly destroyed this country may be toasting each other with champagne, but the American people have not forgotten the 2008 financial crisis - and they will not forget what happened today."
Trump on Friday also signed an executive order laying out the "core principles" of the administration's view on financial regulation in what is likely a first step in its efforts to deregulate key aspects of the 2010 banking regulation law Dodd-Frank.
"Today we are signing core principles for regulating the United States financial system," the president said while signing the orders.
Registered investment advisers are already fiduciaries, but brokers and insurance agents who work with retirement plans and accounts are not. They are instead subject to a "suitability" standard, meaning essentially that their recommendations must be fit their clients' defined needs and objectives.
The DOL rule would increase the obligations brokers and agents are already under, said Cornell Law professor Robert Hockett.
"It ratchets things up a little bit more when it comes to policing the activities of these managers who are managing the retirement monies of scores of millions of American workers who will one day be retirees," he said.
The regulation specifically targets compensation, eliminating some commission structures and requiring advisers to disclose to clients commissions and potential conflicts of interest.
When it was announced, the DOL estimated it would save investors up to $40 billion in fees over the next 10 years.
The rule also would open the door for class action lawsuits against brokers, said Mark Costley, an attorney at Ballard Spahr based in Washington, D.C., and scrapping it will mean the scenario will stay as-is, with brokers having arbitration agreements with clients.
Trump's Labor Secretary nominee, CKE Restaurants CEO Andrew Puzder, has yet to be confirmed by -- or have a hearing in front of -- the Senate.
Gary Cohn, White House National Economic Council director and former Goldman Sachs (GS) - Get Goldman Sachs Group, Inc. (GS) Report president and COO, anticipated Trump's memo in an interview with The Wall Street Journal on Thursday, nodding his head when asked by the publication if the fiduciary rule would be eliminated. "It's bad for consumers," he said.
Costley said applying such a complicated rule to relatively small IRA accounts could increase the cost of serving those accounts. "What [Trump's] order does is it takes some of this complexity out," he said.
Many firms have already spent millions of dollars on compliance and preparation for the rule's implementation, so the implications of rolling it back now are unclear. Morgan Stanley (MS) - Get Morgan Stanley (MS) Report said in January that it plans to move ahead with its compliance plans, despite uncertainty over the regulation's implementation, Bloomberg notes.
Warren sent a letter to 33 financial firms last month, including Capital One Financial (COF) - Get Capital One Financial Corporation Report , JPMorgan Chase (JPM) - Get JPMorgan Chase & Co. (JPM) Report , BlackRock (BLK) - Get BlackRock, Inc. Report , Morgan Stanley and TD Ameritrade (AMTD) - Get TD Ameritrade Holding Corporation Report , asking them whether they would support delaying and completely rolling back the fiduciary rule.
"Firms still have the plans they've been making to adapt their business practices, but it would take out a lot of this very sort of detailed adherence to the rule," Costley said.
Some have noted the irony of Trump's moves to roll back regulations on Wall Street, given the populist backdrop of his campaign. The real estate magnate openly criticized Wall Street and the ties of his rivals Ted Cruz and Hillary Clinton's to the big banks -- specifically Goldman Sachs, where several members of his administration have previously worked.
"Trump was looking like the little guy's candidate and Hillary was portrayed as the bigshot's candidate because of her perceived closeness to Wall Street's interests," Hockett said. "The announcement that the fiduciary rule might be stopped in its tracks comes as something as a surprise against that backdrop."