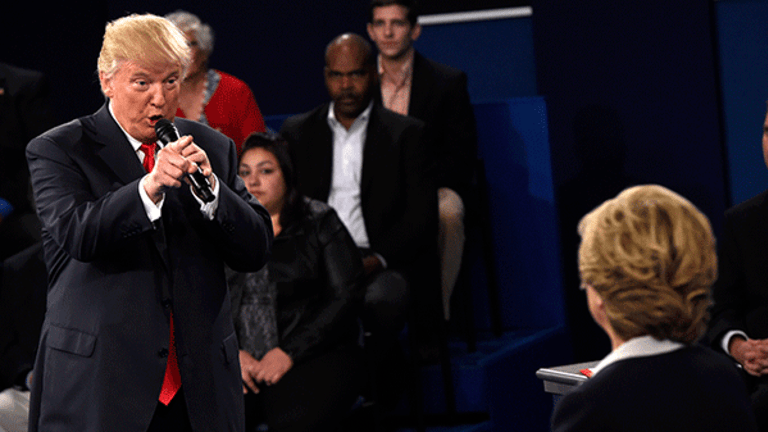 Trump-Friendly Stocks Fall as Candidate Comes Unshackled
Donald Trump's presidential campaign has gone off the rails in recent days, and Trump-friendly stocks aren't doing much better.
Editors' pick: Originally published Oct. 17.

Donald Trump's presidential campaign has gone off the rails in recent days, and Trump-friendly stocks aren't doing much better.
The real estate magnate and Republican presidential nominee last week declared on Twitter that "the shackles have been taken off," freeing him to "fight for America" the way he wants. His way of fighting has been, to say the least, unconventional -- fending off groping allegations by insulting his accusers' looks, attacking Republican leaders Paul Ryan and John McCain, and floating conspiracy theories generally contained to Breitbart and Infowars.
Voters haven't exactly rewarded his behavior. According to a RealClearPolitics average of polls, Trump trails rival Hillary Clinton by 5.5% nationally in a two-way match-up and by 6.3% when third-party candidates Gary Johnson and Jill Stein are included.
TheStreet's Donald Trump Stock Portfolio, a set of 15 stocks identified that could do well with Trump in the White House, hasn't been doing particularly well, either. The portfolio declined 0.75% from market close Friday, October 7 to market close Friday, October 14. The Hillary Clinton Stock Portfolio fell 0.17%.
U.S. Steel (X) plunged 7.13% to $16.42 at market close Friday, with weak export data from China and falling steel prices contributing to the stock's decline.
Trump's focus on trade reform with China -- namely, efforts to penalize Chinese imports -- would help to expand revenues and profits in the steel industry. The Pittsburgh-based company is the only stock in both the Trump and Clinton portfolios.
data by
Randgold Resources (GOLD) was another drag on the Trump portfolio last week. Its price fell 5.90% to $83.04. The week prior, news broke that Mali's government has shut down offices controlled by the company there, alleging it owes about $80 million in unpaid taxes.
Given the amount of uncertainty and volatility a Trump presidency could inject into the markets, he could send investors flocking to gold, benefiting gold miners like Randgold.
data by
Cemex (CX) was the top performer in the Trump portfolio last week, rallying 2.83% to $8.36. The company announced early tender results for a senior notes sale on Friday.
The San Pedro, Mexico-based company specializes in cement and concrete. Its products could come in handy for Trump's proposed wall at the U.S.-Mexico border.
data by
The Bitcoin Investment Trust (GBTC) surged 2.05% last week. At market close Friday it was trading at $92.00. On Wednesday, the SEC declined to make a ruling on a bid by Tyler and Cameron Winklevoss of Facebook fame to launch the first Bitcoin-only exchange-traded fund.
As with gold, Bitcoin could see a surge under President Trump as a result of investors looking for safer havens in light of market volatility.
data by
Here's how the entire Trump portfolio did last week, leading with the top gainers:
Cemex 2.83%
Bitcoin Investment Trust 2.05%
Northrup Grumman (NOC) 1.62%
Tetra Tech (TTEK) 1.16%
Elbit Systems (ESLT) 0.55%
The Geo Group (GEO) 0.00%
ExxonMobil (XOM) -0.23%
Boeing (BA) -0.26%
Lockheed Martin (LMT) -0.41%
Microsoft (MSFT) -0.66%
Oracle (ORCL) -0.77%
Steel Dynamics (STLD) -1.98%
Capital One Financial COF -2.08%
Randgold Resources -5.90%
U.S. Steel -7.13%