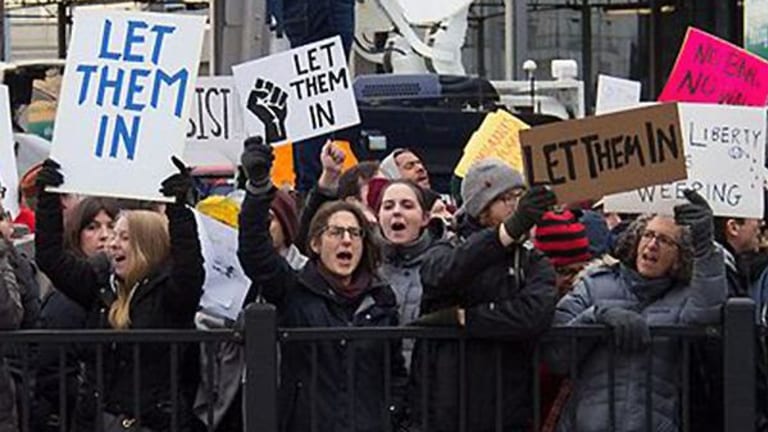 Trump Fires Acting Attorney General Sally Yates
President Donald Trump Monday fired acting Attorney General Sally Yates, who defied Trump by refusing to defend his immigration executive order.
President Donald Trump on Monday night fired acting attorney general Sally Yates, who had hours before ordered the Justice Department not to enforce Trump's executive order imposing bans on immigration from certain largely Muslim countries.
Trump appointed Dana J. Boente, United States attorney for the Eastern District of Virginia acting attorney general until Senator Jeff Sessions of Alabama is confirmed. Until the Senate has confirmed a new U.S. Attorney General, Yates still holds certain powers of the office.
In a statement Monday, the White House said Yates had "betrayed the Department of Justice by refusing to enforce a legal order designed to protect the United States." In the statement, Trump defended the executive action instituting the temporary travel ban as "not extreme."
Yates, a holdover from the Obama Administration, had raised questions as to the legality of Trump's travel ban in a public statement after large protests erupted over the weekend at airports around the U.S. amid reports that everyone from refugees from war-torn Syria to legal U.S. residents and visa holders would be affected by the travel ban. 
Carrying signs demanding that customs officers allow the refugees and other travelers enter the U.S., the protesters appeared to move government officials to join the public outcry and at least one, Washington state Attorney General Bob Ferguson filed a federal lawsuit against President Trump.
The controversy prompted Trump to issue a statement yesterday defending the executive action, saying, "To be clear, this is not a Muslim ban, as the media is falsely reporting. This is not about religion - this is about terror and keeping our country safe."