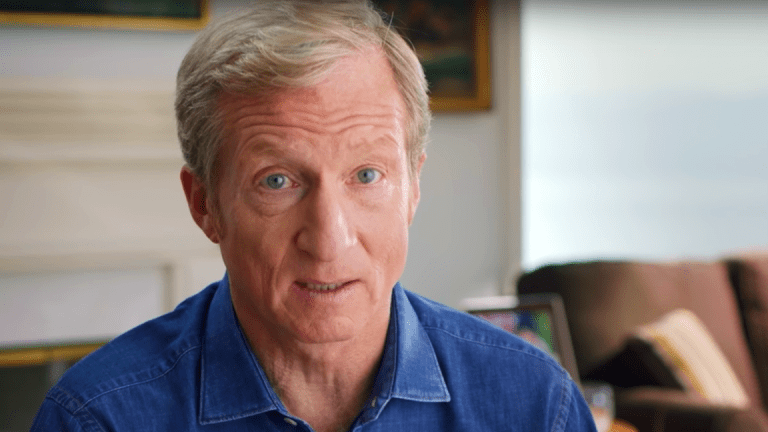 Trump Draws Attention to Tom Steyer's $10 Million Impeachment Campaign
A billionaire former hedge fund manager set a trap for President Donald Trump on Friday, and he fell right into it.
A billionaire former hedge fund manager set a trap for Donald Trump on Friday, and the president fell right into it.
Tom Steyer, the found of San Francisco-based hedge fund Farallon Capital, on Friday ran a one-minute ad during "Fox & Friends" calling for the president's impeachment. Trump, who is known to be a frequent viewer of the program, appears to have tuned in.
"Wacky & totally unhinged Tom Steyer, who has been fighting me and my Make America Great Again agenda from the beginning, never wins elections!" he wrote.
Less than a minute and a half later, he tweeted, "Thank you @foxandfriends. Really great job and show!"
Steyer, who retired from his hedge fund in 2012 to dedicate himself to politics and activism, is funding a $10 million national ad campaign calling for the president's impeachment. He narrates the first ad, saying that Trump has brought the U.S. to the brink of nuclear war, obstructed justice and violated the Constitution.
"If that isn't a case for impeaching and removing a dangerous president, then what has our government become?" he asks. He later warns that Trump is a "clear and present danger."
Trump, clearly incensed by the ad, appears to have inadvertently drawn attention to Steyer's campaign. His Friday morning tweet has been retweeted 5,100 times, received about 7,000 comments and gotten 24,000 likes. Steyer's impeach Trump petition has about 620,000 signatories and counting.
Steyer, 60, has become an increasingly potent force in progressive politics and philanthropy in recent years.
According to the Center for Responsive Politics' megadonor tracker, he and his wife, Katherine, were the single biggest contributors to either party in the 2016 election, pouring in $91,149,980, all to Democrats and liberal causes. They signed the Giving Pledge, a commitment started by Warren Buffett and Bill Gates for the ultra-wealthy to give away at least half of their riches. The leading Republican donors were casino magnate Sheldon Adelson and his wife, who pitched in about $82 million.
Steyer is the founder of NextGen America, a political action committee focused on combatting climate change. He rebranded the group after Trump's election (it was previously NextGen Climate) and expanded its mission to the broader resistance to the president and the Republican Party.
"This is a fight for the soul of American democracy, and we have expanded our mission to meet the challenge at hand," he said in a statement in July.
To be sure, Steyer's activism is not entirely benevolent -- he has political aspirations of his own. He is openly pondering challenging Democratic Senator Diane Feinstein for her California seat. He has also mulled running for California governor in 2018 or president in 2020.
"I will do whatever I think is the most impactful thing that I can do to push what I believe in terms of value and vision," he said in a September interview with The Atlantic.
For now, Steyer seems to be focused on Trump.
"You're right about one thing, Mr. Trump," he wrote on Twitter on Friday in response to the president. "I have been fighting your racism and corporate groveling from the beginning-and always will. Americans deserve much better."
More of What's Trending on TheStreet:
Editors' pick: Originally published Oct. 27.