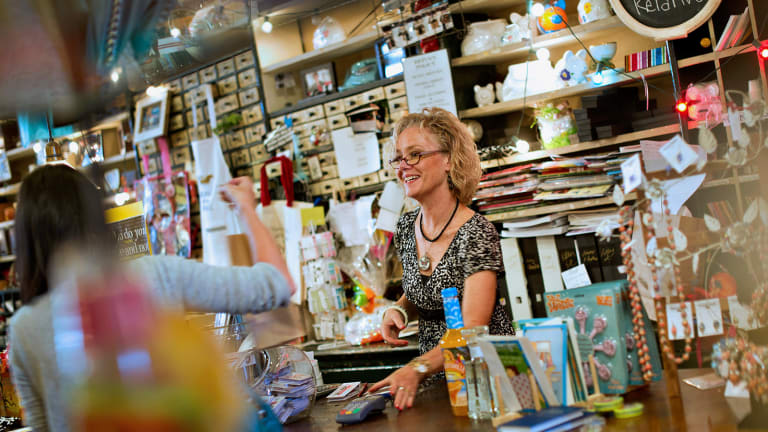 Publish date:
Trump Economic Policies Make Small Business Owners Most Optimistic in 34 Years
It looks like Trump has made fans on Main Street in addition to Wall Street.
It looks like Trump has made fans on Main Street in addition to Wall Street.
President Trump has made fans on Main Street as well as Wall Street.
Small business owners are more optimistic about their business prospects this month than they have been since July 1983, during the Reagan administration, the National Federation of Independent Businesses reported Tuesday. The Small Business Optimism Index jumped three points in May as businesses reported increases in sales, profits and employee compensation.
"Main Street optimism is on a stratospheric trajectory thanks to recent tax cuts and regulatory changes," NFIB President and CEO Juanita Duggan said in a statement. "For years, owners have continuously signaled that when taxes and regulations ease, earnings and employee compensation increase."
Fund managers have also been encouraged by President Trump's economic policies, becoming bullish for the first time in more than a year as investors have the most favorable outlook on corporate profits in 17 years, according to Bank of America Merrill Lynch.
Strong economic growth has also allowed businesses to consider increasing their prices, as the highest number of small business owners reported planning price increases to NFIB since 2008.
"The ability of businesses to increase their prices shows that inflation is moving back and above the Fed's target," William Adams, Senior Economist at PNC Financial Services Group said. "This is another explanation of why there will likely be an interest rate increase announced at the FOMC meeting." The Federal Open Market Committee is expected to lift interest rates after their two-day meeting concludes on Wednesday.
Trump's tough stance on immigration has not been as popular with small businesses however, as tightened restrictions on H1B visas for foreign workers with technical or theoretical expertise have dried up the pool of qualified applicants. Theisingle most important business problem, cited by 23 percent of small business owners, is the increasing difficulty of finding qualified workers, according to the NFIB. As a result, there has been a 35 percent net increase in employee compensation as businesses try to hang on to the talent they do have.
"While they continue to face challenges in hiring qualified workers, they now have more resources to commit to attracting candidates," Bill Dunkelberg, NFIB's Chief Economist said.