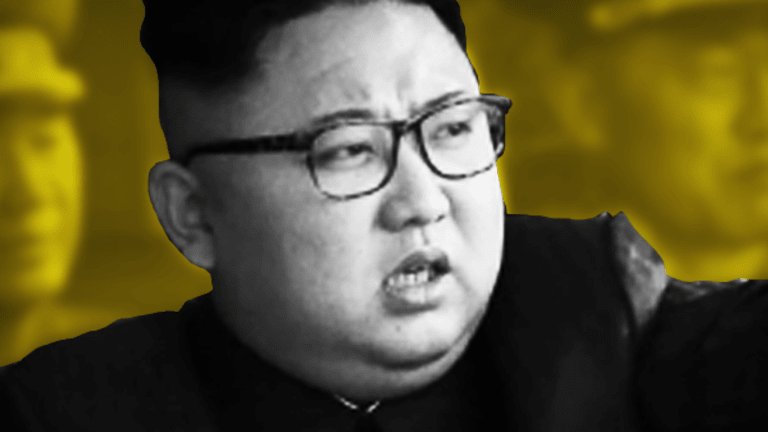 Trump Takes Cue From Obama With North Korea Sanctions Tactic
The Trump White House is pulling a page out of the Obama Iran playbook in clamping down on those who do business with North Korea.
The Trump White House is pulling a page out of the Obama Iran playbook in clamping down on those who do business with North Korea.
President Donald Trump on Thursday announced a new executive order expanding the United States government's authorities to target individuals, companies and financial institutions with ties to North Korea. The order expands the Treasury Department's ability to cut off access to the U.S. financial system and freeze assets of those doing business with North Korea, marking what North Korea expert Stephan Haggard called "the most significant experiment in the use of secondary sanctions on North Korea to date."
It also looks similar to what the Obama administration did to push Iran to the negotiating table.
"Notwithstanding Trump's rhetoric, this is consistent with the kind of policies we would have seen the Bush administration or Obama administration implement when faced with similar circumstances," said Christopher Swift, partner at Foley & Lardner LLP and adjunct professor at Georgetown University. "It's something that was relatively effective in getting Iran to the negotiating table, but North Korea has different incentives."
Former President Barack Obama in the lead-up to the Joint Comprehensive Plan of Action, commonly referred to as the Iran deal, employed secondary sanctions to ramp up pressure on the Iranian government. Putting foreign banks in a sort of us-or-them scenario (and banks choosing "us," as in, the United States, instead of "them") helped the administration to nudge Iran into playing ball.
Now, the Trump administration is trying something similar with North Korea.
"Foreign financial institutions are now on notice that, going forward, they can choose to do business with the United States or North Korea, but not both," Treasury Secretary Steven Mnuchin said in a press briefing on Thursday.
"Foreign banks will face a clear choice: do business with the United States or facilitate trade with the lawless regime in North Korea," Trump said at the start of a meeting in New York with the Japanese prime minister and South Korean president. "The regime can no longer count on others to facilitate its trade and banking activities."
Trump's order, among other measures, allows the Treasury Secretary, in conjunction with the Secretary of State, to impose sanctions on any foreign financial institution that knowingly conducts or facilitates what is described as "any significant transaction" on behalf of designated individuals and entities in connection with North Korea.
"The executive order creates a powerful set of potential sanctions, and a powerful current authorization to the Secretary of the Treasury, but relatively little happens automatically. Preserving that flexibility over these potent tools is sort of brilliantly done," said John Reynolds, a partner at Davis Polk's Financial Institutions Group in Washington, D.C. "The secretary could determine that a non-U.S. person's assets in the United States should be completely blocked simply because that person provided a single financial service to a different person who engaged a significant export to North Korea. Such a draconian application seems unlikely, but the threat hovers out there."
In August 2012, Treasury used secondary sanctions tools on Iran to cut off China-based Kunlun Bank after discovering the institution had "provided hundreds of millions of dollars' worth of financial services" to a handful of sanctioned Iranian banks.
"The Chinese Foreign Ministry issued a relatively tepid and formulaic protest -- and, behind the scenes, the Chinese government directed Kunlun to stop," wrote former Obama official David S. Cohen in an April op-ed arguing Trump should try Obama's Iran tactics on North Korea. "Despite what some had feared, employing secondary sanctions against Kunlun neither led China to stop cooperating on Iran nor soured our relations with Beijing in any other respect."
Trump on Thursday said that Chinese President Xi Jinping had ordered Chinese banks to stop conducting business with North Korean entities. On Friday, The Washington Post reported that China's foreign ministry spokesman denied Beijing had agreed to go that far. Reuters reported that China's central bank has told banks to strictly implement United Nations sanctions against North Korea.
Every big bank in the world "has sent or will be sending a memo to their compliance teams," wrote Haggard, a professor at the University of California, San Diego and visiting fellow at the Peterson Institute for International Economics. "Those teams in turn will be scrambling to figure out if they have a North Korea risk. Note how the ambiguity helps: all that has to happen is for the Secretary of the Treasury to determine that the account is suspect."
"No sanctions program is exactly similar to another," said Tom Feddo, partner at Alston & Bird, noting that Trump's executive order is a combination of primary and secondary sanctions that "tighten the screws" on an already comprehensive embargo.
To be sure, it is unclear whether North Korea sanctions will be effective in getting the country to the negotiating table. President Trump and Kim Jong-un have traded insults and threats in recent days, with the U.S. leader calling the North Korean leader "Rocket Man" at the United Nations and the North Korean leader referring to the U.S. president as "mentally deranged" and a "dotard."
"The North Koreans look at the world in a different way," Swift said. "They don't have the same kind of domestic and political structure that the Iranians have."
"I could not speculate on the administration's goals, but it is moving forcefully to follow up on the recent Security Council resolution," Reynolds said. "It may be that the goal is to demonstrate to the United States will pursue diplomacy and sanctions as much as possible, but will insist that sanctions be as vigorous as any deployed against Iran."
More of What's Trending on TheStreet:
Editors' pick: Originally published Sept. 22.