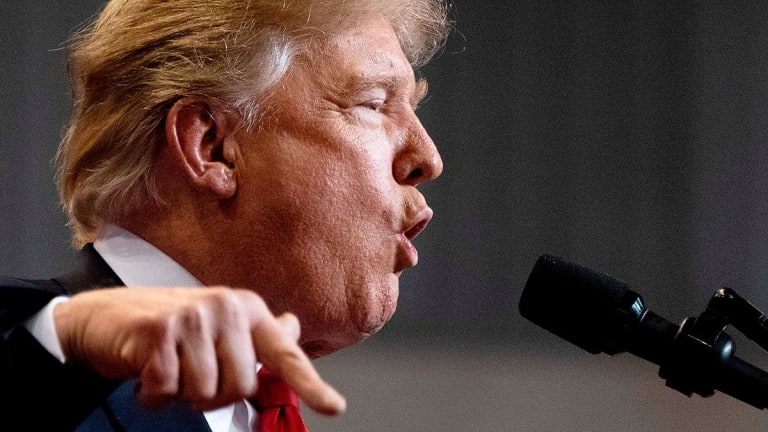 Trump Continues Trash Talking Federal Reserve on Twitter
'The only problem our economy has is the Fed,' writes Trump on Twitter.
Following a weekend of chatter about whether the president could or would fire Federal Reserve Chairman Jerome Powell, Donald Trump continued to talk smack about the central bank.
"The only problem our economy has is the Fed," wrote Trump on Twitter. Here's the full tweet:
The Twitter post followed a wild weekend during which Bloomberg reported that Trump was eyeing firing Powell and then days later the White House's own budget chief, Mick Mulvaney, went on ABC's "This Week" and "Fox News Sunday" and played down any idea that Trump would consider trying to dump the Fed chairman, whom in October Trump reportedly called "crazy."
"It's not at all unusual for a president to complain about the actions of the Federal Reserve Chairman," said Mulvaney, who's also acting chief of staff, during an interview on "This Week." He added that the president doesn't have the ability to fire Powell. Trump has been upset over the raising of interest rates. 
Also over the weekend, Treasury Secretary Steven Mnuchin, said over Twitter that while Trump "totally" disagrees with the Fed's policy and that he thinks raising rates is a "terrible thing to do at this time," the president said he "never suggested firing Chairman Jay Powell, nor do I believe I have the right to do so."
Mnuchin later on Sunday announced that he called six U.S. bank CEOs, who told him they all have enough liquidity for lending.
"We continue to see strong economic growth in the U.S. economy, with robust activity from consumers and business," Mnuchin said in a statement. "With the government shutdown, Treasury will have critical employees to maintain its core operations at Fiscal Services, IRS and other critical functions within the department."
Following that unexpected announcement, bank stocks dropped along with most other equities as uncertainty continued to dominate. Wall Street already has gotten the jitters as investors are facing a wild stock market, the special counsel probe, a U.S.-Chinese trade war, top White House officials' exits, and most recently, the federal government shutdown.
Save 66% with our '12 Days of Holiday Deals' Sale.Join Jim Cramer's Action Alerts PLUS club for investors and get our best deal of the year. Click herefor details or to sign up.