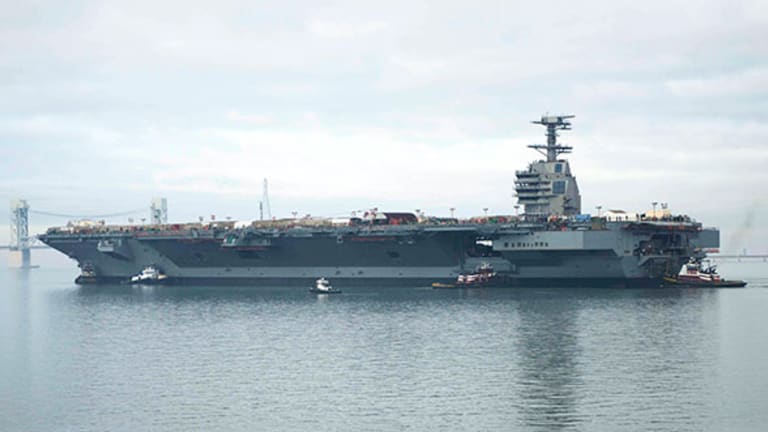 Trump Commissions a New $12.9 Billion Warship -- Here Are Other Expensive Ships Coming
The USS Gerald R. Ford a "100,000-ton message to the world," cost $12.9 billion.
President Donald J. Trump commissioned a new warship on July 22, calling the USS Gerald R. Ford a "100,000-ton message to the world."
It's also a $12.9 billion hit to the U.S. government budget, representing a 23% cost overrun from the U.S. Navy's original cost estimate for the ship of $10.5 billion. The ship, also called CVN 78, is part of a $43 billion plan by the Navy for three nuclear-powered aircraft carriers. However, a recent U.S. Government Accountability Office report raised concerns that costs could run up on the next two ships.
Construction is already underway on the USS John F. Kennedy, CVN 79, and it's expected to be commissioned in 2020. Project costs on the construction are capped at $11.4 billion, an estimate GAO called "unreliable." Following that, CVN 80 will follow. A fourth ship, CVN 81, could also ultimately be constructed.
The budget on these three, possible four ships, dwarfs other recently produced warships.
USS Zumwalt DDG-1000 arrived in in Baltimore in October with a $4.4 billion price tag. But the Zumwalt got off to a rough start: In November, it stalled in the Panama Canal on its way to its home port of San Diego and had to be towed out. There are two more ships that are part of the Zumwalt program and in 2015, GAO estimated total program costs at $7.5 billion.
Then there are the America-class amphibious assault ships, the USS America LHA 6 and USS Tripoli LHA 7. USS America was commissioned in October 2014 and cost $3.4 billion. The Tripoli was launched this year and its commissioning is scheduled for 2018. It came in at a bargain price of $3.3 billion. LHA 8, named USS Bougainville, expected to cost $3 billion, is also in the works.
Watch More with TheStreet:
From Catalogs to Catastrophe: A Sears Timeline
60 Second Tips: Best Return on Your College Investment
Game of Numbers: Do You Have Any Idea How Big Game of Thrones Has Become?