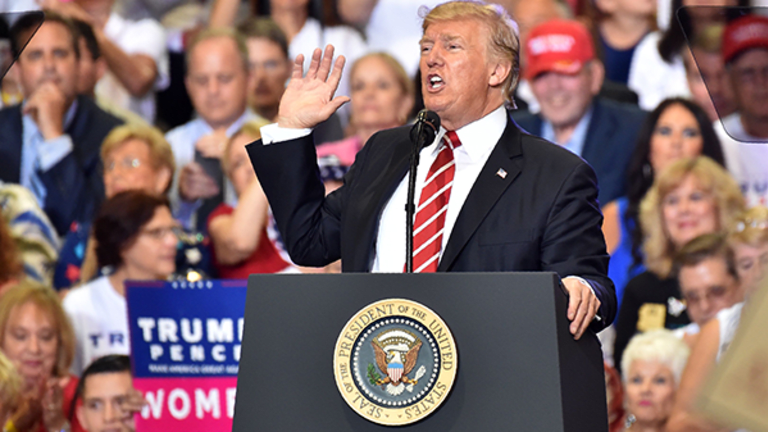 Trump Calls for Quick Deadline on Tax Reform, Offers No Specifics
President Trump is calling for big tax cuts and wants them done this year.
President Donald Trump on Wednesday called on Congress to cut the federal corporate tax rate to 15% from 35% as part of a sweeping tax reform he wants enacted by the end of the year.
The tax cut would be part of four main goals Trump said should be included in a tax overhaul: simplifying the tax code, making it more competitive with tax regimes in other countries, providing tax relief for middle-class families and encouraging U.S. companies to bring back trillions of dollars in profits "parked overseas."
Aside from the call for a new corporate rate, Trump provided no specific changes he wants in the reform.
He delivered his remarks at the Loren Cook Co., a manufacturer of fans, blowers, exhaust systems and ventilators based in Springfield, Mo.
Highlighting the importance of reform to Trump's agenda, joining him in attendance were Treasury Secretary Steven Mnuchin, Commerce Secretary Wilbur Ross, Small Business Administration chief Linda McMahon, and Missouri Republican Sen. Roy Blunt.
"We're here today to bring back Main Street by reducing the crushing tax burden on our companies and our workers," he said.
Along with deregulation, he said reform of the tax code for the first time in more than 30 years is "the foundation of our job creation agenda."
Tax reform, he said, is "Pro growth, pro jobs, pro work and pro American."
Trump played up Missouri as the eastern starting point for the iconic U.S. Route 66, which he said symbolized the growth and prosperity enjoyed by Americans in the middle of the 20th century.
"Millions of Americans have seen the road disappear in the rear view mirror. If we want to renew our prosperity we must reduce the tax burden on our companies and on our workers."
He contrasted the 2% annual U.S. economic growth during the last 10 years to growth in many other countries, whose leaders are "unhappy when its seven, eight, or nine percent."
He predicted that the U.S. can do better than 3% annual GDP growth.
He also took a swipe at Missouri's Democratic senator, Claire McCaskill, who he predicted would join other Democrats in thwarting tax reform, just as he said they have done with blocking his nominees and obstructing healthcare reform.
"Your senator Claire McCaskill must do this for you (vote for tax reform) or you must vote her out of office."
Shamik Trivedi, senior manager in Grant Thornton LLP's Washington national tax office, said the lack of detail in Trump's remarks was expected given that the White House already indicated it would leave drafting the details of tax reform to Congress. The House Ways and Means Committee is expected to unveil a first draft of legislation sometime after lawmakers return to Washington following Labor Day.
He noted that the president's call for a 15% rate is important and may set up a spat with Congress. "That rate is likely to be at odds with what Congress comes out with," Trivedi said.
Trivedi also suggested that lawmakers may struggle to meet at least one of Trump's four principles: radically simplifying the tax code. "Simplicity and fairness are usually talking points that come with discussion of reform but I don't know of anything in the legislative blueprint that would make it so simple that Americans could file their tax returns on a post card," he said.
Nevertheless, Trivedi said Tuesday's speech should help win support for reform. "Anytime you get the president to speak on a matter Congress is concerned about it's good for the effort and in this case I thought he stayed on topic."
Enacting reform that fulfills his other principles of reform will also pose a challenge, he said. For instance, a provision in a reform bill encouraging repatriation of profits held overseas would require lawmakers to decide at what rate the transferred money would be taxed and whether there would be limits on how it is used, such as whether companies would have to invest it in new plants or could pay dividends to shareholders with it.
Other complications include timing. House Ways and Means Committee Chairman Kevin Brady's is from Texas and following the devastation caused by Hurricane Harvey may have attention directed elsewhere for awhile. Congress also must tackle the debt ceiling quickly, which could delay moving the tax reform bill.
Finally, the impact of reform on the federal deficit could make the tax bill tricky, especially because lawmakers seemed to have ruled out a border tax, leaving little in the way of a significant revenue raiser to offset the revenue lost from cutting tax rates.
Jasper Howard, a partner in Hogan Lovell LLP's global tax team based in Washington, and an adviser on the tax implications of cross-border M&A, said if those complications could be worked out it would be a blessing for U.S. based international firms. "The potential to make more it more tax efficient for U.S. companies to repatriate cash trapped overseas would be a very welcome development, particularly in the tech and pharma sectors, which have companies with a lot of cash trapped abroad."
More generally, the reception to Trump's speech depended on listeners' political inclinations.
Jessica Mackler, president of the liberal American Bridge, derided the pledge to help the middle class, given that the only specific was massive cut in corporate taxes. "Donald Trump's presidency has been one gigantic, failed marketing gimmick," she said in a prepared statement. "In spite of everything he told us, his agenda never meets the basic test of 'Would this help the American middle class and those fighting to enter it.' But he can't hide the truth of his dangerous plans to further rig the American economy to his own advantage at everyone else's expense. Just like on healthcare, the American people will reject this promise-breaking plan and demand the real reform that they deserve."
Michael A. Peterson, president of the Peter G. Peterson Foundation, warned lawmakers not to pass reform without an offset to any tax revenue that would be lost to a rate cut. "Smart tax reform will promote economic growth, increase fairness and simplicity, and improve the nation's fiscal outlook," he said. But "in order to be truly pro-growth, tax reform must be paid for. Tax reform that worsens our fiscal condition is counter-productive because increasing our national debt harms economic growth."
Mnuchin said he stands by ready to push Trump's tax reform agenda. "At the Treasury Department, we are committed to continuing to advance the President's vision on tax reform while working with Congress to pass a plan that will lead to economic growth and job creation to benefit all Americans," he said.
More of What's Trending on TheStreet:
Editors' pick: Originally published Aug. 30.