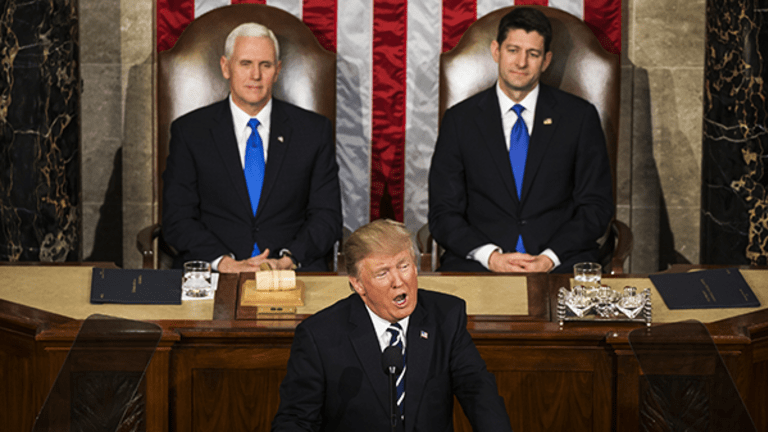 Publish date:
Trump Budget Ups Defense Spending, Cuts Pretty Much Everything Else
President Trump is calling for funds to be shuffled into defense and away from nearly ever other domestic department.
President Trump is calling for funds to be shuffled into defense and away from nearly ever other domestic department.
President Trump is calling for funds to be shuffled into defense and away from nearly ever other domestic department.
The White House released its 2018 budget blueprint, titled "America First: A Budget Blueprint to Make America Great Again," on Thursday. The 62-page "skinny budget" outlines the administration's vision for discretionary spending next year and sends a message on the president's priorities, which appear to be increased emphasis on defense, homeland security and law enforcement and cuts nearly everwhere else.
"You had an America-first candidate, and you have an America-first budget," said Office of Management and Budget director Mick Mulvaney in a call with press Wednesday to discuss the blueprint. "If it said it on the campaign, it's in the budget."
Mulvaney characterized the document as an "America first budget" and a "hard power budget" written using the president's own words. He said aides went through Trump's speeches and news articles on his policies to turn them into numbers.
As anticipated, the blueprint includes a $52 billion increase in in defense spending to $639 billion as well a another $2 billion to other defense programs outside the Department of Defense. It repeals the defense sequestration and makes mention of investments in a number of arenas, including the U.S. Navy and cybersecurity. It also specifies additional investments in F-35 joint strike fighters, made by Lockheed Martin (LMT) - Get Lockheed Martin Corporation (LMT) Report .
Mulvaney said his office worked closely with the Department of Defense and Defense Secretary James Mattis to ensure the funds are allocated responsibly and on areas they can be used right away.
"We're not throwing money after a problem and claiming that we have fixed it," he said.
The blueprint also increases Department of Homeland Security spending by 6.8% and calls for increased investments in border security and immigration enforcement.
Unsurprisingly, it also includes funds for Trump's proposed wall at the United States-Mexico border. It calls for $2.6 billion in "high-priority tactical infrastructure and border security and technology, including funding to plan, design, and construct a physical wall along the southern border" in 2018. It also includes funds for border wall work in 2017, which Mulvaney said will go to a handful of "pilot cases" to test construction types and locations before more mileage is built.
The blueprint calls for a 28% reduction to the Department of State, most of which is tied to foreign aid.
Mulvaney emphasized that cuts to the State Department budget were not reflective of the administration's attitude toward the department or Secretary of State Rex Tillerson.
"We believe we have protected the core diplomatic function of State," he said, calling it a "hard-power budget."
The blueprint eliminates funding for a number of agencies and entities, including those designed to help the poor. It guts the United States Interagency Council on Homelessness, the Legal Services Corporation and the Neighborhood Reinvestment Program. It also eliminates spending on the National Endowment for the Arts, the National Endowment for the Humanities and the Corporation for Public Broadcasting.
The Environmental Protection Agency would see its budget slashed by 31%, the Department of Labor by 21%, Department of Commerce by 16% and Department of Treasury by 4.1%.
The budget maintains the anticipated $488 billion deficit estimated by the Congressional Budget Office for 2018. Wherever additions have been made, cuts have been made, dollar-for-dollar, elsewhere.
"The full-year 2018 budget will not balance," Mulvaney said.
Senator Bernie Sanders slammed the budget in a statement as "morally obscene" and "bad economic policy." 
Maya MacGuineas, president of the Committee for a Responsible Federal Budget, in a statement criticized the budget as offering too little information and too few details for it to be evaluated.
"Generally, skinny budgets include proposals in all areas and show what these proposals will mean for deficits and debt over the next decade. This budget only gives us a picture of one and a half years and proposes changes to the 30% of spending that is discretionary," she said. "We need 100% of a plan for 10 years. Not 30% of a plan for just more than one year."
The full White House budget will be rolled out in May, and even when it is, it is worth noting it is the beginning, not the end.
"Knowing that Congress is likely to make large changes to the budget, many worrisome issues will be dropped and items left in may be pared back," said Sam Stovall, chief investment strategist at CFRA Research.