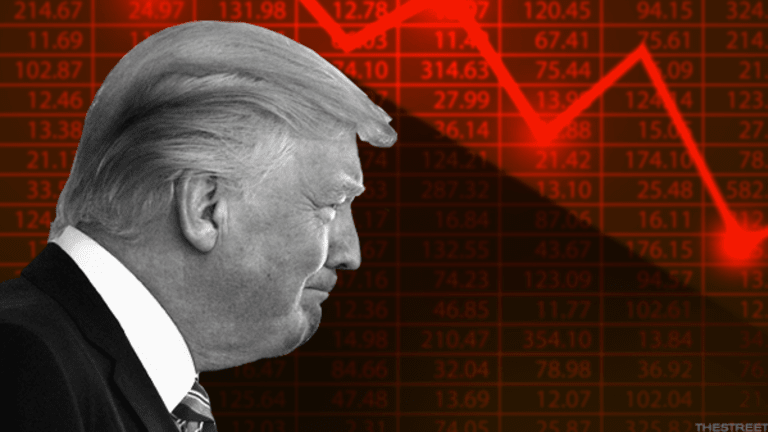 Trump Budget to Include Major Cuts to Entitlements
The White House will propose slashing $1.7 trillion in entitlements, according to multiple reports.
The White House will propose slashing $1.7 trillion in entitlements, according to multiple reports.
President Trump's budget proposal for 2018 will recommend cutting $1.7 trillion in mandatory spending, Axios reported on Sunday, citing a source with direct knowledge of the matter. It will call for cuts to food stamps, disability insurance and health care funding for children and families and also assume that Republicans' Obamacare repeal and replace legislation will pass.
The White House is expected to unveil its budget on Tuesday.
While the president's budget proposal is essentially a suggestion for Congress, it is likely to rattle moderates and Democrats by calling for deep cuts in spending in a number of areas, including the Environmental Protection Agency and the State Department.
The Washington Post reported earlier in the day Sunday that Trump would call for massive cuts to Medicaid and give states more discretion to impose work requirements for people using anti-poverty programs.
It is expected to balance over 10 years through cuts and bullish estimates of economic growth.
The budget will project that U.S. economic growth will reach 3% by 2021, a senior White House official told the Wall Street Journal this week. It grew by 1.6% in 2016, and the Congressional Budget Office currently forecasts 1.9% growth.
The U.S. hasn't seen annualized GDP growth of more than 3% since 2004.
The president's budget is expected to leave Medicare and Social Security untouched, in line with Trump's promises on the campaign trail. But it will make discretionary cuts to education, housing, environmental programs and foreign aid as well as nondiscretionary spending such as federal employee benefit programs, WSJ reports.
It will also likely propose a program to grant parents paid family leave.
The White House released its "skinny budget" proposal in March, calling for a significant increase in defense spending and cuts to nearly every other government agency.
Markets were rattled on Tuesday in the wake of reports late Monday that the president had asked James Comey, while still director of the FBI, to stand down on an investigation into one of his top national security advisers. Stocks rebounded the rest of the week, despite continued turbulence out of Washington.
Dow, S&P 500 and Nasdaq indexes were marginally up Sunday evening.
Read More Trending Articles:
We Quickly Learned Why Ford's New Truck Named After a Killer Dinosaur Is a Beast
Cisco Could Be Looking to Acquisitions to Help Solve Its Biggest Challenge
Amazon Should Be Terrified by This New Service Walmart Is Quietly Testing in China
There's Something Bad Happening at Staples That Should Remind Everyone How Bleak Retail Is Right Now