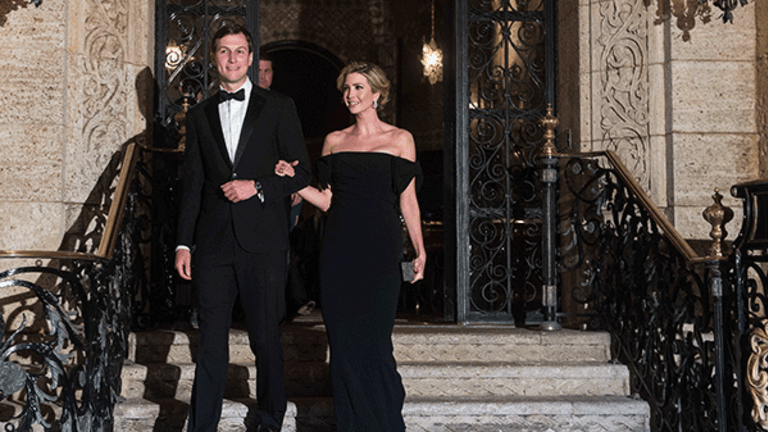 Trump Boycott Movement Dings Ivanka, Eyes Impact Beyond Retailers
Shannon Coulter, the founder of the "Grab Your Wallet" movement to boycott Trump brands, has never spoken to Ivanka Trump. But the president's eldest daughter has blocked her on Twitter.
Editors' pick: Originally published Feb. 13.
Shannon Coulter, the founder of the "Grab Your Wallet" movement to boycott Trump brands, has never spoken to Ivanka Trump about her efforts. Even so, the president's eldest daughter has blocked her on Twitter.
In recent weeks a number of retailers, including Nordstrom (JWN) , Neiman Marcus, Jet.com, Gilt and Shoes.com have stopped selling Trump family-branded items. Sears (SHLD) and Kmart removed Trump products from their websites, though Sears' marketplace still includes them. TJX Companies (TJX) , parent company of T.J. Maxx and Marshalls, has instructed employees to essentially hide Ivanka Trump products on the sales floor.
Cruise operator Carnival (CCL) , actress Jessica Alba's The Honest Company and Tyra Banks' Tyra Beauty have said that they will not participate in sponsoring potential future seasons of "The Celebrity Apprentice," of which President Trump is an executive producer. 
All of the companies have one thing in common: they were all on Coulter's Grab Your Wallet list of boycott targets.
Coulter, a career marketer from the San Francisco Bay area, has become a thorn in corporate America and the Trump family's side. What began with a late-night musing on Twitter in October that consumers should also stay away from stores that carry Trump items has taken off.
The #GrabYourWallet hashtag has been tweeted more than 250,000 times and seen over 600 million times since last fall. Coulter said she heard directly from Banks herself about her brand being removed from the boycott list.
"For me, the boycott is about how my past purchases may have inadvertently contributed to the rise of guys like Donald," Coulter said. "It's not a Democratic or Republican thing, it's just not letting my dollars go towards the rise of highly-divisive and disrespectful figures."
She counts Nordstrom's decision to drop Ivanka Trump's line as her biggest success to date.
The Seattle-based retailer has said its decision was based on sales numbers, not politics. A Nordstrom spokeswoman said in an email sales of Ivanka-branded items declined steadily throughout 2016, with a significant decrease in the back half of the year. The Wall Street Journal reported sales tumbled 32%.
"They're technically selling through their remaining Ivanka inventory, and normally we would wait until they were finished with that process [to remove them from the boycott list], but after we saw the president attacking them, we decided to cut them some slack," Coulter said.
TJX is getting no such treatment. The retailer's decision to keep selling Ivanka Trump's items but not display them separately is not good enough, in Grab Your Wallet's eyes.
"T.J. Maxx is hiding it, which is different from removing it," Coulter said. "The pressure's not going to stop."
Retailers have been the group's main focus because, as Coulter explains, they are the "most boycottable," but they're not the only ones feeling the heat.
MillerCoors, whose chairman Peter Coors hosted a fundraiser for Trump, and LendingTree (TREE) , whose CEO Doug Lebda backed a pro-Trump super PAC, are on the list. So are See's Candy, Trident and QVC for their "Celebrity Apprentice" advertising.
The only way for companies targeted over their executives backing Trump is for those executives to be ousted -- an unlikely scenario. Such firms are given less priority than retailers, but they aren't getting off unscathed.
A spokeswoman for LendingTree said she gets five to 10 emails a day from consumers about the matter. Lebda asked for a refund of his super PAC donation after the "Access Hollywood" tape was leaked, but it was not possible at that time, the spokeswoman said.
"LendingTree's leadership team and its employees do not condone discrimination or divisive commentary of any kind," she said, adding that "the political leanings of one individual are not reflective of an entire company."
Still, it is Ivanka Trump who appears to be bearing much of the brunt. Her father complained that she is being treated "unfairly" on Twitter, and her brother, Donald Trump Jr., in an interview with The New York Times called retailers dropping his sister's line "disgusting."
Politico reported Trump scolded top adviser Kellyanne Conway last week after she gave a "free commercial" for her products on television last week, telling Conway not to mention her brand again on television. Ivanka Trump appears to regard herself as a champion of women in business and in politics.
"The ill effects have lingered more than she expected," said branding and retail expert Carol Spieckerman.
Trump's return to the campaign trail after now-infamous Access Hollywood tape of Trump making lewd comments about women surfaced was a catalyst for many consumers to boycott, Coulter said. (Trump called her father's comments "clearly inappropriate and offensive" at the time.) Moreover, her brand, at least in retail, is much more visible than her father's.
"She just has a much wider distribution than Donald's suits," Coulter said.
Grab Your Wallet is boycotting Macy's (M) , which dropped the president's clothing line in 2015, because it still carries Ivanka Trump items.
Spieckerman said it is impossible to tell how much of Ivanka Trump's brand troubles are tied to Grab Your Wallet.
"People could be deciding not to buy Ivanka products for any number of reasons that are not necessarily affiliated with Grab Your Wallet, although I do think that the grab your wallet movement does consolidate the brands that people who care about it should boycott if they want to do it," she said. "The bigger takeaway here is that the customers that can afford the Ivanka brand and that have an affinity for the brand are very much in the demographic that would tend to be anti-Trump."
"The Ivanka Trump brand continues to expand across categories and distribution with increased customer support, leading us to experience significant year-over-year revenue growth in 2016. It is a company built to inspire women with solution-oriented offerings, created to celebrate and service the many aspects of their lives," said Rosemary K. Young, senior director of marketing at Ivanka Trump, in a statement.
Women are at the center of the boycott movement that has become a headache for the Trump family and companies tied to them. Women make 85% of all consumer purchases, and leveraging that power gives those who oppose Trump's politics an under-the-radar way to resist.
"We lost at the ballot box, but we can vote at the cash register every day," Coulter said.