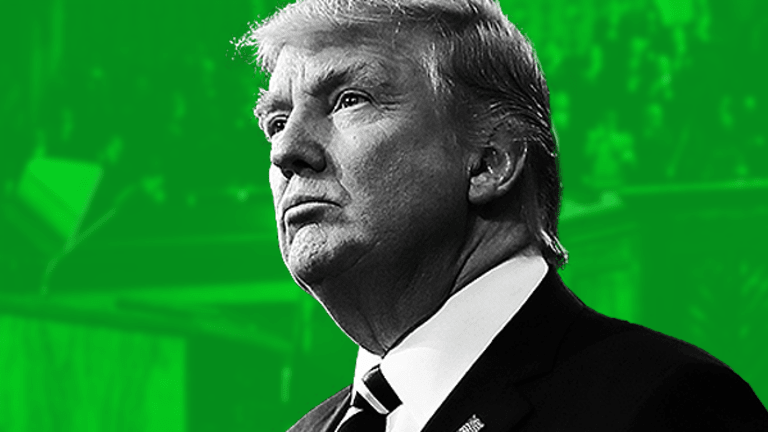 Publish date:
Trump Basks in Support at Arizona Rally
President covers wide range of topics, including immigration, jobs, racism and the "dishonest" media.
President covers wide range of topics, including immigration, jobs, racism and the "dishonest" media.
Surrounding himself with cheering supporters at a campaign rally inside the Phoenix Convention Center while thousands of protestors demonstrated outside, President Donald Trump spoke Tuesday night of pride and patriotism, protection of U.S. borders, religious liberty and gun rights, and "love" for all Americans.
Vice President Mike Pence and Secretary of Housing and Urban Development Ben Carson warmed up the crowd inside the convention center before Trump took the stage. Arizona's Republican governor, Doug Ducey, along with GOP Senators John McCain and Jeff Flake, did not attend the rally.
Earlier in the day, Trump highlighted his immigration policy and toured a U.S. Customs and Border Protection facility in Yuma, Ariz.
The rally was the first time the president spoke in an unscripted appearance since a news conference last week during which he said both sides were to blame for violence in Charlottesville, Virginia between white nationalists and counterprotesters. During a televised speech on Afghanistan Monday night, Trump spoke out against racism in more measured terms.
During the Phoenix rally, Trump returned to the topic of the events in Charlottesville, lashing out at "dishonest people" who had criticized him -- and media who reported that criticism -- for not condemning the violence more quickly or more clearly. He read and re-read statements he had made in response to the violence. He spoke extensively about what he characterized as unfair and dishonest treatment by the media, criticizing CNN, the New York Times, ABC and other news organizations.
He also struck out at Congress, particularly for not getting rid of Obamacare. 
Trump told the crowd he didn't believe any president had accomplished as much as he had in the first six or seven months of his term.
Before the Arizona campaign rally Tuesday evening, the New York Times reported that communication has broken down between the president and Senate Majority Leader Mitch McConnell. The two men reportedly haven't spoken for weeks, and the report noted McConnell has privately said he doubts whether Trump can save his presidency.
CNN reported that at the convention center, the crowd was orderly but emotions were high on both sides of the barricades.
U.S. Stock futures were lower around 11 p.m. Eastern, with Dow futures off 0.11%, S&P futures down 0.14%, and Nasdaq futures down 0.11%. Gold futures were off 0.12%.
In early Asia trade, Japan's Nikkei Average was 0.45% higher at 19,471.59. In Shanghai, stocks were down 0.07%.
More of What's Trending on TheStreet:
This article was written by a staff member of TheStreet.